Folk/Progressive Rock Norway 1970s (Tracks)
Folque (Oslo, Norway)
Traditional song, the Folque's version of the song is based on the Scottish song "The Cruel Sister (Child Nr. 10) ", the Norwegian song "Horpa" and the Scottish ballad "ballade Riddles Wisely Expounded (Child Nr. 1)".
"Harpa" A6 (traditional, arranged by Folque) track included on the album "Folque"
Released on Philips Records (6317 025) in 1974
Line-up/Credits :
Lisa Helljesen: vocals
Jørn Jensen: vocals, guitar, dulcimer
Trond Villa: fele
Morten Bing: guitar, mandolin
Eilif Amundsen: banjo, bass, guitar
Trond Øverland: bass, piano
Producer – Øystein Sunde
Photography By [Foto], Layout – Macro Foto
Photography By [Foto], Layout [Macro Foto] – Bjørn Morisse, Terje Berntsen
Lacquer Cut By – Ivar Finsen
Management [Road Manager] – Espen Løvstad
Engineer [Teknikere] – H. P. Danielsen, Inge Holst-Jacobsen
Recorded At – Rosenborg Studio
Phonographic Copyright (p) – Phonogram A/S
Copyright (c) – Phonogram A/S
Lacquer Cut At – Rosenborg Studio
Pressed By – Musikkindustri A/S
Track List :
1. Skjøn jomfru (4:26)
2. Ravnene (2:31)
3. Springar (1:17)
4. Sjugur og trollbrura (2:37)
5. Nissedans (2:25)
6. Harpa (4:49)
7. Sinclairvise (3:24)
8. Reinlender (1:57)
9. Alison Gross (3:49)
10. Steffa går til Selfjord (3:50)
11. Reven og bjørnen (3:22)
12. Heimatlåta (1:42)
Lyrics :
Det bodde en bonde ved en strand
Harpa toner var og fin
To fagre døtre hadde han
Fa la la la la la la la la la
Den eldste til den yngre sa
Harpa toner var og fin
La oss ned til elva dra
Fa la la la la la la la la la
Den yngste gikk føre som en sol
Harpa toner var og fin
Den eldste etter som orm i jord
Fa la la la la la la la la la
Den yngste satte seg på en stein
Harpa toner var og fin
Den eldste dyttet, hun var ikke sein.
Fa la la la la la la la la la
Hun strakte ut sin hvite hand
Harpa toner var og fin.
Og ropte søster hjelp meg iland
Fa la la la la la la la la la
Da hvis jeg ikke hjelper deg
Harpa toner var og fin
Så vil din kjæreste ekte meg
Fa la la la la la la la la la
Det var to gjetere på den strand
Harpa toner var og fin
Og de så liket som fløt i land
Fa la la la la la la la la la
De tok fra hennes kropp et ben
Harpa toner var og fin
Og lagde av det en harpe ven
Fa la la la la la la la la la
De tok to lokker av hennes hår
Harpa toner var og fin
Og harpa gyldne strenger får
Fa la la la la la la la la la
Til søsterens bryllup ble harpa bragt
Harpa toner var og fin
Og på en strubbe der ble den lagt
Fa la la la la la la la la la
Og det var senere på denne kveld
Harpa toner var og fin
At harpa spilte av seg selv
Fa la la la la la la la la la
Da den første strengen lød
Harpa toner var og fin
Den fortalte om brudens onde dåd
Fa la la la la la la la la la
Da den andre strengen slo
Harpa toner var og fin
Bruden som forstenet sto
Fa la la la la la la la la la
Songwriters: traditional scottish
Folque is a Norwegian folk rock band founded in 1973 by Morten Bing, Jørn Jensen (musician), Eilif Amundsen, Lisa Helljesen, Espen Løvstad, Trond Øverland, and Trond Villa. In 1972 a subset of the band was initially named «Brød & Vin» (Bread & wine), they changed the name to Folque in the spring of 1973 after adding members and traditional instruments to the ensemble.
The band was dissolved in 1984, but reunited in 1994 and in 2004 for playing live. Folque is re-established in 2014 with Lisa Helljesen as lead singer.
Their musical style is linked to Malicorne in France and to Steeleye Span in the UK.
Most of the discography is difficult to find, as only the first three albums were re-released on CD.
This Norwegian folk outfit started out in the early 70s mixing acoustic instruments (fiddle, mandolin, banjo and piano) with the electric guitar, bass and keyboards. They created an earthy music made up of playful, catchy melodies with male/female vocal interplay. Despite important personnel changes over the years (their first-rate lead female singer was replaced, among others), they have managed to remain true to their sound and have churned out over ten fine albums between 1974 and 1998. In 2004 they reunited to play a gig at the Norsk Folkemuseum and don't seem to show any signs of slowing down.
Their highest rated album is their third, entitled "Vardøger", closely followed by their first two, "Folque" and "Kjempene på Dovrefjell" released in the mid-70s, and by "Fredløs" and "Sort messe" released in the early 80s. Their material is pure, often foot-stomping folk with Norwegian vocals. Despite the mostly minor keys, it is fresh and exhilirating and dons some wonderful arrangements.
Highly recommended to fans of MALICORNE, THE POGUES, KEBNEKAISE and GRYPHON as well as those heavily into Nordic and Irish folk. A good introduction is the recent live sampler "Stormkast".
Folque formed in Oslo in 1972 with the aim of making a Norwegian form of folk-rock, using guitars and banjos instead of the traditional treatment with Hardanger fiddle or solo vocals. Their first album, 'Folque' (1974), also included adaptations of two Scottish folk songs (among them "Allison Gross" in a similar arrangement to the 1973 Steeleye Span version, although with Norwegian lyrics), but for the future they stuck to Scandinavian material. For this reason, 'Kjempene På Dovrefjell' (1975) and 'Vardøger' (1977) are usually considered their best albums, offering great insight into Norwegian folklore, i.e. medieval ballads, old Norse poems set to music, fiddle instrumentals and traditional dance music. Their musical ability is impeccable, highlighting fiddle, mandolin, dulcimer and electric guitars. The arrangements always function well, meaning that the bass and drums do not disturb the original rhythm and rhymes. On top of this, Lisa Helljesen had a clear and strong voice (a bit similar to Maddy Prior in Steeleye Span and Mandy Morton in The Spriguns), perfectly suitable to the music. There is no better starting place than 'Vardøger', where their own blend of folk-rock was fully developed.
After some personnel changes, Folque signed to the political left-wing label Mai after their Philips contract expired. Jørn Jensen and Trond Villa were later involved in Kong Lavring and the group Folk & Rackare (along with Swedish musicians). 'Dans, Dans Olav Liljekrans' (1978) revealed the new line-up to be as musically competent as the previous one, but the new female vocalist Jenn E. Mortensen had a rougher voice (and a strong North-Norwegian regional accent) that might be disturbing to those who dislike her more aggressive attitude (less suitable to Folque's music, in my opinion). 'Fredløs' was a transitional record with a wider musical span than their previous records. Their last two original albums contained increasing numbers of self-penned compositions, 'Sort Messe' (1982) being dominated by the competent songwriting of Morten Bing.
Folque were undoubtedly the most influential Norwegian folk-rock band and arguably among the best in Europe, on a par with Malicorne in France or Ougenweide in Germany.
Folque : the history of a Norwegian folk rock group
Back in 1972 I was one of many young people playing strange songs on minor-tuned guitars at the Folk Clubs of Oslo. Usually with a friend called Eilif Amundsen. In the spring I was asked to participate on an anti-EEC-record. I got together with a bunch of pals, and played my own song "Si ja til selvstendighet" (Yes, to independence!). Afterwards I toured along the southern coast and became acquainted with another singer/guitarist, JørnJensen. After the tour I joined Eilif and his brother and went with them to London, where I met a couple of other Norwegians, Lars Helljesen and Espen Løvstad.
That was the beginning of Folque.
I the fall Jørn, Eilif and I started a group. We needed a singer and asked Lars' sister, Lisa. The result was the folk group "Brødog Vin" (Bread and Wine). We were a strange musical mixture: Eilif and I played American Old Time (in the New Lost City Ramblers tradition), Jørn played Jansch-style guitar, and Lisa was a committed fan of the American singer Melanie. But we rehearsed some songs and got our first gigs
In the spring 1973 we had begun to develop our own style: Translated English folk songs, traditional Norwegian songs, guitar, banjo, mandolin, and dulcimer. We changed our name to FOLQUE and were joined by Espen (who later on was to become our road manager) on percussion, Trond Øverland on bass-guitar and Trond Villa on fiddle. Jørn bought a Telecaster, and suddenly we were no longer an acoustic folk group, but an electric folkrockband.
Early in 1974 we made our first TV-appearance in "Flimra". Later the same spring we recorded a demo in the basement-studio of Øystein Sunde, who brought the tape to the record-company Phonogram. A contract! The first album Folque was recorded and released the same fall. Øystein produced, and a drummer joined us in the studio. The album was well received, and we even had a radio-hit with a traditional dance tune, "Reinlender".
But as soon as the record was finished, the band was beginning to fall to pieces. Personal and musical disagreements led to Jørn's departure, and Lars Helljesen joined us as new guitarist.
With Lars and his Stratocaster, a permanent drummer became necessary, and before we recorded the second album, Morten Jakobsen had joined us on drums. We now were a full-fledged folkrock band! In the summer 1975 we played the Forum Festival in Arendal and the Festigavla Festival in Ålesund.
Kjempene på Dovrefjell (The Giants in the Dovre Mountains) was recorded in the fall and was perhaps our best album ever. The same fall we appeared in
Soon after Trond Ø. left us, going to India, and Eilif changed from banjo to bass a special television-program, "Stev og synthesiser".
 The spring 1976 we toured in Trøndelag and in Western Norway, and in the summer we appeared at the Västervik Festival in Sweden. In the fall we recorded our third album, Vardøger, but soon after, Lisa and Trond V. also left the group. The remaining members wanted to continue the group, but this was not easy without our "stars", Lisa and Trond, but Lars was able to find replacements for both.
First a new vocalist, JennMortensen, and then a new fiddler, Øyvind Rauset, joined in the spring 1977. That summer we played at Kalvøya, the biggest festival in Norway at the time, and at the Horten Festival.
In 1978 we left Phonogram to join up with the left-wing record company Mai. They released Dans, dans, Olav Liljekrans (Dance, dance, Olav Liljekrans) the same year. The title track was maybe our most popular song, but the album was the worst we ever made. The critics blamed it on the new members of the band, but it was the producer who stunk.
Eilif had left the band in the spring 1978 and new bassist was Per Vestaby. With this line-up we played the Television-show "Musikalskgjestebud" in the fall, and the Troilltampen Festival next summer. We made a second album on Mai, Fredløs  (Outlaw), in 1980. On this album Jenn and Øyvind got a chance to show that they were excellent musicians. Arvid Esperø produced the album and was an inspiration to work with.
1980 saw new changes in the band, a new drummer, Pål Søvik, and then a new bassist, Roald Thommesen. We left Mai and signed up with a new record company, Talent Records. On the next album, Landetditt (Your Homeland), Øyvind'scompositions and synthesisers held a central position.
he last chapter in the history of Folque started when Øyvind left in 1981. Without a fiddler, Lars' guitar and my mandolin took the lead, and did quite well. Sort Messe (Witches' Mass) was recorded next year. This album was mostly Lars' and mine compositions and my lyrics, less traditional folk. Arvid was back as producer, and the result was in our opinion an excellent, but rock-oriented record.
In the summer 1984 we were asked to play at a festival in Denmark. At that moment we had almost disbanded, but we said yes. Øyvindjoined us, Trond Ø. was back on bass, and the concert on the Midt-Fyn Festival was one of our best ever. Luckily, it was recorded, and later on (in 1991) released as a live-album, Dans, dans …  (Dance, dance  …).
The appearance at the Midt-Fyn Festival was to be Folque's last, although Jenn, Lars and I continued to play together for some years as an acoustic trio, "Jomfru Mortensens trio".
Folque was reunited for one gig in 1994, when we held a 20 years anniversary concert in Chateau Neufin Oslo. In 1993 our first album Folque had been reissued on CD, Kjempene … and Vardøger following in 1999.
In 1998 the CD Stormkast was released, containing the best tracks from Landet ditt and Sort Messe, together with live material from the Midt-Fyn Festival. I 2004 Folque was reunited again (but without a drummer) for two gigs, the last at Norsk Folkemuseum in Oslo at Midsummer Eve.
And that's all folks – so far! Folque didn't really ever do many gigs, although we did play from Kristiansand in the South to Tromsø in the North, and at all the important Festivals in Norway and a couple in Sweden and Denmark. We never did get much money, and hardly any fame, but we made eight albums over the ten years we played together, and hopefully a few people still remember our music.
Discography :
Folque (1974)
Kjempene på Dovrefjell (1975)
Vardøger (1977)
Dans, dans Olav Liljekrans (1978)
Folques beste (1979)
Fredløs (1980)
Landet ditt (1981)
Sort messe (1983)
Dans dans (1991)
Stormkast (1998)
Folque – "Folque" Album cover photo (front)
Folque – "Folque" Album photo (A' Side)
Folque Photos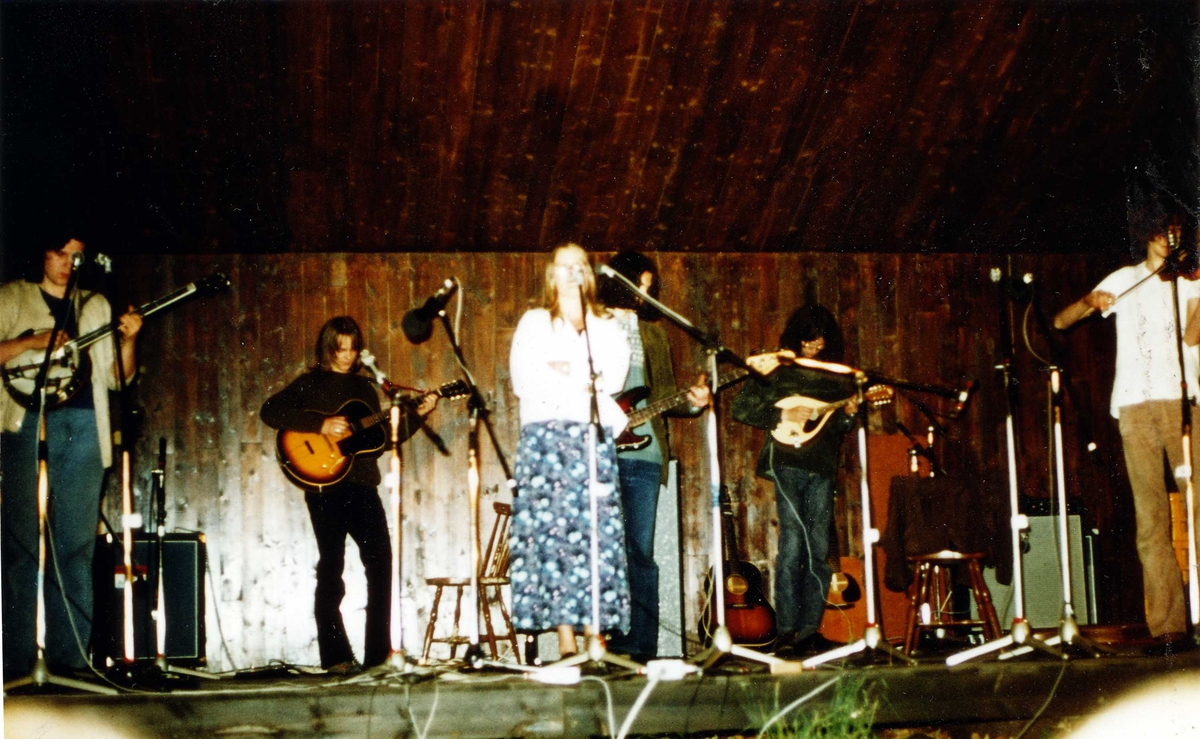 Folque – "Harpa" Video file link on YouTube
Folque – "Folque" Full Album Video Playlist on YouTube
Folque Band's Page on Apple Music
Folque Band's Page on Rate Your Music
Folque – "Folque" Full Album Download Link on FolkYourself Blog