Steve Hillage Photo
Steve Hillage – "The Glorious Om Riff" Video on YouTube
Category/Music Genres :
Ambient/Canterbury Scene/Electronic Music/Progressive/Psychedelic/Space Rock U.K. 1970s (Tracks)
Artist :
Steve Hillage (London, U.K.)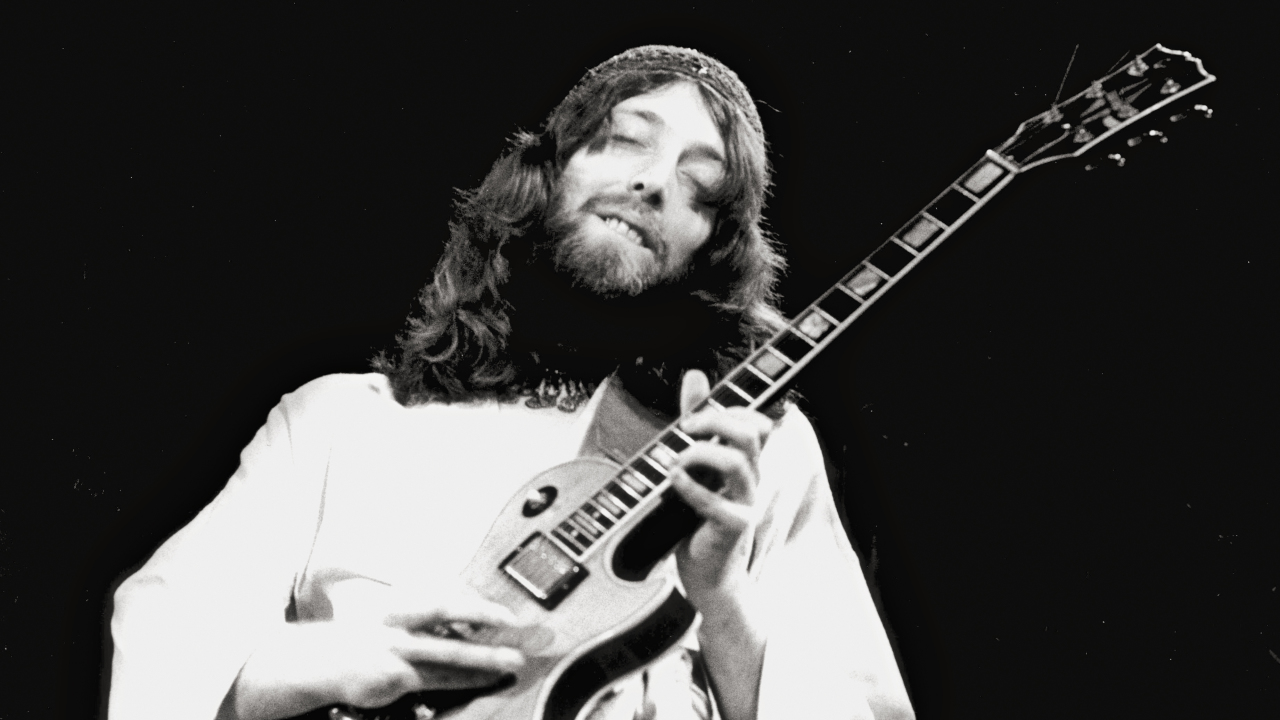 Artist's full name : Stephen Simpson Hillage
Also known as :
Simeon Sasparella, Steve Hillfish, The Steve Hillage Band
Member of :
Arzachel, Gong, Khan, Mirror System, Paragong, System 7
Track :
"The Glorious Om Riff" (written by Compagnie d' Opera Invisible de Thibet, aka Gong)  B6 (closing track) included on the album "Green" 
"The Glorious OM Riff" is a remake of the song "Master Builder" from the Gong album You (1974), which Hillage had a hand in composing with the other members of Gong. The song is "a cacophonous blast, with masses of ear-splitting solos," and it has been noted that "the seeds of [Hillage's] future direction were sown here.
Album :
"Green" released on Virgin Records ( V 2098) in April 1978
Green vinyl, packaged with embossed cover, printed insert sheet and poster included.
Printed in England by ROBOR LIMITED.
"A Celebration Of Time-Space Travel Through Nature"
Basic tracks recorded December 1977 at Ridge Farm, Dorking, Surrey.
Overdubs recorded January 1978 at Matrix Studio, London.
Overdubs and mixing February 1978 at Brittania Row Studio, London.
℗ 1978 Virgin Records Ltd.
Line-up/Credits :
Steve Hillage – Guitar, Synthesizer [Moog, Guitar], Vocals, Producer, Arranged By
With:
Miquette Giraudy / ARP & EMS synthesizers, vocoder, vocals
Curtis Robertson / bass
Joe Blocker / drums, percussion
Andy Anderson / drums (2,11,13)
Nick Mason / drums (7), co-producer
Dave Stewart / guitars (11,13)
Paul Francis / bass (11,13)
Christian Boule / guitars (12)
Phil Hodge / keyboards (12)
Basil Brooks / synthesizer (12)
Colin Bass / bass (12)
Clive Bunker / drums(12)
ArtWork: John Michell
Engineer – John Wood
Engineer [Assistant] – Andy Llewelyn, Malcolm Heeley
Producer – Nick Mason
Written-By – Bynum (tracks: B2), C.O.I.T. (tracks: B6), Robertson (tracks: B1, B2), Blocker (tracks: B2), Giraudy (tracks: A1 to B5), Hillage
Recorded At – Ridge Farm Studios
Overdubbed At – Matrix Studios
Overdubbed At – Britannia Row Studios
Mixed At – Britannia Row Studios
Printed By – Robor Ltd.
Phonographic Copyright (p) – Virgin Records Ltd.
Copyright (c) – Virgin Music (Publishers) Ltd.
Track-List :
1. Sea-nature (6:43)
2. Ether Ships (5:02)
3. Musick Of The Trees (4:53)
4. Palm Trees (Love Guitar) (5:19)
5. Unidentified (Flying Being) (4:30)
6. U.F.O. Over Paris (3:11)
7. Leylines To Glassdom (4:06)
8. Crystal City (3:36)
9. Activation Meditation (1:03)
10. The Glorious Om Riff (7:46)
Total Time: 46:13
Bonus Tracks on 2007 Virgin Remaster:
11. Unidentified (Flying Being) (Live) (4:52)
12. Not Fade Away (Glid Forever) (Live)  (7:25)
13. Octave Doctors (Live *) (3:38)
14. Meditation Of The Snake (Alternative Mix) (3:16)
* Recorded at Glastonbury 1979
$ Recorded at The Rainbow Theatre 1977
Information about the album/artist/track :
Green is the fourth studio album by British progressive rock musician Steve Hillage. Written in spring 1977 at the same time as his previous album, the funk-inflicted Motivation Radio (1977), Green was originally going to be released as The Green Album as a companion to The Red Album (the originally intended name for Motivation Radio). However, this plan was dropped and after a US tour in late 1977, Green was recorded alone, primarily in Dorking, Surrey, and in London.
Produced and engineered by Pink Floyd drummer Nick Mason, Green features science fiction themes and explores electronic music, especially of a dance music bent, continuing the dance themes of Motivation Radio. Most of the guitar and some of the keyboard parts on Green were played by Hillage with a Roland GR 500–an early guitar synthesizer. Hillage enjoyed "the hybrid sounds" he achieved on the album with the instrument, but would retire the instrument as it was too problematic to use.
The album was released in 1978 by Virgin Records, originally as a limited edition translucent green vinyl before the standard version replaced it shortly afterwards. The album cover features a distinctive "pyramid fish" design by English writer John Michell. Green peaked at number 30 on the UK Albums Chart and was a critical success. Hillage pursued a more electronic direction after its release. Green was remastered for CD release in both 1990 and 2007.
On Steve Hillage's 1978 release Green, the underground prog rock fan favorite issues more of his trademark thinking-man's music. Fans of mid- to late-'70s Pink Floyd will want to check this album out, since it possesses many of the same musical qualities, due to the fact that it was produced by Floyd drummer Nick Mason, along with Hillage. Although not as consistent as some of his other albums, it certainly has its moments. Hillage's recurring sci-fi influence is still felt in his music, especially on such tracks as "Sea Nature," "UFO Over Paris," and "Unidentified (Flying Being)." Hillage uses the same band that appeared on his Motivation Radio album, which helps make Hillage's twisted songs even better (like his other albums, the musicianship is top-notch). Besides comparisons to Floyd, the album's music is also similar to David Bowie's late-'70s experimental electronic phase (check out the track "Crystal City," with vocals almost identical to Bowie). Hillage fans will definitely not be disappointed with Green.
Photos related to the album/artist/track :
Steve Hillage – "Green" Album photo 
Steve Hillage – "Green" Album cover photo (front)
Steve Hillage – "Green" Album cover photo (back)
Steve Hillage – "Green" Album photo (A' Side)
Steve Hillage – "Green" Album photo (B' Side)
Steve Hillage – "Green" Album photo (A' Side)
Steve Hillage – "Green" Album photo (B' Side)
Steve Hillage -"Green" Album Artwork
Steve Hillage -"Green" Album Artwork
Steve Hillage Photo

Links related to the album/artist/track :
Steve Hillage – "The Glorious Om Riff" Video file link on YouTube
Steve Hillage – "The Glorious Om Riff" Full Album Video Playlist on YouTube
Steve Hillage Artist's Page on Spotify
Steve Hillage Artist's Page on Google Play
Steve Hillage Artist's Page/Full Albums/Download Links on Muro Do Classic Rock Blog
Steve Hillage – "Green" Full Album Download Link on Opium Hum Blog
Steve Hillage Artist's Page on Discogs
Steve Hillage Artist's Page on Rate Your Music
Steve Hillage Artist's Homepage
Steve Hillage Artist's Page on Progarchives
Steve Hillage Band/Gong Band's Homepage
Steve Hillage Artist's Page on Twitter
Steve Hillage Artist's Interview on Rocktologist Website
Steve Hillage Artist's Interview on Inner Views Website
Steve Hillage Band Band's Page on Bandcamp
Steve Hillage Artist's Page on IMDb
Steve Hillage Artist's Page on Apple Music
Steve Hillage Artist's related shows on Mixcloud
Steve Hillage Artist's Page on Setlist Fm
\Steve Hillage Artist's Page on Instagram
Steve Hillage Artist's Page on eBay