Terje Rypdal – "Dead Man's Tales" Track's video on YouTube
Category/Music Genres :
Blues Rock, Jazz Rock, Psychedelic Rock, Norway 1960s (Tracks)
Artist :
Terje Rypdal ( Oslo, Norway)
Terje Rypdal Artist's photo
Related Groups :
Dream (6), Jan Garbarek Quartet, Min Bul, Morning Glory (2), Terje Rypdal Trio, Terje Rypdals Orchestra,The Baden-Baden Free Jazz Orchestra, The Chasers, The Esoteric Circle, The George Russell Sextet,The Hugger Muggers, The New Eternal Rhythm Orchestra, The Terje Rypdal Group, The Tomasz Stanko Septet, The Vanguards
Track :
"Dead Man's Tales" A1 track included on the album "Bleak House"
Album :
"Bleak House", released on Polydor Records (184 189) in 1968
Terje Rypdal – "Bleak House" Album cover photo (front)
Recorded on Oct 7th, 8th and 22nd 1968, at Roger Arnhoff Lydstudio, Oslo, Norway.
A3: "A free form composition based on an idea by T. Rypdal". The composer credited for B1 is "xxx".
Terje Rypdal – "Bleak House" Full Album Audio Playlist on Spotify
Line-up/Credits :
C- Terje Rypdal / guitar, flute, vocals, producer
With:
Christian Reim / piano, organ (3,5)
Carl Magnus Neumann / alto sax & flute (2,5)
Hans Knudsen / baritone sax (2,5)
Jan Garbarek / tenor sax, flute & bells (2-5)
Frode Thingnæs / trombone & tuba (4,5)
Kjell Haugen / trombone (2,4,5)
Tore Nilsen / trombone (2)
Øivind Westby / trombone (2)
Ditlef Eckhoff / trumpet (2)
Jarl Johansen / trumpet (2-5)
Kåre Furuholmen / trumpet (2,4)
Frøydis Ree Hauge / horn (5,6)
Odd Ulleberg / horn (5,6)
Knut Riisnæs / tenor sax (3), arranger & conductor (2,4,5)
Terje Venaas / bass (2-5)
Tom Karlsen / drums (1)
Jon Christensen / drums (2-5)arl Magnus Neumann (tracks: A2 to B2)
Arranged By – Knut Riisnæs (tracks: A2, B1, B2)
Composed By – Terje Rypdal
Engineer [Recording] – Roger Arnhoff
Photography By – Sohlberg Foto
Producer – Terje Rypdal
Recording Supervisor – Odd Løken
Track-list :
1. Dead Man´s Tale (7:03)
2. Wes (4:15)
3. Winter Serenade (6:04):
– a) Falling Snow
– b) Snow Storm
– c) Melting Snow
4. Bleak House (7:05)
5. Sonority (5:21)
6. A Feeling Of Harmony (2:29)
Total time 33:05
Terje Rypdal – "Bleak House" Album cover/track-list photo (back)
Information related to the artist :
"Wikipedia"
Terje Rypdal (born 23 August 1947) is a Norwegian guitarist and composer. He has been an important member in the Norwegian jazz community, and has also given show concerts with guitarists Ronni Le Tekrø and Mads Eriksen as "N3".
Rypdal was born in Oslo, the son of a composer and orchestra leader. He studied classical piano and trumpet as a child, and then taught himself to play guitar as he entered his teens. Starting out as a Hank Marvin-influenced rock guitarist with The Vanguards, Rypdal turned towards jazz in 1968 and joined Jan Garbarek's group and later George Russell's sextet and orchestra. An important step towards international attention was his participation in the free jazz festival in Baden-Baden, Germany, in 1969, where he was part of a band led by Lester Bowie. During his musical studies at Oslo university and conservatory, he led the orchestra of the Norwegian version of the musical Hair. He has often been recorded on the ECM record label, both jazz-oriented material and classical compositions (some of which do not feature Rypdal's guitar).
His compositions "Last Nite" and "Mystery Man" were featured in the Michael Mann film Heat, and included on the soundtrack of the same name.
Rypdal was married (1969–1985) to the Norwegian singer Inger Lise Andersen/Rypdal, and they had two children, the auditor Daniel (1970) and the electronica musician Marius (1977). Rypdal was married again in 1988 to Elin Kristin Bergei (born 28 May 1955). They have two children Ane Izabel (1988) and the guitarist Jakob Rypdal (1989). They (as of 2013) live in Tresfjord.
"All Music"
Norwegian guitarist Terje Rypdal has an instantly recognizable, difficult to peg style, both an as ensemble player and as a soloist. He has directly or indirectly influenced virtually every one of his countrymen who followed him on the instrument. He is also a virtuoso multi-instrumentalist and, perhaps most importantly, a world-class composer. He has written six symphonies, numerous chamber works, and sonatas.
Rypdal was born in Oslo in 1947, the son of a conductor and clarinetist for a military band. He began his musical studies on the piano by the age of five, and at eight added trumpet. He abandoned both instruments at age 13 for the guitar. On his chosen instrument, Rypdal was self-taught. Between 1962 and 1967 he was part of the Vanguards, a Norwegian instrumental rock group modeled on the Ventures and the British Shadows, but all that changed when he heard Jimi Hendrix for the first time. Rypdal started the psychedelic rock band Dream in late 1967; they recorded their sole album, Get Dreamy, for Polydor in 1968. That same year he formed another band with saxophonist Jan Garbarek and drummer Jon Christensen, and released his first ambitious meld of rock, classical, and jazz with Bleak House for Polydor under his own name.
Rypdal originally attended the Technical University in Trondheim to become an electrical engineer, but left to study musicology at the University of Oslo. He later attended the Music Conservatory in Oslo (later renamed the Norwegian State Academy of Music) from 1970-1972, where he studied with composers Finn Mortensen and George Russell. Rypdal was part of Garbarek's quartet for Afric Pepperbird, the saxophonist's debut for ECM in 1970. He made his debut as a composer with Eternal Circulation in 1971, which was performed with by the Garbarek Quartet and the Oslo Philharmonic Orchestra. Rypdal also played with Russell in concert and in the studio, resulting in several offerings including George Russell Presents the Esoteric Circle, and Electric Sonata for Souls Loved by Nature, both issued in 1971. He appeared on Garbarek's sophomore ECM date Sart, and recorded his self-titled debut for the label (he has been there ever since) that same year. Some of his sidemen for the date included Garbarek, bassist Arild Andersen, and pianist Bobo Stenson. This album walked a generous line between free jazz, progressive, psychedelic rock, and more avant-garde classical music. It established Rypdal as a composer and guitarist throughout Europe.
In 1972, he appeared on the live, star-studded session that was released as Morning Glory in 1973 on Antilles; the other players included John Surman, John Marshall, Chris Laurence, John Taylor, and Malcolm Griffiths. In 1973, Rypdal recorded with Russell again; the ensuing offering was entitled Listen to the Silence. He also composed Concerto for Violbasso and Orchestra for Barre Phillips. He released two of his own albums for ECM in 1974, Whenever I Seem to Be Far Away and What Comes After.
The year 1975 proved monumental for Rypdal. His Symphony No. 1 was commissioned by Norwegian Television, and he released the widely acclaimed double-album Odyssey, which was regarded as the pinnacle of jazz-rock fusion. The Odyssey Band toured the globe and was especially successful in the U.S.A. In 1976, Rypdal did a turnabout, and released the musically impressionistic After the Rain, on which he performed all instruments. He also recorded with Russell but went back to his ensemble work with 1978's Waves. Rypdal finished the '70s with a trio date, co-billed with collaborators bassist Miroslav Vitous and drummer Jack DeJohnette.
He commenced the new decade with Descendre, a trio session with Christensen and trumpeter Palle Mikkelborg. Rypdal played keyboards and flute in addition to guitar. To Be Continued, the second album with Vitous and DeJohnette, appeared in 1981. After touring and an extended break during which he worked on his classical composing, Rypdal emerged with his first duet album for ECM, the vanguard classical, electro-acoustic work, Eos in 1984. The guitarist returned to a trio format for The Chaser and Blue in 1985 and 1986, respectively. The latter year also saw the release of a 1970 date he and Garbarek had recorded with the George Russell Sextet, A Trip to Prillargui, released on Soul Note. Rypdal also recorded his groundbreaking modern classical work, Undisonus in 1986 (though it wouldn't see release for four more years) and composed two more symphonies. In 1989 he released The Singles Collection, a jazz-rock quartet date that focused on exceedingly brief compositions.
The album, Undisonus for Violin and Orchestra / Ineo for Choir and Chamber Orchestra, was finally released in 1990 to massive critical acclaim, and received the "Work of the Year" prize from the Society of Norwegian Composers. It was followed by the long-form work Q.E.D. in 1993, and the jazz-cum-neo-classical fusion set If Mountains Could Sing in 1995. Also that year, Rypdal recorded as a session player with pianist and composer Ketil Bjørnstad's group on The Sea, and as part of Surman's ensemble on Nordic Quartet, both issued on ECM. In 1997, the guitarist issued Skywards, a sextet date that walked the line between formal jazz composition and free improvisation. He finished the decade with Bjørnstad on The Sea II, and a guitar duet recording with Ronni Le Tekrø entitled Tekro II on the Grappa label, both in 1998.
Rypdal began the 21st century busier than ever. In addition to receiving commissions to compose, he was part of Markus Stockhausen's ensemble on Karta, and saw his own Double Concerto/Fifth Symphony issued by ECM. In 2002, his five-movement work, Lux Æterna for soprano, chamber ensemble, organ, trumpet, and guitar, a second album with Tekrø entitled The Radiosong, and his Sonata Op. 73/Nimbus Op. 76 with violinist Birgitte Stærnes, were all released on different labels. In 2006, Vossabrygg, a live sextet date from 2003 inspired by Miles Davis' Bitches Brew group and early Weather Report, was released by ECM. The date also featured an appearance by Rypdal's son Marius on turntables and samplers. Life in Leipzig, a duet offering with Bjørnstad, followed in 2008. The large-ensemble tribute to film noir, Crime Scene, appeared in 2010, as did Very Much Alive, a mammoth six-disc concert run by jazz drummer Paolo Vinaccia that featured the guitarist Ståle Storløkken and Mikkelborg. After several festival appearances, the completion of commissions, and some time off, Rypdal returned to recording with 2013's The Melodic Warrior and large-scale ensemble work conducted by Dennis Russell Davies.
"Progarchives"
Born 23 August 1947 (Oslo, Norway)
He is known as one of the leading modern jazz guitarists in Europe. At the same time he is regarded to be an outstanding composer of contemporary art music. Rypdal has has a multifarious musical career since he started his pop band "The Vanguards" in the 1960'ies. He later started up "Dream" where his interest for jazz was awakened. In 1969 he joined the Jan Garbarek Quartet. At the same time he even played in George Russell's Sextet and big band. Rypdal has up through the years composed numerous jazz compositions for own as well as other groups.
Terje Rypdal played the piano from he was five years old, and started up with guitar from the age of 13. As a guitarist he is self-taught. He has studied musicology at the University in Oslo. During the years 1970-72 he studied composition with Finn Mortensen at the Music Conservatory in Oslo (Later the Norwegian State Academy of Music). He has also studied improvisation with George Russell.
As a composer Rypdal received his first impulses from Ligeti, Penderecki and Mahler and he soon developed his own style. His début as a composer was with "Eternal Circulation" (1971), performed with Jan Garbarek Quartet and Oslo Philharmonic Orchestra. Among his works can be mentioned: Symphony No. 1 (1975) commissioned by the Norwegian Television. His opera "Orfeo Turns Around and Watches Eurydice", premiered in 1972 at the Henie Onstad Art Centre outside Oslo. For the American bass player Barre Phillipps we wrote his "Concerto per violbasso e orchestra" (1973). His violin concerto "Undisonus" received the prize "Work of the Year" by the Society of Norwegian Composers. He has composed five symphonies, several works for solo instruments with orchestra, two operas and a large number of contemporary works with participation of jazz musicians.
Terje Rypdal's compositions witness his versatile musical work, his rich imagination and solid knowledge. One can find poetic moments with an almost impressionistic colour as well as constellations of sound with elements from jazz, late romanticism and avantgardism. In addition to his large production of modern art music he has also a great number of jazz and rock compositions.
with courtesy of the Music Information Centre Norway.
Photos related to the album/track :
Terje Rypdal – "Bleak House" Album cover photo (front)
Terje Rypdal – "Bleak House" Album  photo (A' Side)
Terje Rypdal – "Bleak House" Album photo (B' Side)
Photos related to the artist :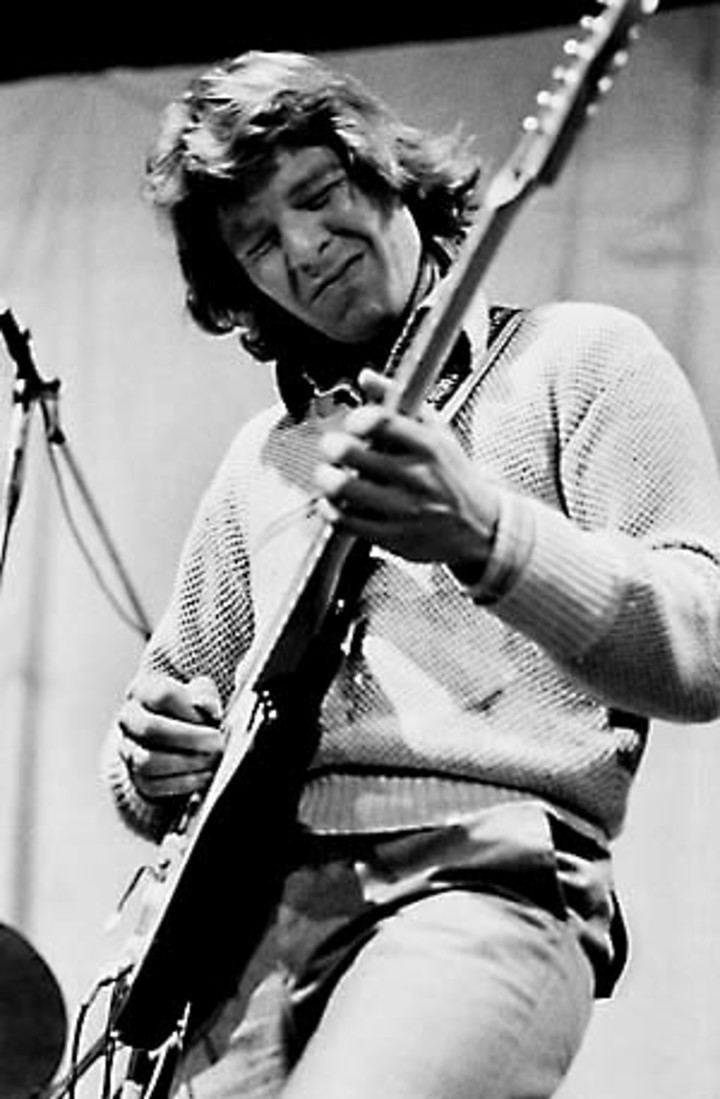 Links related to the album/track :
Terje Rypdal – "Dead Man's Tales"Video file link on "YouTube"
Terje Rypdal – "Bleak House" Full Album Video Playlist on "YouTube"
Terje Rypdal – "Bleak House" Full Album Download Link on "Opium Hum"Blog
Terje Rypdal – "Bleak House" Full Album Review on "Paste Magazine"
Terje Rypdal – "Bleak House" Full Album Audio Playlist on "Spotify"
Terje Rypdal – "Bleak House" Full Album Audio Playlist on "Tidal"
Terje Rypdal – "Bleak House" Full Album Audio Playlist on "Apple Music"
Links related to the artist :
Terje Rypdal Artist's Page on "Discogs"
Terje Rypdal Artist's Page on "ECM Records"
Terje Rypdal Artist's Page on "Rate Your Music"
Terje Rypdal Artist's Page on "Spotify"
Terje Rypdal Artist's Page on "Setlist Fm"
Terje Rypdal Artist's Page on IMDb
Terje Rypdal on "Notes On The Road" Terje Rypdal's Odyssey: New York and Beyond the Infinite An interview with Terje Rypdal from 2012 by Gideon Egger and Ying Zhu
Terje Rypdal Shows on "Mixcloud"
Terje Rypdal Artist's Page on "Deezer"
Terje Rypdal Artist's Page on "Tidal"
Terje Rypdal Artist's Page on "Apple Music"
Terje Rypdal Artist's Page on "Getty Images"