King Crimson – "In The Wake Of Poseidon (including Libra's Theme)"
Category/Music Genres :
Progressive Rock U.K. 1970s 
Band :
King Crimson (London, Greater London, U.K.)
Members :
Robert Fripp (guitar, keyboards), Ian McDonald (saxophone, flute, keyboards, 1969), Greg Lake (bass, vocals, 1969-70), Michael Giles (drums, 1969-70), Peter Sinfield (lyrics, 1969-71), Gordon Haskell (bass, vocals, 1970), Andy McCulloch (drums, 1970), Mel Collins (saxophone, flute, 1970-72, 2013-present), Boz Burrell (bass, vocals, 1971-72), Ian Wallace (drums, 1971-72), Jamie Muir (percussion, 1972-73), John Wetton (bass, vocals, 1972-74), David Cross (violin, viola, flute, keyboards, 1972-74), Bill Bruford (drums, 1972-97), Tony Levin (bass, 1981-99, 2003-present), Adrian Belew (guitar, vocals, 1981-2013), Trey Gunn (bass, Chapman stick, Warr Guitar, 1994-2003), Pat Mastelotto (drums, 1994-present), Gavin Harrison (drums, 2007-present), Bill Rieflin (drums, keyboards, 2013-present), Jakko M. Jakszyk (vocals, guitar, 2013-present), Jeremy Stacey (drums, keyboards, 2016-present)
Related Artists :
21st Century Schizoid Band, Asia, The Brain, Bruford Levin Upper Extremities, Centipede, The Crimson ProjeKCt, Dizrhythmia, Robert Fripp & the League of Crafty Guitarists, Robert Fripp String Quintet, Giles, Giles and Fripp, Gordian Knot, The Kings of Oblivion, Alexis Korner & Snape, KTU, ProjeKct Four, ProjeKct One, ProjeKct Six, ProjeKct Three, ProjeKct Two, Shy Limbs, Slow Music, The Soundtracks, Stick Men, Sunday All Over the World, The Trend, Trendsetters Limited, TU, U.K.
Also known as :
Discipline [1981], ProjeKct X
Track :
"In The Wake Of Poseidon (including Libra's Theme)" (written by Peter Sinfield, Robert Fripp), A4 track included on the album "In The Wake Of Poseidon"
Album :
"In The Wake Of Poseidon" released on Island Records ( ILPS–9127) on 15th May 1970
In the Wake of Poseidon is the second studio album by English progressive rock group King Crimson, released in May 1970 by Island Records in Europe, Atlantic Records in the United States, and Vertigo Records in New Zealand. The album was recorded during instability in the band, with several personnel changes, but repeats the style of their first album, In the Court of the Crimson King. As with their first album, the mood of In the Wake of Poseidon often and quickly changes from serene to chaotic, reflecting the versatile musical aspects of progressive rock. To date the album is their highest-charting in the UK, reaching number 4. It has been well received by critics.
King Crimson – "In The Wake Of Poseidon" Album cover photo (front/back)
King Crimson "In The Wake Of Poseidon" Full Album Video on Vimeo
Line-up/Credits :
King Crimson :
Robert Fripp: guitar, mellotron & devices
Gregg Lake: vocals
Michael Giles: drums
Peter Giles: bass
Keith Tippet: piano
Mel Collins: saxes & flutes
Gordon Haskell: vocal (3)
Peter Sinfield: words.
Robert Fripp – guitars, mellotron (tracks 2, 4, and 7), celesta (track 3), electric piano (track7), devices, production
Peter Sinfield – lyrics, production
Former King Crimson personnel :
Michael Giles – drums
Greg Lake – vocals (all except tracks 3, 5 and 7)
Future King Crimson personnel :
Mel Collins – saxophones (track 2), flute (track 3)
Gordon Haskell – vocals (track 3)
Additional personnel :
Peter Giles – bass guitar
Keith Tippett – piano
Tony Page & Robin Thompson – recording & engineering
40th Anniversary Edition credits :
Stereo files prepared at Super Audio Mastering, Devon by Simon Heyworth
5.1 mastered by Simon Heyworth at Super Audio Mastering, Devon
DVD Design & Layout by Claire Bidwell at Opus Productions Ltd
DVD Authoring & Assembly by Neil Wilkes at Opus Productions Ltd
Tape transfers by Kevin Vanbergen at FX
DGM tape Archive: Alex Mundy
Package Art & Design by Hugh O'Donnell
Compiled & Coordinated by Declan Colgan for DGM
Published by UMG Music Ltd.
Artwork: "The 12 Archetypes or The 12 Faces of Humankind" painted by Tammo De Jongh in 1967
Track-list :
1. Peace – A Beginning (0:49)
2. Pictures Of A City (including 42nd At Treadmill) (8:03)
3. Cadence And Cascade (4:27)
4. In The Wake Of Poseidon (incl. Libra's Theme) (7:56)
5. Peace – A Theme (1:15)
6. Cat Food (4:54)
7. The Devil's Triangle (11:39)
– a. Merday Morn
– b. Hand Of Sceiron
– c. Garden Of Worm
8. Peace – An End (1:53)
Total Time: 40:56
Bonus tracks on 2005 DGM remastered reissue :
9. Cat Food (Single version) (2:45)
10. Groon (Single b-side) (3:35) Lyrics :
Plato's spawn cold ivyed eyes
Snare truth in bone and globe.
Harlequins coin pointless games
Sneer jokes in parrot's robe.
Two women weep, dame scarlet screen
Sheds sudden theatre rain,
Whilst dark in dream the midnight queen
Knows every human pain.
In air, fire, earth and water
World on the scales.
Air, fire, earth and water
Balance of change
World on the scales
On the scales.
Bishop's kings spin judgement's blade
Scratch "faith" on nameless graves.
Harvest hags hoard ash and sand
Rack rope and chain for slaves
Who fireside fear fermented words
Then rear to spoil the feast;
Whilst in the aisle the mad man smiles
To him it matters least.
Heroes hands drain stones for blood
To whet the scaling knife.
Magi blind with visions light
Net death in dread of life.
Their children kneel in jesus till
They learn the price of nail;
Whilst all around our mother earth
Waits balanced on the scales.
Information related to the album/band/track :
"Wikipedia"
King Crimson are an English progressive rock band formed in London in 1968. King Crimson have been influential both on the early 1970s progressive rock movement and numerous contemporary artists. The band has undergone numerous formations throughout its history, in the course of which 22 musicians have been members; since October 2017 it has consisted of Robert Fripp, Jakko Jakszyk, Tony Levin, Mel Collins, Pat Mastelotto, Gavin Harrison, Jeremy Stacey and Bill Rieflin. Fripp is the only consistent member of the group and is considered the band's leader and driving force. The band has earned a large cult following. They were ranked No. 87 on VH1's 100 Greatest Artists of Hard Rock. Although considered to be a seminal progressive rock band (a genre characterised by extended instrumental sections and complex song structures), they have often distanced themselves from the genre: as well as influencing several generations of progressive and psychedelic rock bands, they have also been an influence on subsequent alternative metal, hardcore and experimental/noise musicians.
Developed from the unsuccessful psychedelic pop trio Giles, Giles and Fripp, the initial King Crimson were key to the formation of early progressive rock, strongly influencing and altering the music of contemporaries such as Yes and Genesis.  Their debut album, In the Court of the Crimson King (1969), remains their most successful and influential release, with its elements of jazz, classical and experimental music. Their success increased following an opening act performance for the Rolling Stones at Hyde Park, London, in 1969. Following In the Wake of Poseidon (1970) and the less successful chamber jazz-inspired Lizard (1970), and Islands (1971), the group reformatted and changed their instrumentation (swapping out saxophone in favour of violin and unusual percussion) in order to develop their own take on European rock improvisation, reaching a new creative peak on Larks' Tongues in Aspic (1973), Starless and Bible Black (1974) and Red (1974). Fripp disbanded the group in 1974.
In 1981, King Crimson reformed with another change in musical direction and instrumentation (incorporating, for the first time, a mixture of British and American personnel plus doubled guitar and influences taken from gamelan, post-punk and New York minimalism). This lasted for three years, resulting in the trio of albums Discipline (1981), Beat (1982) and Three of a Perfect Pair (1984). Following a decade-long hiatus, Fripp revived the group as an expanded "Double Trio" sextet in 1994, mingling its mid-'70s and 1980s approaches with new creative options available via MIDI technology. This resulted in another three-year cycle of activity including the release of Thrak (1995). King Crimson reunited again in 2000 as a more alternative metal-oriented quartet (or "Double Duo"), releasing The Construkction of Light in 2000 and The Power to Believe in 2003: after further personnel shuffles, the band expanded to a double-drummer quintet for a 2008 tour celebrating their 40th anniversary.
Following another hiatus between 2009 and 2012, King Crimson reformed once again in 2013; this time as a septet (and, later, octet) with an unusual three-drumkit frontline and the return of saxophone/flute to the lineup for the first time since 1971. This current version of King Crimson has continued to tour and to release live albums, significantly rearranging and reinterpreting music from across the band's entire previous career.
Since 1997, several musicians have pursued aspects of the band's work and approaches through a series of related bands collectively referred to as ProjeKcts.
"Last Fm" 
King Crimson are a progressive rock group from London, England, United Kingdom formed in 1968 by guitarist Robert Fripp and drummer Michael Giles. Though originally an all-British musical group, later members have included a number of Americans, most notably Adrian Belew, and Tony Levin. The name "King Crimson" was coined by Peter Sinfield as a synonym for Beelzebub, prince of demons.
King Crimson's debut album was In the Court of the Crimson King. The first major success of the new genre of progressive rock, many bands that would come to dominate 'prog' in the 1970s first sought to emulate In the Court of the Crimson King, including Genesis, the Alan Parsons Project, and later Rush.
The line-up of King Crimson has at times changed drastically from album to album. Original lead singer and bassist Greg Lake left the group – as did lyricist Peter Sinfield – and went on to fame with Emerson, Lake & Palmer in 1970, replaced by Gordon Haskell, Boz Burrell, and, briefly, Jon Anderson of Yes. Also from Yes came drummer Bill Bruford, who joined King Crimson in 1972 and became one of the more enduring members. For the next three years, Bruford and Fripp were joined by future Asia frontman John Wetton. With comparatively few additional musicians, these mid-1970s albums and performances showed a more raw and stylistically focused – though still improvisational – King Crimson. In 1974 the band split temporarily.
In 1981, bassist Tony Levin and guitarist/singer Adrian Belew joined Fripp and Bruford in a band initially called Discipline. Changing the name back to King Crimson, the four released a trio of studio albums which preserved the classic heavy and improvisational sound, but also embraced 1980s musical influences and technologies.
In 1984 the band split up again, then re-formed in 1994 with former Mr. Mister drummer Pat Mastelotto joining forces with and later replacing Bruford. This lineup included bassist Trey Gunn – playing warr guitar and chapman stick – forming a "double trio" of two guitarists, two bassists and two drummers. In between KC commitments, various combinations of the members convened in different "ProjeKcts": ProjeKct One, ProjeKct Two, ProjeKct Three, ProjeKct Four, and ProjeKct X, with Robert Fripp describing them as "fraKctals" of the band with the purpose of "research and development".
2000-2003 saw a new incarnation of King Crimson, without Bruford and Levin, which culminated in the album The Power to Believe and a concert tour. Trey Gunn left the group afterwards, but Fripp and Belew announced that they would meet in 2007 and think about future KC music. Tony Levin agreed to replace Gunn on bass/stick.
A new King Crimson line-up was announced in late 2007 and scheduled for rehearsals in 2008, consisting of Fripp, Belew, Mastelotto, Levin, and Gavin Harrison of Porcupine Tree. In August 2008 the band set out on a brief four-city tour in preparation for King Crimson's fortieth anniversary in 2009. A short time thereafter, on 20th August 2008, DGMLive (a web medium for Fripp to release live recordings) issued a download-only release of the August 7th, 2008 concert in Chicago. The show reveals a drum-centred direction but the set list, consistent with the rest of the tour, contains no new material or extended improvisation. However, many of the pieces from the back catalogue receive new arrangements, most notably the renditions of "Neurotica," "Sleepless", and "Level Five", all of which are given percussion-heavy overhauls, presumably to highlight the return to the dual-drummer format. More recordings from the New York shows are scheduled for download soon as well. There has been talk of more King Crimson shows in 2009, but nothing definite has arisen yet.
In 2008, Steven Wilson began remixing the studio catalogue into 5.1 Surround Sound for possible future release.
Despite its many changes, King Crimson has retained a consistent sound and atmosphere, largely as a result of Fripp's signature guitar work. Though they have not had a commercial success since their first album, the band has one of the most devoted followings of any musical group. Their live albums outnumber studio albums by a wide margin (some of them being "official" bootlegs), and there are more than enough ex-members to fully staff the 'classic' KC revival group known as 21st Century Schizoid Band.
On 5 December 2010, Fripp wrote a diary entry on his DGM website outlining his current stage of involvement in the music industry. The diary entry suggested that the King Crimson "switch" had been set to "off" and detailed a number of reasons why he was not currently interested in performing or writing with the band. In spite of this, activity related to the band continues. A separate band based around Jakko Jakszyk and King Crimson alumni Robert Fripp and Mel Collins (who played last with King Crimson on Red) was announced in 2011 as being called "A King Crimson ProjeKct". Fripp has also referred to it as "P7". An album A Scarcity of Miracles features these three musicians, along with other Crimson alumni Tony Levin and Gavin Harrison.
In an interview with Financial Times published on 3 August 2012, Fripp announced that he was retiring from the music industry, leaving the future of King Crimson uncertain.
Fripp's retirement lasted for just over a year. On 6 September 2013, Fripp announced King Crimson's return to work with a new line-up, stating that "this is a very different reformation to what has gone before: seven players, four English and three American, with three drummers. The Seven-Headed Beast of Crim is in Go! mode". The current band consists of Fripp, three musicians from the previous 2009 lineup (bassist Tony Levin, drummers Gavin Harrison and Pat Mastelotto) saxophonist/flute player Mel Collins (previously in King Crimson's 1971 lineup); and two new recruits, Jakko Jakszyk (vocals, guitar) and Bill Rieflin (drums, ex-REM, Ministry and others).
While this lineup has reunited the team which had assembled A Scarcity of Miracles (plus Rieflin), it has not yet been revealed whether the two projects will have much continuity. Fripp has provided some hints as to the musical approach which the new band will take – "The Point Of Crim-Seeing was of a conventional backline – Gavin Harrison, Bill Rieflin, Tony Levin and Pat Mastelotto – reconfigured as the frontline, with Mel Collins, Jakko Jakszyk and myself as backline." Due to outstanding individual commitments, King Crimson will not be performing live until late 2014 (but will be rehearsing in both full- and small-group formations before then).
Fripp has cited several reasons for King Crimson's return, varying from the practical (the likely financial settling of his dispute with Universal Music Group, plus imminent completion of his Guitar Circle book and DU Reading Project) to the whimsical: "I was becoming too happy. Time for a pointed stick."
YEARS ACTIVE :
1969 – present (50 years)
FOUNDED IN :
London, England, United Kingdom
MEMBERS :
Adrian Belew (1981 – 2013)
Andy McCulloch (1970 – 1970)
Bill Bruford (1972 – 1999)
Boz Burrell (1971 – 1972)
David Cross (1972 – 1974)
Gavin Harrison (2007 – present)
Gordon Haskell (1970 – 1970)
Greg Lake (1968 – 1970)
Ian McDonald (1969 – 1969)
Ian Wallace (1971 – 1972)
Jakko M. Jakszyk (2013 – present)
Jamie Muir (1972 – 1973)
Jeremy Stacey (2016 – present)
John Wetton (1972 – 1974)
Mel Collins (1970 – present)
Michael Giles (1968 – 1969)
Pat Mastelotto (1994 – present)
Peter Sinfield (1968 – 1971)
Robert Fripp (1968 – present)
Tony Levin (1981 – present)
Trey Gunn (1994 – 2003)
William Rieflin (2013 – 2015)
"ProgArchives" 
King Crimson biography :
Formed in London in 1968 – Several hiatus & reformations (1981,1994,2007 & 2013) – Still active in 2017
" When you want to hear where music is going in the future, you put on a King Crimson album."
– Bill Bruford, 1995For all its break-ups, periods of non-existence and fluctuating methodology, King Crimson remains one of the interminably compelling bands playing within the domain of rock music to this day. Widely acknowledged as being the harbingers of the art-rock genre with their monumental 1969 album "In The Court Of The Crimson King", they paved the way for innovative art-rock/progressive rock bands such as Yes, ELP etc etc. in the early '70s as well as providing a stimulus for more recent neo-progressive bands like Tool and The Mars Volta through their post-progressive work in the early '80s and '90s. More of a frame of mind than a style, the music of King Crimson has constantly sought out sustenance through amalgamations of existing forms of music, veering away from any contemporary mould, nullifying any notions that it is necessary to adhere to proven formulas in order to create commercially feasible music.From its formative years in Bournemouth, England in the late '60s, King Crimson's unwavering guiding light has constantly emanated from the abstruse intellect of guitarist ROBERT FRIPP. Although he maintains that he is not the band's leader per se, he attributes the band's enduring viability to the collective brilliance of its individual members even though it seems to disband and reform at the wave of his magic wand. Fripp began playing guitar at the age of eleven with 'Trad. Jazz' perfomer Acker Bilk providing him with early inspiration. By the age of 18, he was playing with a hotel band in his hometown of Bournemouth performing at bar-mitzvahs and weddings while developing his distinctive guitar style which incorporated many classical techniques. While other early influences included such diverse sources as Bartok, Debussy and Django Reinhardt, he was particularly drawn to the 1967 Beatles song "A Day In The Life" which, he claimed, affected him in similar ways as classical composers and it was around this time his designs for King Crimson began to take form. In early '67, after playing with other local pop outfits, he joined two brothers, MICHAEL GILES and Peter Giles on drums and bass/vocals respectively. By October 1967, having changed their name to GILES, GILES & FRIPP, they found themselves in London where they recorded demos for a quirky pop album entitled "The Cheerful Insanity Of Giles Giles & Fripp" along with a collection of guest musicians which was released on the enterprising UK record label Deram Records in September '68. Despite some humorous folky musings and jazzy guitar lines by Fripp, sales were dismal and no more than 600 copies were sold. Also, in June '68, they hooked up with multi-instrumentalist Ian McDonald, who had received formal music instruction in the British Army, along with his girlfriend, vocalist Judy Dyble, who had previously been a member of Fairport Convention. Dyble stayed for only a matter of weeks before leaving for folk band Trader Horne when a former colleague of McDonald's, Peter Sinfield, arrived as lyricist. Although Sinfield, McDonald and Dyble had no part in the "Cheerful Insanity." album, which has been re-released on both vinyl and CD several times, they can be heard on a 2001 CD of out-takes from this evolutionary period collectively known as "The Brondesbury Tapes", which was edited by Peter Giles.A disenchanted Peter Giles left in October `68 to pursue a career in computers and was almost immediately replaced by Greg Lake, a childhood friend of Fripp`s from Bournemouth, who had just quit a band called the Gods which also included Lee Kerslake and Ken Hensley who would go on to form Uriah Heep. The quartet (plus lyricist and later light show operator Sinfield) would soon change their name to King Crimson which was Sinfield`s idea because he wanted something which sounded more powerful than Giles, Giles & Fripp. In the accompanying booklet from the `91 box set "Frame By Frame", Fripp explains the meaning in some more depth : "The name King Crimson is a synonym for Beelzebub, which is an anglicised form of the Arab phrase Bi`l Sabab. This means, literally, the man with an aim and is the recognisable quality of King Crimson". Thus, King Crimson was conceived in November, 1968 (Fripp reckons the band were conceived on this date, and actually born on 13th January 1969). The band rehearsed for the first time in the basement of a London Café on January 13, 1969 by which time McDonald expanded his instrumental arsenal to include various woodwind instruments as well as a novel electronic keyboard instrument, the Mellotron, which pioneered the technique of audio sampling, while Greg Lake's astute tenor voice added an air of sophistication to the band's prodigal sound which would develop over the coming months.Signed to EG management (a partnership between two entrepreneurs, David Enthoven and John Gaydon), an association which would last until the early `90s, King Crimson played their first gig at the Speakeasy Club in London in early April 1969 followed by a tenure at the Marquee Club which quickly earned them status in London's underground music circles. Their thoughtful avant-garde music audaciously shied away from conventional pop music traits, preferring the structure and form of classical music combined with the improvisational frenzy of jazz within a rock context. However, the acid test would come when they performed as a support act at a free Rolling Stones concert in Hyde Park in London in front of an audience of over half a million of London's hippest folk. Their impact was immeasurable, with Jimi Hendrix shaking Fripp's hand and heavy hitting record companies vying for contracts with Island Records in the UK and Atlantic Records in North America emerging as the victors.
Their debut LP,"In The Court Of The Crimson King (An Observation By King Crimson)", which was released in the UK on October 10 1969, would become one of the most devastatingly original debuts in the history of rock music. Adorned with ominous neo-gothic gatefold artwork by Barry Godber, a friend of Pete Sinfield, it would also become one of the most recognisable rock covers along with Pink Floyd's "Dark Side Of The Moon" and the Beatles` "White Album". Tragically Godber would die of a heart attack in February of 1970 at the age of 24. The music, with its portentous lyrics, spacious Mellotron passages and futuristic angular guitar lines had a very dark, orchestral sound to it. Tranquil ethereal atmospheres with baroque touches were interspersed with dramatic crescendos and decrescendos on most compositions while psychotic be-bop fuelled discharges featured prominently on the opening track, "21st Century Schizoid Man", which showcased the band's musical prowess. The piece would become the band's trademark over the next few years and conjured up enough doom, gloom and confusion to rival any prototypical metal band of the day.
In November 1969, "In The Court Of The Crimson King" hit number 5 in the UK and the band embarked on a tour of the United States to support its release on Atlantic Records. Despite the enthusiastic reception the band received, Fripp & Co returned to the UK just before Christmas whence drummer Michael Giles and keyboardist / reed-man Ian McDonald tendered their resignations citing the rigours of touring and musical direction as contributing factors. In an effort to keep the band together, Fripp himself offered to resign! But this was to no avail and Giles and MacDonald departed, releasing a mediocre album (the rock press quite liked it though, but it didn't sell) together in 1970. Later McDonald would become a founding member of Foreigner as well as making a brief appearance on King Crimson's 1974 album "Red".
This development left the future of King Crimson in doubt in early 1970 amidst rumours that Fripp was going to replace Peter Banks in Yes or join Aynsley Dunbar in Blue Whale. Greg Lake also had his reservations and had already discussed the possibility of forming a band with Keith Emerson as early as December '69 when the two met backstage at a gig at the Fillmore West in San Francisco. Nonetheless, dame fortune smiled and Lake and Giles agreed to stay on to record parts of a new album. Over the next couple of months other musicians were recruited as guests most notably jazz pianist Keith Tippett and session man Mel Collins on woodwinds with Peter Giles returning to lay down bass. Gordon Haskell, a childhood friend of Fripp's, was also featured on vocals on one track (only because Greg Lake left early). In March an offbeat single was released entitled "Cat Food" which used Tippett's jazz background to its advantage with Lake's vocals being very evocative of John Lennon's singing on Beatles songs such as "Come Together" and "Helter Skelter". A full length album, "In The Wake Of Poseidon" followed in May and sounded notoriously like its predecessor with neo-classical styling, sweeping Mellotrons (now formidably handled by Fripp) as well as a "21st Century Schizoid Man" doppelganger, "Pictures Of A City", which was previously composed by Fripp and Ian McDonald. Hardly a rag-tag collection of musicians but obviously lacking the chemistry of their debut, "In The Wake Of Poseidon" met with criticism with the music press, but was well produced and sold well peaking at no. 4 on the UK charts.
In August 1970 King Crimson once again became a bona-fide band with Mel Collins and Gordon Haskell (now on vocals & bass) becoming permanent members along with drummer Andy McCulloch who was recommended to Fripp by Keith Emerson, with some assistance from Greg Lake. The resulting album "Lizard" boasted a more Canterbury-like sound and also had heavier jazz colourings partially due to Keith Tippett's continued involvement. Fripp also brought in various session musicians who made the project more intricate. He also included a suite in four movements occupying a full side of the original vinyl LP which was introduced by eloquent vocals by Jon Anderson of Yes (because the vocals were outside Gordon Haskell's range). Fripp also toned down his guitar in favour of walls of Mellotrons and could be heard more often on acoustic guitars playing classically influenced passages while Sinfield's dark lyrics reached depths of profoundness making references to the work of Lewis Carroll as well as the Beatles. However, both the musical and lyrical complexities of the completed work did not satisfy Haskell and McCulloch's artistic aspirations and both packed it in October 1970 before King Crimson Mk. III had a chance to perform to a live audience (Haskell left because he couldn't get his way, McCulloch quit because the atmosphere was poisonous). Haskell went solo while McCulloch joined Dave Greenslade for three Greenslade albums between '72 and '75. "Lizard" was released in December 1970 and was certainly the band's most "artsy" recording and, while many regard it as the black sheep of the King Crimson catalogue, it still holds special appeal for connoisseurs of early '70s art-rock.
Fripp began almost immediately to fill the gaps left by Haskell and McCulloch. After rejecting a number of possibilities, including Brian Ferry (later vocalist of Roxy Music), he eventually settled for Raymond "Boz" Burrell as vocalist and Ian Wallace on drums. Wallace had backed a number of bands in continental Europe in the late '60s, returning to London in the early seventies where he worked with various artists on the live stage. Although Burrell had a blues/jazz background but only a rudimentary knowledge of guitar, Fripp decided to teach him bass with assistance from Wallace. Once again King Crimson was a touring unit and the new formation played their first gigs in Germany in April 1971, which included new material as well as selected pieces from the three previous albums. By December 1971, this line-up had released an album entitled "Islands" which was less focused and more "American" sounding than the previous three efforts, after which lyricist Pete Sinfield was fired from the band. He went on to work with ELP and produced Roxy Music's debut album. "Islands" did have its moments though, moving into jazz fusion territory with Fripp's incendiary guitar work on "The Sailor's Tale" while three other jazz-rock oriented songs made references to women with the track "Ladies Of The Road" making humorous gestures to groupies. The title track was probably the prettiest King Crimson vocal track ever recorded which conveys pastoral coastal images, which was centred around third-time guest musician Keith Tippett's delicate piano accompaniment. This configuration continued touring America in early '72 during which time Fripp almost had a mutiny on his hands when Burrell, Wallace and Collins became more drawn in to American blues, R&B and jazz stylings. This is quite evident on the poorly recorded 1972 live album "Earthbound" which documents some of the live performances during this period (although a number of 1971/72 recordings have been made available more recently through the King Crimson's Collectors Club). The band nevertheless held together until April 1972 when Burrell, Wallace and Collins departed to join British blues legend Alexis Korner in a band called Snape (Burrell would later become part of Bad Company and Collins would briefly become part of Camel before going on to become a prominent session man). King Crimson once again ground to a halt with Fripp's heart still set on creating more challenging and pensive music. He would comment to the press in his typical Bohemian way, "Having discovered what everybody wanted to do, I found I didn't want to do it".
Ironically, King Crimson seemed to avert the prevalent pomp & circumstance which was beginning to typify the very genre they helped shape. Their intense and serious music, as euphonious as it was, was rapidly being overshadowed by the flamboyance and animation displayed by bands like ELP, Uriah Heep and Genesis. All the instability and uncertainty didn't help the band either but Fripp was working on a remedy which would result in the next resurrection of King Crimson which, in the minds of both fans and critics alike, would be the most daunting King Crimson configuration of them all. By July `72 the band would consist of Fripp on guitar and Mellotron, Bill Bruford on drums (who had quit a secure job with Yes to become involved), David Cross, a formally educated violinist and keyboard player who had played with various UK folk/rock bands, John Wetton on bass and vocals (another childhood friend of Fripp's who had previously played with Mogul Thrash and Family) as well as one of the most curious members of any King Crimson formation Jamie Muir, a Salvador Dali look-alike, who came from London's avant-garde circles, playing an assortment of percussion and other musical devices which ranged from finger cymbals, chimes, whistles and even a bowl of crushed pistachios, which would add piquancy to the intimidating sound the new line-up would create. Richard Palmer-James was also added as a ghost member to provide lyrics and inspiration.
The first performances the new band gave in Germany in October 1972 were mesmerising and even though they contained elements of previous Crimsons they traded in the orchestrations for the raw intensity each individual instrument could offer with frantic guitar runs, overdriven fuzzed-out bass lines, screaming violins, concise drumming with Jamie Muir prowling his array of musical devices like some sort of a half crazed primordial creature. Menacing improvisations which would also become a staple of the bands live sets would also come into the fore during these early shows. Although the music had more emphasis on instrumental performance, John Wetton's delivery of Richard-Palmer James' surreal lyrics equalled that of Greg Lake's and were much more powerful than either Haskell's or Burrell's vocals. In early 1973 the first of three albums, "Larks' Tongues in Aspic" (a throw-away line uttered by Muir), was released which would follow this framework over the next 18 months. Unceremoniously, Muir would quit the band in early '73 by sending Fripp a note explaining his intentions to live a life of spirituality in a monastery in Scotland writing that King Crimson was, "an overall enlarging of possibilities and many aural delights". It was accepted unconditionally with the band gleaning much from his brief but precious contributions.
Meanwhile the album itself charted almost immediately and King Crimson was finally being taken more seriously by the music press receiving encouraging reviews in major rock journals. Its unorthodox concepts and structure didn't sound like anything being produced by any other band at the time although inevitable comparisons were being made to the Mahavishnu Orchestra because of its similar instrumentation. Truth be told, the only thing the new King Crimson shared in common with McLaughlin's equally ambitious project, which contained more "razzle dazzle", was the improvisational potential of the music. Although its subdued avant-garde sound had explosive moments which featured wailing guitars and power chords, these sections were carefully thought out dynamically and were approached with cautionary discipline and restraint. This was true to form on the title track, "Larks' Tongues In Aspic", which cleverly opened and closed the album in two parts, with the vocal pieces being strategically located at the core of the work. They, themselves, contained intricate instrumental accompaniments with the Mellotron being featured prominently on the cynical "Easy Money" but more as an instrument in itself rather than a substitute for a string section, which was how many contemporary bands such as the Moody Blues were employing it.
Over the next year the group toured relentlessly in both Europe and the United States which was the way in which Fripp believed that the band should be experienced. On stage the band was a monstrosity of chaos, volume and unpredictable possibilities as they never played each composition in quite the same manner which resulted in dozens of illegal bootleg recordings being produced during this period. Many of their live improvisations also became prototypes for studio recordings or even became the recordings themselves! Consequently, the next album "Starless & Bible Black", released in March '74, contained only two tracks recorded entirely in the studio with the title track itself being taken straight from an improvisation recorded during a concert in Amsterdam along with the tricky instrumental "Fracture" with the audience being extremely quiet which seemed like edited out. Other tracks were treated in the studio and the vocal tracks, particularly the catchy "The Great Deceiver" and the sombre "Lament" continued to distance themselves from the pomp of their art-rock peers at the same time steering clear of any top forty notions. King Crimson stood alone, masters of their own creation.
Although King Crimson would play their last UK gig in October of '73, they continued to tour Europe and North America where they were worshipped by a fanatical following, who elevated them to mythical-like status. Towards June of that year the band had developed a louder and even heavier sound through their on-stage improvisations and often could not hear each other amidst the unmitigated cacophony. The player who was perhaps the most affected by this was violinist David Cross, who was finding it increasingly difficult to compete with Wetton's thundering bass and Fripp's ear-splitting guitar licks. Consequently he left the band after a concert in Central Park in NYC in July 1974. A new album was also in the works by mid-summer which Cross also participated on, along with other former Crimson members Mel Collins and Ian McDonald on soprano and tenor saxophones respectively. Although the album, "Red", featured two of the band's most intense and critically acclaimed compositions ever, the heavy instrumental title track, "Red" and "Starless" with its majestic Mellotron driven intro and resplendent saxophone conclusion, "Red" was to be the last King Crimson album for the better part of a decade.
Fripp, who was growing more and more disgruntled with the music business in both professional and personal ways also had mixed feelings regarding the direction of art/rock in particular. He referred to bands in this category as "dinosaurs" that had run their course and on October 18, 1974 he announced to the music press that King Crimson itself "was over for ever and ever". The "Red" line-up never toured although "Starless" had been performed live quite often in 1974, drawing enthusiastic audience response. Interestingly, the title track "Red" would be integrated into future Crimson live sets both in the '80s and '90s, where it sounded just as revolutionary as it did when first heard on record in 1974. A live album was posthumously released in early '75 entitled "USA", which featured material from the '74 tour as well as the compilation album, "A Young Person's Guide To King Crimson," released in '76.
Dismayed somewhat, individual members went their separate ways with Bill Bruford making brief contributions to Gong and Pavlov's Dog as well as touring with Genesis. He also helped form the fusion band UK before forming his own successful solo group which included Alan Holdsworth and bassist Jeff Berlin. David Cross went solo and leads his own band to this day with John Wetton joining Uriah Heep as well as UK before participating in supergroup Asia in addition to success as a solo artist. Fripp, who had previous associations with Matching Mole and Van Der Graf Generator had also collaborated with the godfather of ambient music, Brian Eno, on the revolutionary and abstract 1973 No Pussyfooting album where he began to develop a guitar method he referred to as " Frippertronics ". This involved the playing of sampled tapes over which he would lay down improvised minimulistic guitar lines to achieve esoteric sound sculptures which he would also incorporate into future King Crimson work. After taking an introspective sabbatical before returning to work as a " small, mobile, intelligent, self sufficient unit ", he worked with such artists as David Bowie, Blondie, The Talking Heads, Peter Gabriel as well as forming another partnership with Brian Eno on the ambient 1975 Evening Star album, some of the music from which was used in early episodes of the Hitchicker`s Guide To The Galaxy radio series. In addition to two more solo albums in the late seventies, he also returned to live performing with a futuristic new wave band called The League Of Gentlemen in 1980.
In 1981 Fripp formed a band called Discipline which followed the art/rock framework in the sense that it drew ideas from foreign sources which included rhythmical elements of Javanese music combined with rock and pop stylings. In order to achieve a contrast with his own unique guitar technique he asked Adrian Belew who was touring with The Talking Heads at the time to join him and former King Crimson drummer Bill Bruford along with master bassist Tony Levin in his latest musical endeavour. Not only were fresh musical ideas sought out but innovations in technology were also exploited with the use of guitar synthesisers, electric drums and Levin's use of the Chapman Stick, a multi stringed instrument on which bass lines and chords could be played simultaneously by means of a tapping technique. The resulting sound was "decidedly dangerous" and occupied a grey area somewhere between the Talking Heads and the new metal derived grunge and industrial music which was also beginning to surface in the early '80s. It embodied many aspects of the previous 1974 King Crimson entity as well, including improvisation with heavy emphasis on intricate instrumental ability in addition to, perhaps most importantly, artistic freedom within the concept of a collective group effort. Prior to the release of the group's first album it was decided to change the name to King Crimson thus ushering in a new era of music that would continue to devastate.
The new album was appropriately entitled "Discipline" which accurately reflected the mindset which was required in order to execute the demanding nature of the various compositions. Their impossible time signatures, poly-rhythms and hypnotic guitar phrasings would also set the norm for the two succeeding works "Beat" and "Three Of A Perfect Pair" along with Belew's charismatic vocals and stage presence which would also recall Jamie Muir's antics from the early '70s. A more pop oriented attitude along with world beat ingredients was evident on the new album and at first they didn't sit too well with some older fans who were expecting a re-emergence of the darker more foreboding Crimson creature of '72-'74. But times had changed considerably and the Crims quickly found an audience both young and old. Some ghosts of the past did indeed linger within the new music as exemplified in the title track's evil twin, "Indiscipline". With its overdriven power guitar chords, it was by far the heaviest track recorded by the band to date (its meaning was deceptively simple being only about a sculpture Belew`s wife had created!) Their fiery live performances continued to outshine the studio albums with improvisations as well as updated interpretations of earlier material.
The album which followed in June 1982, Beat, which was largely influenced by the writings of Beatnik visionary Jack Kerouac, featured more technology and artistically went even further beyond musical comprehension. In March `84 "Three Of A Perfect Pair" was released with more "accessible" tracks being presented on one side of the original vinyl and the more "excessive" ones on the other. An alternative six minute dance mix was made out of one of the catchier "tunes" on the album , the bass driven "Sleepless" but it also offered a satisfying dose of murkiness in the form of two more experimental abstract pieces, "Nuages" and "No Warning" which no doubt contained more input from Fripp.
Fripp let it be known that King Crimson would, once again, be sent indefinitely into suspended animation by announcing, "when the aim has been served or commitment discharged, any group worthy of the name disbands." They played their last 2 concerts at the Spectrum in Montréal, Canada on July 11, 1984, segments of which were finally released in 1998 as a live CD entitled "Absent Lovers". During these 3½ years King Crimson toured Europe, Japan and North America and was the first identical line-up to survive more than one studio album. During the ten years of inactivity which would ensue before the next King Crimson resurrection, all of the band's members devoted time to individual solo projects and session work unrelated to King Crimson, while Fripp devoted time to musical education. He also set up an independent record company he called Digital Global Mobile to cater for King Crimson releases as well as other related projects. Many King Crimson live recordings from all eras of its existence have been made available through special free membership in The King Crimson Collector's Club via DGMs official website http://www.dgmlive.com.
In late 1994 Fripp woke King Crimson from the netherworld once more, this time with a new double trio concept for the band which would include the pairing of each instrument. The previous band would return along with Trey Gunn, a student of Fripp`s Guitar Craft seminars on the WARR guitar as well as Pat Mastellotto on drums who had previously worked as a session drummer as well as a playing in the pop band 'Mister Mister'. Both had also played with Fripp in a collaboration with avant-garde artist David Sylvain. A forerunner to an upcoming full length album was released in late `94 in the form of the mini – CD "VROOOM" which was dominated by Beatle-esque pop songs but also contained some heavy instrumentals which Bill Bruford compared to the music of Megadeth, Pantera and Metallica.
Fripp himself likened the new marque of heavy instrumental music which displayed more musical maturity and finer execution over mainstream heavy metal to "117 guitars almost hitting the same chord simultaneously". Expansive arrhythmic soundscapes which drew from Fripp's "Frippertronics" concepts gave the full album, "THRAK", released in March '96 imposing auras which were generated by the Mellotron in the Crimsons of the early '70s. As in the past, the live stage presented the Crims with a bottomless pit of opportunities which resulted in mind-blowing chaotic improvisations that one critic referred to as "controlled anarchy". In addition, players would detach themselves from the double trio to perform and record in smaller groups or "fractals" collectively known as "projekcts" that would serve as research and development vehicles nourishing the King Crimson creature as a whole with a constant flow of fresh ideas. This became the standard operating procedure up until `99 when Bill Bruford decided to leave in order to concentrate on his neo-jazz project Earthworks. Tony Levin also departed to focus on his own solo band in addition to session work once again reducing King Crimson to a quartet to face the challenges of the new millennium.
Many long-time Crimson aficionados considered the next album, 2000's "The Construkction Of Light", to be the band's weakest work since the '72 album "Islands". Nonetheless, it contained some of Adrian Belew's most imaginative vocal work since the 'Discipline' album. Other instrumental tracks most notably the guitar driven "Frakctured", a distant cousin of the earlier "Fracture" from '73's 'Starless and Bible Black', continued to propel the band on a more or less even keel until 2003's "Power To Believe" arrived with a vengeance. As the title suggested, a more powerful sound was sought out which leaned more towards the more sinister double trio sound on "THRAK" with all the guitars brought up to code for maximum output! Belew's vocals got cynical and outright strange at times reflecting some of the band's contemporary philosophies through their forward-looking music. Shortly after the release of The Power To Believe, Trey Gunn stepped down to pursue solo endeavours with Tony Levin reportedly to return to the King Crimson fold on bass and Stick along with Porcupine Tree Drummer Gavin Harrison fulfilling a percussion role.
As Robert Fripp stated in 1994 upon its reconstitution as a double trio, "King Crimson lives in different bodies at different times and the particular form which the group takes changes. When music appears which only King Crimson can play, King Crimson appears to play the music." It seemed that as this brief chronicle of King Crimson's mercurial career was being written in the autumn of 2007 some music has indeed "appeared" and and in 2008 yet another chapter was written in the chronicles of King Crimson when several concerts were performed with the reconstituted Belew/Fripp/Harrison/Levin/Mastellotto lineup. Much to the chagrin of Crimson disciples who attended these auspicious events no new material was forthcoming ( save for the compulsory improvs ), but the concerts were nonetheless met with rave reviews.
Once again, the future becomes a most devious proposition as the Crimson beast goes into hibernation awaiting the divine intervention of ………..The Crimson King.
Ian Gledhill ("Vibration baby"), Canada. November 2007
KING CRIMSON COLLECTORS' CLUB (Live albums):

– Live at The Marquee 1969 – 1998
– Live at Jacksonville 1972 – 1998
– The Beat Club, Bremen 1972 – 1999
– Live at Cap D'Agde, 1982 – 1999
– Live on Broadway, 1995 – 1999
– 1996 Live in Mexico City – 1999
– ProjeKct Four – Live in San Francisco, 1998 – 1999
– The VROOOM Sessions – 1999
– Live at Summit Studios 1972 – 2000
– Live in Central Park, NYC, 1974 – 2000
– Live at Moles Club, Bath, 1981 – 2000
– Nashville Rehearsals, 1997 – 2000
– Live At Plymouth Guildhall, 1971 – 2001
– Live in Mainz, Germany 1974 – 2001
– Live in Berkeley, California 1982 – 2001
– ProjeKct Two – Live in Northampton, MA, 1998 – 2001
– King Crimson – Live in Detroit, MI, 1971 – 2001
– King Crimson – Live in Nashville, TN, 2001 – 2002
– King Crimson – Live at the Zoom Club, 1972 – 2002
– Hyde Park, London 1969 – 2002
– King Crimson – The Champaign-Urbana Sessions, 1983 – 2002
"All Music" 
If there is one group that embodies progressive rock, it is King Crimson. Led by guitar/Mellotron virtuoso Robert Fripp, during its first five years of existence the band stretched both the language and structure of rock into realms of jazz and classical music, all the while avoiding pop and psychedelic sensibilities. The absence of mainstream compromises and the lack of an overt sense of humor ultimately doomed the group to nothing more than a large cult following, but made their albums among the most enduring and respectable of the prog rock era.
King Crimson originally grew out of the remnants of an unsuccessful trio called Giles, Giles & Fripp. Michael Giles(drums, vocals), Peter Giles (bass, vocals), and Robert Fripp(guitar) had begun working together in late 1967 after playing in a variety of bands: Fripp's resume included tenures with the League of Gentlemen and the Majestic Dance Orchestra, while the Giles brothers had played with Trendsetters, Ltd.After signing to Deram, the trio recorded their debut single, "One in a Million," and began cutting a follow-up album, The Cheerful Insanity of Giles, Giles & Fripp, during the summer of 1968.
Even as the album was in the works, however, the group's lineup was changing: ex-Infinity singers/guitarists Ian McDonald and Peter Sinfield joined late in 1968, and Judy Dyble, who had passed through the first Fairport Convention lineup, signed on briefly as a singer. This lineup recorded demos of "I Talk to the Wind" and "Under the Sky, " but soon dissolved: Peter Giles exited the scene in November of 1968, and Fripp's childhood friend, vocalist/bassist Greg Lake, joined two days later. The new roster of Fripp, Lake, McDonald, and Michael Giles — with satellite member Sinfield writing their lyrics and later running their light show, among other functions — officially became King Crimson on January 13, 1969, deriving the name from Sinfield's lyrics for the song "Court of the Crimson King."
In July of 1969, the group debuted in front of 650,000 people at a free concert in London's Hyde Park on a bill with the Rolling Stones; later that month King Crimson ultimately recorded and produced their first album. In the Court of the Crimson King was one of the most challenging albums of the entire fledgling progressive rock movement, but somehow it caught the public's collective ear at the right moment and hit number five in England in November of 1969 — four months later, the album climbed to number 28 on the American charts. Ironically, at the peak of the LP's success the original band broke up: McDonald and Giles were becoming increasingly unhappy with the music's direction, as well as the strain of touring. By November they decided to leave — Fripp was so shaken that he even offered to exit if they would stay. The original group played their last show in December 1969; Greg Lake, having joined the group last, was uncomfortable with the idea of staying on with two replacement members, and had also been approached by Keith Emerson of the Nice about the possibility of forming a new group. He soon decided to leave Crimson as well, but agreed to stay long enough to record vocals for the next album.
Whether there would even be a next album was debatable for a time after Fripp was offered the chance to replace Peter Banks in Yes. Finally, a new single ("Catfood") and album (In the Wake of Poseidon) were recorded early in 1970: essentially a Fripp-dominated retake of In the Court of the Crimson King, Lake sang on all but one of the songs, Fripp played the Mellotron as well as all of the guitars, and a new singer, Fripp's boyhood friend Gordon Haskell, debuted on "Cadence and Cascade." Fripp spent the month of August rehearsing a new King Crimson lineup, consisting of himself, Haskell (bass, vocals), saxman/flutist Mel Collins (who had played on Poseidon), and Andy McCulloch (drums). This group, augmented by pianist Keith Tippett, guest vocalist Jon Anderson of Yes, oboist/English horn virtuoso Robin Miller, cornetist Marc Charig, and trombonist Nick Evans, recorded the next Crimson album, Lizard, in the fall of 1970, but Haskell and McCullough both walked out soon after it was finished; with Fripp busy putting a new band together, Peter Sinfield took over the final production chores.
In December of 1970, Ian Wallace joined on drums, and after auditioning several aspiring singers including Bryan Ferry, Fripp chose Boz Burrell as the group's new vocalist. The latest Crimson lineup of Fripp, Burrell, Collins, and Wallace emerged on-stage in April of 1971, and for the next year, King Crimson was a going concern, playing gigs across the globe. The only casualty during the remainder of the year was Sinfield, who split in December after Fripp asked him to leave. Their new album, Islands, got to number 30 in England, and number 76 in America; the band might've succeeded had it lasted for another album to make its case, but in April of 1972, this latest lineup broke up after Wallace, Collins, and Burrell moved as a trio to join Alexis Korner in a band called Snape. (Burrell later became the bassist with Bad Company.)
It seemed as though King Crimson had finally come to an end. Then, in July of 1972, Fripp put together a new band consisting of ex-Yes drummer Bill Bruford, ex-Family member John Wetton on bass and vocals, David Cross on violin and Mellotron, and Jamie Muir on percussion. Sinfield's successor as lyricist was Richard Palmer-James, who was otherwise invisible in the lineup. This group recorded their debut album, Larks' Tongues in Aspic, and made their debut in Frankfurt in October of 1972. Muir was out of the lineup by early 1973, but as a quartet the band toured England, Europe, and America while Larks' Tongues made it all the way to the Top 20 in England. In January of 1974, King Crimson cut a new album, Starless and Bible Black, thus becoming the first lineup to remain intact for more than one American tour and more than one album (discounting the departed Muir).
Alas, by July of 1974 even this long-lasting King Crimson lineup had begun to splinter. This time Cross was the one to exit, following a performance in New York. With King Crimson reduced to a trio of Fripp, Wetton, and Bruford, one more album, Red, was completed that summer with help from Cross and former members Mel Collins and Ian McDonald (who was soon to go on to fame and fortune as the co-founder of the arena rock band Foreigner). Fripp disbanded the group on September 25, 1974, seemingly for the last time. Wetton later passed through the lineup of Uriah Heep before going on to international success as the lead singer of Asia, while Cross later turned up on the Mellotron multi-artist showcase album The Rime of the Ancient Sampler.
In June of 1975, 11 months after their last public concert, a live album called USA was issued, followed four years later by Fripp's first solo album, Exposure. Finally, in April of 1981, Fripp formed a new group called Discipline with Bruford, bassist Tony Levin, and guitarist/singer Adrian Belew. By the time their album was released in October of that year, the group's name had been changed to King Crimson (the album was still titled Discipline, however). This band, with a herky-jerky sound completely different from any of the other lineups to use that name, toured and recorded regularly over the years, which included full-length video productions; they splintered after two more albums, 1982's Beat and 1984's Three of a Perfect Pair.
King Crimson remained silent for about a decade, as compilations and vintage live performances continued to trickle out (including the box sets Frame by Frame, which mostly covered classic studio material, and The Great Deceiver, which featured live performances from 1973-1974). Finally, in 1994, Fripp reunited with the Discipline-era lineup, augmenting the group with drummer/percussionist Pat Mastelotto and bassist/guitarist/Chapman Stick player Trey Gunn. The EP VROOOM appeared late that year, setting the stage for a full-fledged comeback with 1995's Thrak. The album earned generally good reviews and re-established Crimson as a viable touring concern, although it took until 2000 for the band to come up with a new studio album (ConstruKction of Light) amidst a continuing stream of archive-clearing collections. In the five years between Thrak and ConstruKction of Light, the members of Crimson often fragmented the band into experimental subgroups dubbed ProjeKcts. The idea was to mix things up a bit and generate fresh musical ideas prior to the forthcoming album; in the meantime, drummer Bill Bruford and bassist Tony Levin left the band. Culled from the supporting European tour, the live box Heavy ConstruKction was released later in 2000. For the band's 30th anniversary, Fripp commissioned the remastering of the first 15 years' catalog, featuring remastered sound and original album art. In 2001 and 2002, the quartet released two EPs leading up to 2003's The Power to Believe and EleKtrik: Live in Japan. At the end of that year, Gunn announced his departure from the band as Tony Levin returned. This new quartet did some rehearsing, but ultimately 
Cri
m
son
 was placed on hold for a few more years.
In late 2007, a new lineup was announced with Porcupine Tree drummer Gavin Harrison joining Fripp, Belew, Levin, and Mastelotto. Rehearsals in 2008 led to a handful of shows and a download of a live show, but no other recorded material. The year 2009 saw the bandmembers busy with other projects, putting Crimson on hiatus once again. In 2010, Fripp collaborated with Jakko Jakszyk (who had been working with other former Crimson members as the 21st Century Schizoid Band) for A Scarcity of Miracles, assisted by Levin, Harrison, and Mel Collins. Meanwhile, starting in 2009, 40th Anniversary Editions of the King Crimson catalog were issued with new multi-track and Surround Sound mixes by Steven Wilson.
Around this time, Fripp's legal battles on behalf of the band were coming to a head. In 2012, Fripp announced his retirement from music in order to focus on legal and personal matters. However, that retirement was short-lived, as 2013 saw the announcement of a new King Crimson lineup. The lineup from A Scarcity of Miracles was augmented by the returning Pat Mastelotto and drummer Bill Rieflin (who had worked with Fripp in the League of Crafty Guitarists and the Humans), creating a three-drummer front line. Tours of the U.S. and U.K. were accompanied by 2015's Live at the Orpheum. Radical Action to Unseat the Hold of Monkey Mind, a live recording from the septet's December 2015 concert in Takamatsu, Japan (augmented by selected tracks from King Crimson appearances on tour in the U.K. and Canada that year), was released as a three-CD/one-Blu-ray set and a three-CD/two-DVD/one-Blu-ray limited edition in September 2016. June of the following year saw the release of the Heroes: Live in Europe 2016 EP, recorded in Berlin, Paris, and Vienna during the band's 2016 European tour. The EP was highlighted by King Crimson's cover of the David Bowie title track, performed at Berlin's Admiralspalast as an homage to the late Bowie, with Fripp replicating the sustained guitar tone he brought to the original "Heroes" recorded in Berlin in 1977.
"Amoeba Music"
It would not be an overstatement to say that King Crimson is one of the longest-living and most influential British rock bands ever. The band has been in existence on and off for 40 years and has been the very definition of progressive rock, both in the way that its members spearheaded a movement in the late 60's and early 70's of rock bands, stretching the bounds of what constituted a "rock album" and also in the way that they have stretched and changed the sound of the band itself over the course of the decades.
The only constant member throughout the many line-up changes of King Crimson is guitarist Robert Fripp. Many times Fripp has said that Crimson is not his band, but rather an entity that he helps guide. Regardless, it was usually Fripp who decided when the band would exist and what direction they were to take.
The original members of King Crimson came together out of the remnants of a light-hearted psychedelic trio called Giles, Giles and Fripp. After that group split up, guitarist Fripp and drummer Michael Giles joined with bassist and vocalist Greg Lake, multi-instrumentalist Ian McDonald and lyricist Peter Sinfield to form the first version of the group. In 1969, the year the band formed, they started a three month residency in London at the Marquee Club and word quickly spread through the music community about this strange band that had this huge, orchestral sound and complicated song structures. One reason for their big sound had to do with the use of the Mellotron, a keyboard instrument that was the forerunner of sampling keyboards. The band was scooped up as the opening act for The Rolling Stones at their celebrated Hyde Park free concert in London in the summer of 1969, and the exposure to thousands more music fans set the stage for the band to go into the studio.
In The Court Of The Crimson King (EG) was released in October of 1969 to rave reviews from critics, fans and other musicians. It's mix of the Mellotron's orchestral sound, free jazz sax playing, nimble drumming, and Fripp's sharp and distorted guitar, which was highly influential, as were the extended song structures and lack of adherence to standard rock verse-chorus-verse architecture. The band embarked on tours of England and America and wowed audiences on both sides of the Atlantic, but tensions within the band were such that the original line-up of the band split by the end of the year.
Ian McDonald and Michael Giles were the first to leave, leaving just a trio of Lake, Fripp and Sinfield. The band soldiered on, releasing the single "Cat Food" and preparing for a second album. During the early part of 1970, Greg Lake departed to start Emerson, Lake and Palmer. In The Wake Of Poseidon (EG) was released in 1970 with the remaining duo being joined by woodwind player Mel Collins, singer Gordon Haskell and bassist Peter Giles. The album was in many ways an extension of the sound explored on the first album and it helped keep the band in the spotlight during its multiple member defections. Haskell was also a bass player, and took over both bass and vocal duties for what was to become the band's third album, Lizard (1970 EG). The band also gained Andy McCulloch on drums. Crimson's third album was more obtuse than the first couple of albums and veered much more towards free jazz and 20th century classical influences.
The shuffling of the King Crimson deck was far from over. New members McCulloch and Haskell left the band before Lizard was even released. Fripp and Crimson auditioned new members and eventually decided on adding vocalist Boz Burrell and drummer Ian Wallace to the line-up. Rather than recruiting another member to play bass, Fripp decided to teach Burrell to play and the band quickly took up touring again and recorded their fourth record, 1971's Islands (EG). The album referred back to the more heavy-Mellotron sound of the first two records. During this time, Crimson parted ways with lyricist Pete Sinfield, who had also contributed synthesizer and light design during periods of the bands life.
It's important to note that all of this band member shuffling, touring and recording of four  albums had taken place within about 3 years. Fripp and the rest of the band agreed to do an American tour and then Fripp's plan was to break up the band at tour's conclusion. Live recordings of this tour were later released as the poorly-recorded album Earthbound (2002 Virgin), and showed a band that seemed to be losing direction. Wallace, Collins and Burrell all left the band after the tour; Burrell later found fame as the bassist in Bad Company.
Robert Fripp decided to give the band another chance, and set about finding new members. He recruited former Family bassist and vocalist John Wetton, free-form percussionist Jamie Muir, violinist and keyboardist David Cross and Yes drummer Bill Bruford to join the new King Crimson, also adding Wetton's friend, lyricist Richard Palmer-James, as an auxiliary member in the same capacity that Sinfield had held earlier.
The band came together well, touring through 1972 and recording King Crimson's next album, Lark's Tongue In Aspic (EG), which came out in early 1973. The band had a much heavier sound than previously and definitely benefited from the new members' previous band experiences and  musicianship. Unfortunately, the band saw the departure of Muir after injuring himself on stage, and carried on as a quartet. This version of King Crimson had an almost improvisational understanding of one another, often flying off on extended jams of established songs throughout their many concerts during the period. Using this strength, the quartet recorded the next King Crimson album almost completely live. Starless And Bible Black (EG) came out in early 1974 to good reviews from critics and music fans alike, and furthered the band's image as a group that may have fathered the term progressive rock, but also kept moving on in their own unique direction.
One more defection was to come from the ranks — David Cross left after the band toured Europe and the US in 1974, and that seemed to be the final straw that Fripp needed to end the band. The remaining power trio went into the studio to record its epitaph, 1974's Red (EG), and was joined by former Crimson members Mel Collins and Ian McDonald on saxophones, as well as Robin Miller on oboe and Marc Charig on cornet. McDonald even made overtures towards re-joining the band, but by this time Fripp had not only had enough of the responsibility of keeping a touring band together, but
also was tired of the music business as a whole. A final live album called USA (Atlantic), documenting the last tour, came out in 1975, but many of David Cross' parts were buried in the mix, and the band asked violinist/keyboardist Eddie Jobson to come in to the studio to overdub them. Robert Fripp announced in September of 1975 that King Crimson had "ceased to exist" and that seemed to be the end of the road for the influential band.
Robert Fripp spent the later part of the 1970's traveling and occasionally guesting on songs by the likes of David Bowie and Peter Gabriel, even producing Peter Gabriel's second solo album. He also put together a short lived band, The League Of Gentlemen, with former XTC keyboardist and future co-founder of Shriekback, Barry Andrews and future Gang Of Four bassist Sara Lee. After that band folded, Fripp wanted to form a band utilizing the influences he was absorbing from different ethnic musics, especially West African high life and Balinese gamelan, as well as some of the sounds and feel from new wave and post punk bands that were pushing musical envelopes at the time. The first step in putting this new band together would be to have an accomplished percussionist, so he contacted his former King Crimson bandmate Bill Bruford, and from there the pair recruited bassist Tony Levin, known for his work with Peter Gabriel. Levin was also a player of the Chapman stick, a multi-stringed instrument that could play both percussive bass and guitar parts. Fripp also had the idea of having a second guitar in the band, a first for him. Levin suggested Adrian Belew, who was currently touring with the expanded line-up of Talking Heads and had played previously with David Bowie and Frank Zappa. Not only did Belew have a strikingly strange and fluid guitar style, but he also was a singer. The four got together in early 1981, took the band name Discipline and started playing low key gigs, eventually touring with the Lounge Lizards supporting.
With two former members of King Crimson together in a new band — including Robert Fripp who basically owned the Crimson name — questions were raised as to whether the new band wasn't in fact a new version of King Crimson. Those questions were answered late in 1981 when the new band started calling themselves King Crimson and released the album Discipline (EG). The album had all the musicianship that fans of the old band could appreciate, but the new band had an interlocking rhythmic underpinning that was unlike anything Crimson had ever had, as well as a charismatic front-man and singer in Belew. The quartet worked well together and spent the next few years touring and recording two more albums together, 1982's Beat (EG)and 1984's Three Of A Perfect Pair (Warner Bros.). By 1984, the members were itching to move on to other projects, so the band name was retired once again. Belew released a series of solo albums, Bruford also released solo albums and worked in both the jazz and rock idioms, Levin did the same as Bruford as well as working again with Peter Gabriel, and Fripp founded the record label Discipline Global Mobile, concentrating on Crimson and related musical projects. Fripp also started a music school for aspiring guitarists.
After a ten year hiatus, the Crimson saga continued in 1994 with Fripp wanting to get the 80's version of the band back together, and to add additional musicians to the mix as well. It was decided that a "double trio" set up would work, that is, a sextet that doubled guitars, bass and Chapman Stick, and drums. Stick player Trey Gunn and drummer Pat Mastelotto were added to the band, and an EP VROOOM(Discipline US) and a full album THRAK (Virgin) followed in 1994 and 1995 respectively. The sound of the new Crimson was a melding of the hard attack and metallic guitars of the 1974-era quartet with the 80's band's interlocking rhythms. A double album of more improvisational material the sextet came up with appeared in 1996 as THRaKaTTaK. The new material appeared on Fripp's DGM label, and the label continued to release solo projects by the various band members throughout the end of the 90's, as well as projects with various configurations of the core band called ProjeKts One, Two, Three and Four.
During this period Fripp started going through live recordings of the various line-ups of the band and started releasing them to fans as limited cd runs via DGM called the King Crimson Collector's Club. The recordings continue to be made available to fans as downloads on DGM's website.
After another period of intense Crimson activity, drummer Bruford and bassist Levin decided to move on again to other projects and the line-up of Fripp, Mastelotto, Gunn and Belew continued on and recorded the albums The ConstruKtion Of Light (Virgin) in 2000 and the album Heaven And Earth (Pony Canyon) the same year under the name ProjeKct X. The dearth of releases showed a band that was very active in recording and improvising.
Crimson continued marching through the 2000's, and with its new quartet line-up intact, recorded another EP in 2002, Happy With What You Have To Be Happy With (Sanctuary), followed by a full album in 2003 called The Power To Believe (Sanctuary). After touring for the latter album, bassist/Stick player Trey Gunn announced that he was leaving the band. Belew and Fripp toured as a duo called ProjeKt Six during 2006, opening shows for the later-day progressive band Porcupine Tree. In early 2008 it was announced that a new version of King Crimson would be formed, consisting of Robert Fripp on guitar, Adrian Belew on guitar and vocals, Pat Mastelotto on drums, Tony Levin on bass and Chapman Stick, and Porcupine Tree's drummer Gavin Harrison on second drums. The crimson king rolls on.
"Tron Is King" 
THE CONCEPTION AND THE GESTATION
 Robert Fripp was born on the 16th May, 1946 at the Bear Cross Nursing Home, located between Wimborne Minster and Bournemouth in the county of Dorset on the South coast of England. He was the second child of estate agent Arthur and Edith (nee Green) Fripp, as their daughter, Patricia (formerly a writer1), is a little over a year older than Robert. From the age of five, he attended Broadstone Primary School, located about halfway between Wimborne and Poole, the latter being a town adjoining Bournemouth. He did sufficiently well enough to be accepted at Queen Elizabeth's Grammar School in his hometown of Wimborne. He seems to have had few friends at school and appears to have found little in the way of academic interest, though his favourite subject seems to have been English. However, one of these friends was a Gordon Hionidies, who shared, with Fripp, a sense of being 'outside' the mainstream of school life and would later be part of King Crimson.
The only apparent aspect of life that interested Fripp was music, particularly 'trad. jazz', as practised by the likes of clarinettist Acker Bilk. His parents gave him his first guitar as a Christmas present in 1957. Although naturally left-handed, he decided to play right-handed and took lessons from Kathleen Gartell at a music school in Corfe Mullen, a village two miles west of Wimborne. Although primarily a piano teacher, Ms Gartell taught young Mr. Fripp via a number of books as well as putting him through a local orchestra, where he played violin as well as guitar. It is generally thought that the greatest contribution made by Ms. Gartell was that she taught Fripp the basics of Music Theory. Fripp outpaced Ms. Gartell and her books, so she sent him to specialist jazz guitar teacher Don Strike2. In later years, Fripp was to cite Strike as his most important initial influence. Strike also gave instruction to Greg Lake, but Lake and Fripp didn't cross paths at this point, though Lake says otherwise. Whilst with Strike, Fripp came into contact with modern jazz music, in the form of the output of musicians like Charlie Mingus. After Strike, Fripp took several lessons from Tony Alton in Winton (a suburb of Bournemouth), who taught Fripp a Latin-cum-Flamenco style.
In 1961, at the age of 15 and with the active encouragement of Don Strike, Fripp formed his own band, which was later called The Ravens. His first recruit was Gordon Hionidies, who coerced Fripp into teaching him the rudiments of bass guitar (and would later join King Crimson). Graham Wale joined as lead vocalist and drummer, but he didn't last long. Another drummer, Christopher Ferguson, came into the fold, along with vocalist and guitarist Tino Licinio. The Ravens occupied Fripp's time until spring 1962, when his O-level examinations gradually appeared on the horizon. Fripp left The Ravens (which triggered its demise) in order to concentrate on his academic studies. He was successful, emerging with seven O-levels. He left school and joined his father's estate agency in a junior role, though his heart was never in it. His love for music rode over everything. He went on a holiday to Jersey, in the Channel Islands where his sister was staying. He took his guitar with him and had hours of uninterrupted practice. At the same time, Fripp decided that he wanted a working life in music, so on his return home to Wimborne, he told his mother of his decision. She was considerably less than happy about it, being reduced to tears, so Robert had to put his ambitions on hold.
Whilst working full time at his father's agency, the young Fripp was playing with a number of dance bands, the principal one being The Douglas Ward Trio at The Chewton Glen Hotel3, New Milton, some 8 miles east of Bournemouth, in 1963 and 1964. At the same time, he was teaching guitar to people of his own age, one of his pupils being Al ("Year of the Cat") Stewart. In the spring of 1964, as well as his engagements, Fripp formed another band, with Hionidies and Licinio from the erstwhile Ravens, together with Reg Mathews as vocalist and Stan Levy on drums. They called themselves The League of Gentlemen, taking their name from a British film with the same title. Note that this aggregation had nothing to do with the band of the same name that Fripp formed in 1980. It has been alleged that the band name came from something said by Hionidies as the band were sat, drinking in a hotel bar, adjacent to the Gentlemen's toilet! The band lasted for about a year, playing church halls and youth clubs in the Bournemouth area. They recorded a couple of singles – 'Each Little Falling Tear' that was released on the Planet label (Cat. No. PLF 109) and 'How Can You Tell" on the Columbia label (Cat. No. DB 7666)4. They were released after The League of Gentlemen folded, which came about when Fripp decided to return to academia at a college in Bournemouth with a view to going to university. Even though they had ceased to function as a musical group, the former members of The League of Gentlemen still got together for socialising reasons. It was at one of these 'reunions' that Fripp and Licinio became involved in a fight. For some reason, a John Johnson decided that he wanted to re-arrange Licinio's facial features. Licinio was saved from very serious damage when Fripp intervened. However Licinio's face was severely battered and Fripp had his mouth ripped open. Both required medical assistance and Fripp had ten or twelve stitches inserted in his wound. Their assailant was jailed for two years.
At Bournemouth College, Fripp met John Wetton and Richard Palmer-James, as well as getting to hear about Greg Lake, who was making waves with his musical prowess. None of these meetings, however, gave rise to anything musical. As well as studying for his A-levels, Fripp was now playing at the Majestic Hotel5, having replaced Andy Summers (later of The Police) who, with George "Zoot" Money, had tried his luck in London. Fripp stayed with the Majestic Dance Orchestra, entertaining the local Jewish community, for the entire time he was at Bournemouth College, where he studied Economics and Economic History. Eric Tamm states, in his book, that he also studied Political History. He was so successful at college, he took his examinations early in January 1967, and passed all his subjects. His father wanted him to follow in his footsteps, and if he had got his way, Robert would have gone to university in London to study Estate Management. However, on 16th May, 1967 (his 21st birthday) Robert announced that he was to become a professional musician.
At about this time, Fripp had formed a band called Cremation, but nothing came of it. They did have a few gigs booked, but Fripp cancelled all of them, on the grounds that the band simply weren't good enough, breaking the band up shortly afterwards. Now with no income, Fripp saw an advert for a band looking for a vocalist/organist. Although primarily a non-singing guitarist, he did have some keyboard experience, so he answered the ad. It had been placed by Michael and Peter Giles.
 Michael Rex Giles was born on the 1st of March 1942. His brother, Peter, emerged into the world on the 17thof June 1944. They grew up in the Winton district of Bournemouth, though their father was an 'immigrant' from Herefordshire. Michael started out as a washboard player during the 'skiffle' period before progressing to
a small but conventional drum-kit. He joined Johnny King and The Raiders in January 1960, who played in the Bournemouth area. One of those who regularly supported the band from the audience was brother Peter, who later replaced the original bass guitarist. The brothers stayed with the band for some twenty months, when they were spotted by the premier band in the Dorset area – The Dowland Brothers (sometimes billed as The Dowland Brothers and the Soundtracks.) The Dowlands asked the Giles to join – they said yes, and they played their first gig together in November 1961. One source states that the Giles brothers played for 2½ months with Dave Anthony and the Rebels (a.k.a. Dave Anthony and the Moods) at the same time as playing with the Dowlands.
Whilst with the Dowlands, the Giles came into contact with the upper echelon of the Bournemouth music scene, such as Zoot Money and Andy Summers. Bear in mind that Michael and Peter were backNOT full-time musicians – yet. Both had left school and were working; Michael worked for a number of different types of firm, e.g. at a tailor's shop, and Peter at some sort of furniture store. Despite the hefty jump up the musical ladder the Giles had acquired by joining the Dowlands, they wanted to go further. To that end, they turned professional in April 1964 and joined Trendsetters Ltd. (Note – the above-mentioned source also claims that between the Dowlands and Trendsetters Ltd. the Giles' were members of a band called The Sands for 6 weeks, immediately followed by a 3-week stint with The Interns)Trendsetters Ltd. was a manufactured band, set up by Roy Simon, a Bournemouth based businessman, who wanted to cash in on the current interest in 'pop' music. Bear in mind that The Beatles had exploded on the scene at about this time, with numerous bands and artists sitting on their coat-tails. Trendsetters Ltd was set up to be one such band, based in London.
They acquired a recording contract with Parlophone, but their output failed to capture the imagination of the record buying public. As well as being a band in their own right, they were hired to back American acts touring the UK. One such act was The Drifters. Despite endless tours of the UK and Europe, the band were making no real progress, and Peter was composing material for use by the band – one being "Nightmares in Red". In various attempts to 'crack it', they recorded under the names The Trend and The Brain. It was under the latter appellation that they recorded "Nightmares in Red" which later attracted the attention of Crimson aficionados. For some reason, they believed that Robert Fripp played guitar on the track, but this was not the case. Although he was aware of the single, Fripp contributed nothing to it at all. This single failed too, resulting in disillusionment setting in. In May 1967, Trendsetters Ltd simply broke up and the Giles' returned to Bournemouth.Michael and Peter realised that they simply couldn't sit around waiting for fame and fortune to simply drop into their collective lap; they had to do something locally, then return to London. They scoured the Bournemouth area for suitable musicians for a few months. They felt that a line-up of drums, bass and keyboards would best express their musical ideas, so they placed an advert for an organist who could sing. One who responded to that ad was Robert Fripp.Despite not being the organist they wanted, the Giles auditioned Fripp at the Beacon Royal Hotel, Bournemouth on the 28th of August 1967, and he was accepted. However, the reasons for taking him on weren't purely musical. Apparently, the Giles's learned that Fripp had a gig already set up in London, which they could use as a starting point. This gig was at a restaurant with accordion player Douglas Ward, whom Fripp played with five years earlier. The new band rehearsed for about a month in and around Bournemouth whilst Fripp continued playing as part of the Majestic Orchestra until mid-October 1967. However, there was a real prospect of playing behind The Flowerpot Men, who had just scored a massive hit with "(Let's go, to) San Francisco". So in September, Giles, Giles and Fripp (GGF) went up to London, but gig fell through, so they drove back home on the same day!However, GGF weren't to be discouraged and on the 16th October, they moved into 93a, Brondesbury Road, in the Kilburn district of North West London. On the very next day, GG&F together with Douglas Ward, started a residency at 'La Dolce Vita' Restaurant in Frith Street, Soho, London. However, Ward was injured in a car accident, so the remaining band (i.e. GG&F) transferred to the sister restaurant 'La Dolce Notta' in Jermyn Street backing an Italian singer. This contract ended on the 4th November 1967 after a dispute about money. In parallel with this, the band met Peter Shelley, of Decca Records and spent October and November negotiating a record deal.Despite spending the vast majority of their time writing and rehearsing at Brondesbury Road, they took some time out to socialise with fellow musicians. The Giles' spoke with Noel Redding (who they knew from their time in Germany with Trendsetters), who was working with drummer Mitch Mitchell and a black American guitarist – Jimi Hendrix. Fripp chased up Gordon Haskell (nee Hionidies!) who had travelled to London some 18 months earlier. Haskell had joined the Dowland Brothers a year after the Giles' had left and stayed with them for about a year. He then joined Southampton R'n'B band Fleur de Lys, who had successfully transferred to London and had made a name for themselves as house band in a number of clubs, such as The Speakeasy. Haskell had come into contact with Hendrix when Fleur de Lys backed him on a few recordings. Haskell did Fripp a favour, by bandying his name about. Vacancies for a guitarist and bassist came up in pop group Cupid's Inspiration, so both Haskell and Fripp applied. Haskell got the bass post, but Fripp was rejected. However, Haskell's stay with the band was short-lived.The live work coming in for GGF was minimal, and the band existed on state benefit(s). Fripp returned to Bournemouth for the Christmas Season at the Majestic Hotel and to spend time with his family. On his return to London, work continued at Brondesbury.Peter Giles, Mike Giles and Robert Fripp – an early publicity shotOn the 14th February 1968, GGF managed to secure a recording contract with Decca's subsidiary label, Deram, for two singles and an album, for which the band secured an advance totalling £750. They went into the studio about six weeks later, with Liverpudlian Wayne Bickerton foisted upon them as producer. From these sessions emerged the album "The Cheerful Insanity of Giles, Giles and Fripp" and the single "One in a Million" c/w "Newlyweds", the latter being released on the 10th of May. One fortunate side effect of these sessions was that GGF had found their own identity – they knew who and what they were in the music firmament and a rough idea as to what they wanted to become. To further this new identity, they had to take on board additional music personnel. To that end, they answered an ad, in the Melody Maker, purporting to have been placed by Judy Dyble, but originated by Ian McDonald and Peter Sinfield. This changed everything. Ian McDonald was born on the 25th of June 1946 in Osterley, West London into a house full of music, courtesy of his parents. As a young boy, he aspired to be a drummer, but nothing came of it. In 1958, the family moved to Teddington, near Kingston upon Thames, in South West London. He attended a school in Clapham, South London where he was a year below later modern jazz stalwart and Soft Machine member Elton Dean. He learned guitar, formed a band and played at school concerts. His attitude at school gave his parents cause for concern, so, at the end of 1961, when Ian was 15½, they took him out of school and put him into the Army!!! The young McDonald was, understandably, less than enamoured by this, but if he was going to have to stomach the army, he was going to combine it with music, so he became a junior bandsman. He wanted to learn saxophone, but it wasn't considered a 'military' instrument, so he chose the nearest thing to it – clarinet. Whilst with the army, he met a number of like-minded musicians (some of whom were in the RAF) and formed a band, performing at evenings and weekends. He managed to get some sort of placing at the Military School of Music, but it didn't last long as he was posted to Northern Ireland (fortunately before the 'troubles') then transferred to British Guyana, on the northern coast of South America. He hated his time in Guyana. The Beatles were dominating the airwaves and the jukebox at the barracks, but it was all happening in the UK – and he was stuck some 6,000 miles away in South America! However, he was transferred back to Northern Ireland and shortly afterwards, in 1967, he bought himself out of the army.Ms. Judy Dyble – a shot from the timeHe returned to his parents' house in Teddington and got a job working in a record shop. This gave him almost unlimited access to the music of the day. Being close to London, he regularly travelled to the clubs, where it was 'happening' – places like the Middle Earth, where Pink Floyd
 The meeting, held on or about the 7th of June, was thoroughly successful, especially for Peter Giles, as he felt that Ian McDonald would be of enormous benefit to GGF. The 'merger' of GGF and McDonald/Sinfield/Dyble acted as a starting point for a plethora of productive work. Peter Giles introduced some of the compositions that he wrote whilst in Trendsetters – "I Talk to the Wind" was tried out. However, the atmosphere was too much for Judy Dyble – it was too rigorous when compared to how she worked with Fairport Convention, and she left GGF sometime in July 1968.
 During July 1968, with McDonald and Sinfield on board, the band (still called GG&F) made further studio recordings for Decca/Deram, such as "She is Loaded", "Under the Sky" and "Drop In" – the latter would be used live by King Crimson in 1969 and later metamorphose into "The Letters" on "Islands". However, Deram rejected them as being unsuitable. It should be pointed out that McDonald was playing a variety of instruments, like flute, saxophone and keyboards. He also provided some financial stability, courtesy of a loan from his uncle. Many of these recordings subsequently turned up on a CD released under the supervision of Peter Giles, titled "The Brondesbury Tapes". The demo for "I Talk to the Wind", with vocals by Judy Dyble, appears on "The Young Persons Guide to King Crimson".
Partly for publicity and partly for money, GGF&McD took part in a TV advert for Dunlop tyres. A model, Mary Land, masqueraded as the band's singer and later married Michael Giles! Shortly after this, "The Cheerful Insanity…" was unleashed onto the world on 12th September 1968. It racked up world sales of about 600. On the same day, the band had an appearance on the BBC radio programme "My Kind of Folk". Decca got the band to re-record "Thursday Morning" (with McDonald) and it was released as a single, coupled with the original "Elephant Song" on 11th October 1968. It rose to the level of obscurity. Six days later, they performed "The Elephant Song" on the Eamonn Andrews TV show. The band also made an appearance on the BBC2 TV programme "Colour me Pop", which was recorded on the 16th November and transmitted two weeks later. Peter Giles worked hard to get this, but there were problems developing, initially due to different song writing styles. Peter was producing light, lyrical pop music, whereas Robert was dispensing with lyrics and was producing longer and harder pieces, mostly in minor keys. Michael Giles favoured Fripp's output – the two of them having an intense discussion on the 15th November, in the kitchen at Brondesbury Road, as to the direction the band should be taking. Fripp reckons this date was the 'conception' of King Crimson. He also believed that the band required a physical focus in the form of a photogenic frontman and singer, and reckoned that Greg Lake would fit the bill. Fripp deduced that Lake, who was equally proficient on guitar as well as bass, would have to replace himself or Peter Giles. Peter was not happy with the direction the band were taking and left, paving the way for Lake to be installed as bass player and lead vocalist. Peter relocated to Clapham Common and firstly became a computer programmer then a solicitor's clerk, though he retained his interest in music and worked, temporarily, for King Crimson about 18 months later. Lake's recruitment effectively brought Giles, Giles and Fripp to an end.
Greg Lake was born on November 10th 1948 and raised in the Oakdale district of Poole, a town adjacent to Bournemouth. His mother bought him his first guitar in 1960 and he took lessons from Don Strike, a year or two after Fripp. His first dalliance with performance was with the band Unit Four, which Fripp watched and later chatted with Lake (Note – Unit Four bore no relation with pop band Unit Four plus Two). They became close acquaintances. By 1967, Lake's stature had increased significantly, in the Bournemouth area, to the point that most observers believed that he was destined for much better things. He helped form a band, The Shame, for which he played guitar, and secured a recording contract with MGM. Apparently, Fripp roadied for them for a week while Shame played in Penzance, and in that time, Fripp and Lake became firm friends. He left Shame and joined The Gods on bass, which also had future Uriah Heep keyboardist Ken Hensley. He got a phone call from Brondesbury Road offering him a job, which was backed up by a personal visit from Michael Giles. Lake accepted and joined the band at Brondesbury Road in December 1968.
The component parts were all in place – Robert Fripp on guitar and occasional keyboards, Ian McDonald on reeds, keyboards, flute and backing vocals, Greg Lake on bass and lead vocals and Michael Giles on drums and backing vocals. Peter Sinfield 'sat' in the background, mostly writing lyrics, but would have additional tasks later. The lease on Brondesbury Road was to expire early in 1969, so new lodgings were needed. With the purchase of a Mk II Mellotron, a semi-permanent rehearsal facility was a must, at least to store the 'Tron, as man-handling it was injurious to human physical health (i.e. it weighed a ton!) Despite having effectively been dissolved, GGF got their first booking – a week long residency at a night-club in Newcastle-upon-Tyne called "Change Is", owned by comedian and scriptwriter, the late Bob Monkhouse. A rehearsal facility had been found, in the form of the basement of the Fulham Palace Café at 193, Fulham Palace Road, West London, owned by Peter and George Calatychos. It would be the 'spiritual home' for Crimson for the next few years.
On Monday, 13th January 1969, they finally moved the Mellotron into the rehearsal room. This day is, according to Fripp, the day that King Crimson was born.
Notes
1 – Patricia is now a Speech Coach, based in San Francisco. See http://www.fripp.com.
2 – Don Strike also gave lessons to Andy Summers. He (Strike) has a shop in Bournemouth, which has been in business since the 1920's. The author is unaware if Mr. Strike is still alive.
3 –   The ChewtonGlenHotel is still in business. See http://www.chewtonglen.com
4 –   There is some doubt as to whether Fripp participated in these singles. Either there was another band with the name 'League of Gentlemen', or the remainder of Fripp's band recorded them after he left.
5 –   The Majestic Hotel is also still in business.
THE INFANCY
The first rehearsal took place, as noted earlier, on the 13th January, consisting of an 'introductory' jam, lasting well into the evening. As well as writing lyrics, Peter Sinfield was elected 'Road Manager' along with Dik Fraser (who slowly took on all road duties) and given the job of preparing the light show for live concerts (note – this explains his credits on record sleeves as "Words and Illumination"). He also came up with the new name for the band on January 22nd, which was a synonym for Be'elzebub – Satan's assistant. The band practised, using numbers like The Beatles' "Lucy in the Sky with Diamonds", Joni Mitchell's "Michael from the Mountains" and self-composed material, like Fripp's "Drop in", Michael Giles' "Tomorrow People" and Greg Lake's "Lucky Man", which became a mainstay of ELP. The band needed some form of management, so they recruited David Enthoven and John Gaydon, who left their positions at the Noel Gay theatrical agency, and formed E.G. Management, taking the name from the initials of their surnames. They immediately set to work trying to get a record deal. Their first port of call was Decca Records, as their subsidiary (Deram) had signed GGF. They (Decca) sent Moody Blues producer Tony Clarke to investigate, who returned with a very favourable report. The N.M.E. say that Graeme Edge and Justin Hayward (of the Moody Blues) also checked out the band, and seriously toyed with signing them to their fledgling Threshold label, distributed by Decca.
On the 22nd February, the band travelled up by train (with Sinfield & Fraser driving up the motorway with the gear) to Newcastle to fulfil their obligations to the "Change Is" night club. Although billed as "Giles, Giles and Fripp", they announced to the audience that they had changed their name to King Crimson. The band went down well enough to pick up a return booking, though it was never fulfilled. Upon their return to London, they found that they were in print, courtesy of the International Times (IT) which was an 'underground' paper, comparable with 'Oz'. The article was written by Simon Stable, who was a great fan of the band, and would later marry Judy Dyble.
The band impressed the booker of The Speakeasy Club, and they were signed up for an appearance on April 9th. The Speakeasy Club4 (at 48, Margaret Street, London, close to Oxford Street) was a meeting place for musicians, music journalists and, most importantly, record company workers. Descriptions of the Speakeasy as being a musicians drinking den were a little harsh. Crimson went down very well that night. Amongst the audience were Bill Bruford, Steve Hackett (later of Genesis) and Yes guitarist Pete Banks. On hearing Crimson, it is reputed that Banks was so knocked out by the sounds they were making, his pint never left the bar. Ian McDonald reckoned that the Moody Blues, Ginger Baker and Manfred Mann1 were also in the audience. The word began to spread, and to encourage this further, a friend of Peter Sinfield's, Barry Godber, was roped in to design and print posters of the band, which were fly-posted in certain parts of London.
Fripp was (and probably still is) irritated by certain facets of the music industry, such as the demands of music 'society' upon performers. This includes the aspect of image. First & foremost, Fripp was/is a musician, therefore the creation and performing of that music is fundamental, even to the exclusion of everything else. He paid scant attention to any of the peripheries (like image) and in some cases, fought against them. One of these irritations was the expectation that the Rock Guitarist should be somewhat outlandish – he countered it by sitting on a stool, as he found playing the guitar this way was more comfortable. This was something that Lake found hilarious, saying that Fripp would "…look like a mushroom!" Nevertheless, Fripp was adamant, and sits on a stool to this day.
Two days after Hyde Park, Crimson went back to Morgan to try and record further sessions for Tony Clarke, but after four days, the same problems re-surfaced and, again, the sessions were scrapped. This scuppered any possibility of a recording contract with Decca or Threshold. However, there was good news on this front as EG had negotiated a deal with Island Records. Their A&R man, Muff Winwood (elder brother of Stevie) had seen them at a gig at the Marquee, but had then refused to sign them on the grounds of their image – he felt they didn't have one. However, after seeing them at Hyde Park, he changed his mind. Later in July, the band assembled at Wessex Studios3, a converted church in Highbury New Park, Islington, North London, to begin another session of recording. This time, the band would do their own production. It took Crimson about 4 weeks to record what would be "In the Court of the Crimson King". Afterwards, Crimson continued to gig, picking up excellent reviews wherever they went. John Wetton, then in Mogul Thrash, saw them at London College. He thought they were perfect, with no weak points. Gordon Haskell also saw them at The Marquee, but he thought they were wrong for the times. Although the 'Summer of Love' was 2 years old, it had a residual effect, and Haskell saw Crimson and Fripp as being diametrically opposed to this. He saw them "…as Satan", something which the cover of "In the Court…" would have probably confirmed to him The 'Screaming Face' cover was designed and painted by Barry Godber (pictured on the right), who had met Sinfield at Chelsea Art College when Godber was studying painting there. Sinfield used to hang around there when he had some free time. Godber tired of painting and got a job as a computer programmer at the same firm as Sinfield and Dik Fraser. As well as designing a fly-poster, Godber regularly turned up at rehearsals and did a paint job on Michael Giles' drums to a design based on one of the fly-posters. Upon hearing the tapes of the finished album, he went away and created the outer and inner cover artwork, basing the two faces on himself. The outer cover face became known, to Crimson fans, as "The Schizoid Man" – the face on the inner cover came to be called "The Crimson King". One feature of the cover was that there was no identification on the outer cover – no album title and no indication of who made it (except on the spine).
"In the Court of the Crimson King" was released on the 10thOctober 1969. The band asked (paid?) Pete Townshend to endorse it, and he described it as "…an uncanny masterpiece!" The music press weren't too far behind. Melody Maker said that "this is one you must hear", IT (Simon Stable?) called it "The Ultimate Album" and Disc enthused over the mixture and variation of music. The only black mark was awarded by the New Musical Express (NME) who said that the power and energy of their live performances wasn't reflected in the album – a comment that would hang like a millstone around the band's neck for the next 5 years or so. Rolling Stone (Lester Bangs?) were also less than complimentary, but their review had factual errors, which rendered it largely irrelevant. The senior management of Atlantic Records picked up on the reviews and sent their boss, Ahmet Ertegun, to secure a recording contract with EG. This gave the band something to sell on their forthcoming tour of America. The record buying public certainly agreed with the press; it effortlessly made the top 5 in the UK and the top 30 in the USA. In Japan, it replaced The Beatles "Abbey Road" at the top of the charts.
Notes
1 – It is not known if this was Manfred Mann the band, or Manfred Mann the keyboardist.
2 – It is believed that Family also participated.
3 – Wessex Sound Studios (to give it its full name) were owned, at the time, by George Martin. They closed in 2003 and converted into housing.
4 – The Speakeasy Club closed circa 1978. It is now fronted by a beauty salon, but there is a Night Club called Cameo on an upper floor.
SAILING BEHIND A SEA-GOD
The remnants of the band reconvened early in 1970. One of the items on the agenda was the dissolution of the band, but Fripp did not want to waste the achievements already made. His demeanour was not improved when Greg Lake announced that he was leaving the band to form a new unit with Keith Emerson. Crimson had shared the stage with The Nice in the USA in 1969, where Lakeand Emerson had a little chat. The role of EG Management must now be focused upon. They were set up to run the peripheral affairs (as Fripp saw them) of King Crimson, but as they (EG) increased in personnel, so did their ambition. Totally behind Fripp's back, an EG employee, Mark Fenwick, (who later became a director of EG) took it upon himself to hire Elton John as a singer. When Fripp heard about this, he listened to one of Elton's albums, given to him by Mark Fenwick, whereupon Fripp immediately cancelled the arrangement without retrieving Elton's session fee of £250. They (Fripp & Sinfield) looked at other singers.
The band then returned to the studio to complete the recordings. Mel Collins was brought in to, effectively, replace Ian McDonald's role. Lake actually deserted the studio before recording was finished (but still received the PA as full payment), so Fripp called in Gordon Haskell to put vocals on the final track, "Cadence and Cascade". When the album, titled "in the Wake of Poseidon", was released on the 15th May 1970, the music press were struck by the similarities between it and "In the Court…" Despite this, the reviews were generally good.
IN REPTILIAN MODE
 After the release of "…Poseidon", Fripp immediately got back to work re-assembling the band. He needed to tour again in order to maintain the reputation and credibility of King Crimson, moreso on the back of two best-selling albums. Despite his problems, Fripp was accorded the highest musical respect by the rock community. He was invited to replace Pete Banks in Yes as well as being asked to join Aynsley Dunbar's Blue Whale. He declined both.
As mentioned, Lake had gone for good. Fripp asked Peter Giles if he would stay, but Giles felt that Fripp's personality would be too over-powering, and would not benefit the band. He returned to his computer programming job. Michael Giles refused point blank to tour and went into session work, via a brief alliance in the studio with Ian McDonald. Tippett returned to his jazz aggregation, though his services would be called upon at a later date. Mel Collins was invited to be a member, and he jumped at the chance, though, as he admitted later, if he knew then the trouble he was in for, he wouldn't have bothered.
Recording "Lizard" was problematic for McCulloch, as he couldn't fathom Fripp's working practices. As well as complaining about it to Gordon Haskell, he was venting his spleen to fellow Drayton Park tenant and future Crimsoid Ian Wallace. Fripp and Sinfield weren't happy with the drum sound at Wessex Studios, so McCulloch spent a lot of time performing simple drumbeats whilst microphones and baffle boards were moved around. After seeing this, Haskell felt that Fripp & Sinfield were behaving like amateurs, whereas Fripp was perfectly happy with the way things were shaping up.
After "Lizard" was finished, everybody took some time off, prior to rehearsing for forthcoming tour duties. This would put extra pressure on McCulloch, Haskell and (to a lesser degree) Collins, as they had to learn the Crimson back-catalogue. This presented a problem for Haskell, as he wanted to contribute some of his own compositions as well, but it looked as if this wouldn't happen. When Haskell asked to lower the key of "21st Century Schizoid Man" so that his vocal range could tackle it better, Fripp said no. This was the start of a short, vicious, verbal argument, resulting in Haskell walking out of the band. For his efforts, EG gave him a session fee of £275, though Haskell reckoned it should have been a lot more. For decades after, there was a great deal of animosity between Haskell and Fripp, though they have since buried their differences. McCulloch felt intimidated by the unpleasant atmosphere and left as well. "Lizard" was released on the 11th of December 1970. Tensions between Fripp and Sinfield were also starting to come to the surface. Fripp didn't think much of Sinfield's lyrics, but recognised that the music that he was writing was a mis-match to Sinfield's style.
As a sort of antidote to the upheavals, Fripp accepted Keith Tippett's invitation to play on and produce a project called "Septober Energy" by a massive aggregation he (Tippett) had brought together, which came to be called "Centipede". The personnel included Ian McDonald, Elton Dean, Marc Charig, Nick Evans (the last three from Tippett's band) and Mel Collins. Boz Burrell was also present as a backing singer. Fripp carried out production duties, but he was so busy with these in the control room, he didn't have time to contribute his guitar. However, he did play guitar on a Peter Hammill solo album, while the latter took time off from Van der Graaf Generator.
MASSES IN EARTH'S WATER
By now, Fripp was in despair with King Crimson. For reasons he couldn't understand, he seemed unable to find the right musicians capable of understanding his musical ideas and keeping them together. Fripp gave serious thought to bringing Crimson to a conclusion, and said, in effect, to Mel Collins, "if you want Crimson to continue, you do the auditioning!" So Collins got to work. At about the same time, John Gaydon (the G in EG management) left. He was effectively replaced by Sam Alder.
Collins very quickly recruited Ian Wallace, who had played in East Lancashire band The Warriors, which had Jon (then Johnny) Anderson on vocals. Fripp returned, and with Collins, Wallace and Sinfield, auditioned bass players and singers. It took an age. One of the singers that tried his luck was, the then unknown, Bryan Ferry. Although unsuitable for Crimson, Fripp felt that he had considerable potential "…in other areas" and suggested he pay a visit to the EG offices. If only he knew then what he knows now!  They also considered joint-manager John Gaydon, who had experience as a band member.
In early May 1971, Crimson set out on their first tour proper of the UK. By this time, there had been a few new compositions written, such as "Sailor's Tale", "Ladies of the Road" and "The Letters", though the latter was a re-write of "Drop in". During auditioning at the Fulham Palace Café, Sinfield had been experimenting with a VCS3 synthesiser, which acquired the nickname 'Vick'. He subsequently came up with the idea of feeding Wallace's drum sound through the Ring Modulator section of 'Vick'. Wallace approved, and it became part of the stage act, with Sinfield controlling 'Vick' from the mixing desk. They also used it to occasionally process Boz's vocals.
The Crimson atmosphere improved considerably. The tour had gone well, receiving critical approval wherever they appeared. Fans were more than happy to see the band on the road and seen to be a fully functioning unit. This restored Fripp's faith in mankind, and it triggered a stream of creativity, though most of it was unusable. One of these pieces was part of what would later become "Larks' Tongues in Aspic, Part 1", but Fripp retained it, deeming it beyond the capabilities (musically and intellectually) of the then-present version of King Crimson. At about the same time, Fripp completed his production tasks for Centipede. Despite his initial acceptance of Boz as a bass player, he started having second thoughts about this, and toyed with the idea of bringing in John Wetton on bass and retaining Boz purely as a singer. The rest of the band disagreed with this and Wetton had gently rejected the offer (sensing that his recruitment would cause problems within Crimson), so Fripp quietly dropped the idea.
During August, '71, Crimson played a number of single gigs around the country, including The Marquee, as well as another appearance at Hyde Park. They went down a storm. On the shirt-tails of this acclaim, they went into the studio. Instead of using Wessex Studios at Islington, North London, the band recorded at Command Studios, 201, Piccadilly, in the heart of London's West End purely for economic reasons. Unlike "…Poseidon" and "Lizard", the material for the new album had been tried out on the road. In fact, in September and early October, Crimson alternated between recording and gigging in the provinces. Fripp always felt that touring was an absolute necessity. The album was completed by early October, whereupon the band embarked on a tour of the UK, taking up the rest of October, followed by a month's touring of North America, during which the new album, "Islands", was released on the 3rd December 1971.
Round about this time, there had been a change of atmosphere between Fripp and Sinfield about royalties and how they should be distributed. Fripp became anti-social to the point that conversation with him was minimal. Fripp did not do drugs, but the rest of the band freely indulged, which distanced Fripp even further. Fripp discussed his relationship with Sinfield with the rest of the band, saying that he felt unable to work with him. After a short while, Fripp rang Sinfield telling him that working together was no longer viable. In effect, Sinfield was out. The writing was on the wall when Fripp had been quoted as saying that Sinfield wrote, "…some of the most indigestible lyrics ever heard in Rock", referring specifically to the "Islands" album.
With Sinfield gone, Fripp called a meet of the band members just outside Bournemouth in early January 1972 and put Crimson on a more democratic footing. He distributed the income equally and expected creative input from the rest of the band. As a result of this meeting, there was a more positive atmosphere, despite the loss of one of the mainstays of Crimson. However, ideas submitted by the other band members were deemed by Fripp to be unsuitable, as he felt they weren't 'Crimson'. This happened to Collins, who took Fripp's rejection very badly. When Collins related his episode with Fripp to Wallace and Boz, they confronted Fripp, accusing him of hypocrisy and destroying the 'State of Democracy' that was supposed to be in place. Wallace dropped his drumsticks, said he was leaving the band and departed. Boz did the same. Fripp packed his guitar and left. As far as he was concerned, Crimson was finished.
When they got wind of this altercation, EG management told Fripp that Crimson were contractually obliged to tour the USA1 in February 1972, so breaking up the band would be financially crippling. David Enthoven successfully persuaded Wallace and the rest of the band to get back together. The actual tour went well, as far as Wallace, Collins and Boz were concerned, as they took some of the initiative. They were greatly influenced by fellow touring companion Alexis Korner and would improvise a 12-bar blues during gigs. This infuriated Fripp, who detested 12-bar blues, and he generally just sat there refusing to join in. Fripp had decided that there was no future in having Crimson with this group of musicians. He had spoken to Bill Bruford of Yes when they and Crimson shared the bill in Boston in late March. He also had words with Jon Hiseman of Coliseum, but that came to naught. Despite this, there was sufficient material recorded live off the mixing desk, intended for future release. The tour ended in early April and the band promptly broke up; Fripp returned to the UK, whilst Wallace, Collins and Boz remained in the USA. There, they joined forces with Korner, together with Danish singer Peter Thorrup, forming a band called Snape. They recorded a studio album "Accidentally Born in New Orleans" and a live album. Ian Wallace stayed on in the USA and did a considerable amount of session work, particularly for Don Henley (ex-Eagles) and Bob Dylan. Mel Collins returned to the UK and joined Kokomo, as well as continuing with his session work, which never stopped whilst he was with Crimson. Boz joined (the inexplicably successful) Bad Company. Fripp was now on his own.
Crimson were contractually required to release something, so Fripp put out "Earthbound" on the 9th of June 1972, despite its poor recording quality. Their US label, Atlantic, refused to release it, on the grounds of quality, and they felt the record-buying public would return it in droves. In later years, Fripp would describe "Earthbound" as "…the first official bootleg album in rock". This wasn't totally correct, as Frank Zappa issued "Live at the Fillmore East" in 1971 and made certain that it looked like a bootleg to compete with the plethora of illicit Mothers material in circulation, particularly from continental Europe. "Earthbound" was universally slammed, and put a shadow over Crimson's reputation. In later years, Fripp tried to get "Earthbound" deleted – permanently.
Notes
1 – It has been alleged that Fripp was of the opinion that the "contractual obligation" was a fabrication made by EG management.
DELICATE FOOD IN HARD MATTER
After the debacle of "Earthbound", Fripp retreated to a cottage near his 'spiritual' base at Wimborne, near Bournemouth. Combining rest, thought and writing, he put together the latest incarnation of King Crimson. He had contacted Bill Bruford in May 1972 and asked if he was still interested in joining. Bill said yes. The fact that he was spurning financial security with Yes, gave an indication of the (musical) respect that the Rock 'industry' still had for Fripp.
Bill Bruford was born in Sevenoaks, Kent on the 17th of May, 1949. His father was a vet. Whilst at school, while his friends got into pop music, Bill was into jazz. He had talent as a musician and took up the drums. In 1968, thanks to a successful set of A-level results, he went to Leeds University to study Economics and Sociology, but early in his stint, he decided to become a professional musician and left academia. He had a short spell in Savoy Brown before joining Yes. They first came to prominence when they supported Cream at their Albert Hall farewell concerts. Michael Giles watched them both at one of these concerts, and reckoned Yes were far superior. Bruford admitted that Yes aspired to what Crimson was doing, regarding "In the Wake of Poseidon" as some sort of artistic target.
John Wetton was born in Derby in the East Midlands of England on the 12th of June 1949. He became musically minded thanks to his elder brother who was a church organist. In 1961, the Wetton family transplanted to Bournemouth, where John involved himself with the local R'n'B scene. Along the way, he met Richard Palmer-James and joined his band, simply called Palmer James. When that band broke up, Palmer-James joined Supertramp on guitar, appearing on their first album. Wetton linked up with former Coliseum guitarist James Litherland to form Mogul Thrash. They recorded one album and released a number of singles, one of which was a great success – in Belgium! The band collapsed due to overwhelming heavy indifference and contractual problems.
Over the years, Fripp had been in regular contact with Melody Maker journalist Richard Williams, inviting him to the Fulham Palace Café several times, giving him exclusive previews of finished albums and granting him interviews. Williams had been championing an experimental free-form jazz band called Boris, but they broke up, due to lack of patronage. He suggested to Fripp that he check out the drummer and percussionist, one Jamie Muir. Fripp duly turned up at Muir's place and was impressed with what he heard. He invited Muir to join, and Muir accepted.
At about the same time, Fripp received word from EG that there was a band rehearsing in the basement of the Fulham Palace Café, which Crimson had now vacated. The band was called Waves, which featured a violinist called David Cross. Fripp liked what he saw and asked Cross to come to a rehearsal session at Covent Garden. This put Cross in a very difficult position, as, at the same time as the rehearsal, he was due to attend the funeral of his grandfather at his home town of Plymouth. He went to the rehearsal and was subsequently asked to join the band.
Some sources say that Fripp, Wetton and Bruford were rehearsing at a studio in Ealing, west London. During a break, one of them wandered to the adjoining studio and witnessed Cross practising. Cross' reminiscences are slightly different. He maintains he went to the EG offices in Kings Road, Chelsea, to negotiate a record deal. He, apparently, bumped into Fripp leaving them. The only outstanding issue was a singer. Muir was in favour of bringing in a dedicated vocalist, but he was vehemently opposed by Wetton. Fripp asked Wetton if he fancied being vocalist, to which Wetton said yes. The five of them deduced that they considered themselves as adequate music writers, but were extremely limited in the lyric-producing department. Wetton suggested his old boss Richard Palmer-James (then living in Germany), with whom Fripp was also acquainted. The music press later 'agreed' that he didn't improve much on Peter Sinfield. For some time, some parts of the music press (e.g. Melody Maker and the NME) got Palmer-James Christian name wrong1, and credited him as ROBERT Palmer-James. It is believed that a faulty press handout from EG Management was responsible for this error.
Rehearsals started in Richmond, South West London in early September, and it was a trial for at least one of them. Bruford was very unfamiliar with Fripp's working methods, as it was so different to his experiences with Yes. He was also having problems relating to Muir, due to the latter's anarchic approach. Muir was also finding the creative process as 'challenging'. When asked for his description of their collective output, he called it "Larks' Tongues in Aspic". Fripp hi-jacked this phrase for two pieces that had been created (including a piece he had recycled, which was unsuitable for the 'Islands' ensemble) and as the title of their next album.
For live work, Fripp felt the need to exorcise Crimson's musical history to some degree, and his only concession to the past would be "21st Century Schizoid Man". However, this would be slightly modified within a year, when he re-introduced "Peace – a Theme" followed by "Cat Food" as an encore. It wasn't considered a good choice and was later dropped. With a repertoire in place, Crimson went to The Zoom Club in Frankfurt, Germany, for a short 3-gig residency, followed by a single gig in Bremen, also in Germany, in mid-October. On their return to the UK, they played a single gig at Redcar, near Middlesborough in the North-east of England before embarking on a 27-gig tour of Britain spanning November and December 1972. They were greeted with unprecedented warmth by both fans and the press. By Crimson standards, it has to be said that this tour had the greatest showmanship, with Muir leaping around the stage dressed in animal skins, thrashing around on his array of tin pots, tubes, Chinese gongs and other percussive paraphernalia. He was, apparently, spitting blood, but he had capsules of red dye secreted in his mouth.
Notes
1 – If you check out the reviews on the sleeve notes of the "Starless and Bible Black" CD, you will see that this error had been perpetuated for at least 18 months!
BLACK, RED AND AMERICA
The second Marquee gig was played, but with obvious trepidation. It appears to have been a comparative success. For the vast majority of 1973, the band gigged – and they gigged hard! After a break of about a month, the band embarked on a 9-gig tour of the UK. Halfway through this tour, "Larks' Tongues in Aspic" was released on the 23rd of March. The reviews were largely favourable, but more than one journalist commented (again!) that the album didn't capture the energy of their live performances. Following almost immediately was a 9-gig tour of mainland Europe, quickly followed by TWO tours of North America. This took the band up to early July, when they returned to the UK for a break. Bruford, Wetton and Cross took a holiday, but Fripp returned to Wimborne to write some new material, "Fracture", "Lament" and "The Night Watch" being some of the results. The main reason for this enforced session of writing was that only "Doctor Diamond" had emerged from the writing that had been done on the road.
When the band got back together, there was a sort of planning meeting. The principal gripe appeared to be a lack of new material that was being created. It is believed that none of the participants were capable of writing prolifically whilst on tour, and preferred to write by rehearsing. Fripp took this on board, which goes some way to explaining "Starless and Bible Black". Despite this, there was more touring to do. There was a 19-date trip around North America, a short 6-gig flying visit of the UK followed by 18 dates in Europe, which took up November. Most of these gigs were recorded and held by Fripp, initially for archiving purposes. By the end of this crippling schedule, the band were utterly spent, and were grateful for the extended break.
Early in the New Year (1974), the band assembled at AIR studios (owned by Beatles producer, George Martin, now Sir George) in London's Oxford Street1to, ostensibly, record their next album. Fripp tried something that was, for him, different. A few tracks were recorded in the normal fashion, but the majority of them were live tracks that were modified and/or overdubbed in the studio. Fripp wasn't the first to do this, as Frank Zappa had done something similar around the time of his "Burnt Weenie Sandwich" album. Slightly more than half of the album's running time came from a single gig at the Amsterdam Concertgebouw, with other bits from Glasgow and Zurich. The entire Amsterdam gig was released retrospectively on a double CD package called "The Night Watch" in 1997. The fact that most of the tracks were live was not made public at the time – Fripp only made it known on the sleeve notes of the compilation "The Young Persons Guide to King Crimson" in 1976. The author never found out until 2003!!! The resultant album, "Starless and Bible Black" (the title coming from the first line of the poem 'Under Milk Wood', by Dylan Thomas) was released on the 29th of March 1974. Reviews were mixed.
The album was released midway through a 12-date tour of mainland Europe. This, in turn, was quickly followed by a 17-date tour of North America. By this time, David Cross was experiencing problems. Firstly, he was tired of touring – the endless traipsing from gig to gig, the hanging around in hotels and airports and sitting, twiddling his thumbs on the tour bus. He also felt musically detached and isolated within the band and he was being overpowered, in terms of volume, by Bruford and Wetton. Fripp could compete with them – just, but Cross couldn't. During a second tour of Canada and the USA, taking in nearly all of June and one day in July, Fripp was beginning to agree, but with slightly different reasoning. He felt that the violin had no place within rock in general and 'Heavy Metal' in particular, as it couldn't compete in terms of presence. He was in favour of ousting Cross, but he first sounded out Bruford and Wetton. Bruford wanted Cross to stay, whereas Wetton wanted him out. The decision was taken to dismiss Cross upon their return to the UK, and it would be done, despite Fripp's vehement protests, by EG Management. However, it leaked out that when the band entered Olympic Studios in Church Road, Barnes, West London only a week after returning from the USA, EG had still NOT told Cross he was out. (Some notes in the booklet accompanying "The Great Deceiver" paint a slightly different picture. The decision was made to sack Cross, but after the final gig at New York's Central Park, Fripp said he had pencilled in another tour of the States. Cross' heart plummeted when he heard this and said he was leaving the band, relieving anyone the task of dismissing him.)
The initial recording of what would be the "Red" album started alarmingly. Fripp said that he would not be expressing an opinion of the music output. Bruford and Wetton put this down to Fripp having another "moody", but it turned out to be more serious than that. Between returning to the UK and starting to record "Red", Fripp had encountered the work of J. G. Bennett who, in turn, had been a 'disciple' of G. I. Gurdjieff. Fripp was going through a 'spiritual awakening' similar to that experienced by Jamie Muir. As Fripp kept himself to himself, Bruford and Wetton did the bulk of the work, in conjunction with engineer George Chkiantz. To add a bit of variation, and to 'replace' David Cross, Wetton had been socialising with ex-Crimso Ian McDonald. Wetton reckoned that the time was right for McDonald to re-join Crimson, despite the baggage that would have been brought along. Prior to being formally invited to join, McDonald acted as a sessioneer, as did former member Mel Collins. In a moment of co-operation, Fripp called in Mark Charig and Robin Miller, both of whom had contributed to previous Crimson albums. There was also an unknown and uncredited cello player, who can be heard in the middle of the title track and on the track "Starless". It has been alleged that John Wetton publicly stated that this was an uncredited contribution by Mark Charig on a bass cello, but truth is stranger than fiction. In one of the other Olympic studios, a hired group was recording 'muzak' for airports, department stores and lifts. There were some Musician Union rules in place that said that you couldn't do more than 2 hours work at this type of music. One cellist thought it was three, so he had an hour to spare. Crimson 'borrowed' him, but never noted his name. It is unknown if he was ever paid for his contribution! All that was known of the cellist was that he was male! (See Note 2)
"Red" was released on the 27th of September 1974, but its impact was virtually killed off when Fripp announced the 'final' dissolution of King Crimson. He had simply had enough. Not only that, but he had decided to take some sort of sabbatical at J. G. Bennett's Academy at Sherborne in Gloucestershire. This was a pity, as McDonald had agreed to rejoin Crimson. The Music press gave a virtually unanimous thumbs-up to "Red", stating that the LP had finally captured the live 'feel' of the band. They were also surprised that Fripp had broken up Crimson, considering the quality of "Red", but they never knew the real reasons until much later. One cynical correspondent made the conjecture that breaking up King Crimson was a publicity stunt to boost sales of the album. He also described the band as " 'king Crimson" (note the apostrophe).
Compiled and edited by messers Fripp and Wetton, "USA" was released on the 25th of April 1975. All but one track was taken from a gig at Asbury Park, New Jersey in late June 1974. There were reservations about the album by the media, the principal complaint being the lack of new material. There was only one new number and that was an improv. In the wake of the demise of Crimson, John Wetton toured with Roxy Music, before joining Uriah Heep. David Cross returned to virtual obscurity and Bill Bruford worked for Gong, Pavlov's Dog and Genesis.
 A compilation LP, "The Young Person's Guide to King Crimson" was issued on the 26thApril 1976, which had copious notes and press cuttings from throughout the band's lifetime that showed that for every journalist that lauded their every move, there was another who believed they had nothing in common with music.
Notes
1 – George Martin relocated AIR Studios to Hampstead, London in late 1992.
2 – In Spring 2009, Steve Wilson (of Porcupine Tree) was recruited to assist in re-mastering a number of early albums for King Crimson's 40th anniversary. Whilst working on "Red", a document was allegedly found, giving the initials of the cellist as "ALW". This was (for some reason) thought to be Andrew Lloyd-Webber's brother, Julian. However, it transpires that this was an 'April Fool' initiated by DGM. The author sheepishly admits to have been taken in by this hoax – hook, line, sinker and copy of Angling Times!

UNANSWERED QUESTIONS AND QUERIES FROM THE AUTHOR
 1)  Who were Fripp's fellow musicians in Cremation? Where any of them in any of his previous bands?
2)  In about 1999, Fripp put all of his Mellotrons up for auction, comprising (it is believed) 2 MkII's, and 4 M400's. Apparently, he received no "acceptable" bids, so the auction was closed, without any of these trons being disposed of. There are photos of 4 of these Trons on this site, which were/are in storage at Fripp's house in Wiltshire, England. Fripp stated that he had no further need for Mellotrons, as he could reproduce their sounds by other means. As he has sent some of his trons to Streetly for maintenance, has anyone any clue as to why he has retained them?
Odds and Sods about King Crimson
1)  For nearly all gigs from 1969 – 1974, the only guitar Fripp played was his black custom Gibson Les Paul. It acquired the nickname "The Lady" or "My Lady".
2)  For some reason, Fripp has (or had) an aversion to echo and reverb. This was revealed in an interview given by David Cross to one of the music papers of the day in (I think) 1973, and he had a reverb unit of some description. He had instructions from Fripp that it was never to be used.
3)  Mark Charig played session cornet/trumpet on "Lizard", "Islands" and "Red". Somehow, someone mis-spelt his name on the sleeve credits of "Red" and spelt it "Marc Charig". It is correctly spelt as 'Mark' on the other two.
4)  Although not about King Crimson, there was something which indirectly involved them and it concerned Tangerine Dream. After they made their first 4 albums in Germany, Tangerine Dream signed for the nascent Virgin label and recorded the "Phaedra" album. To publicise it, Virgin commissioned artwork denoting a 12" vinyl LP that was melting, under the moniker "Music that Melts". For further publicity purposes, they also held a press conference where the centre-piece was an actual LP that they melted. One of the assembled hacks took a closer look at the LP and noticed that the label had been stuck over an existing one. He carefully lifted the label to reveal the original LP. It was "Islands" by King Crimson.
5)  Mel Collins took apart the 2 Mellotrons that Crimson were using during a gig! According to an interview given by Boz to U.S. journalist Bill Murphy, Collins 'borrowed' a screwdriver and a spanner and during a gig (presumably during the last U.S. tour), partly dismantled BOTH Mellotrons. I can only assume that these were the two white ones.
6)  For the purpose of designating the various Crimson line-ups, Fripp devised a system based solely on those that toured. Using his system…
a)  Mark 1 Crimson is Fripp, Lake, Giles & McDonald,
b)  Mark 2 Crimson is Fripp, Boz, Wallace & Collins, and…
c)  Mark 3 Crimson is Fripp, Wetton, Bruford, Muir & Cross.
It is not officially recorded how this system changed when Muir left in 1973, nor how Fripp allows for the "…Poseidon" or "Lizard" line-ups. It is quite likely that he doesn't recognise them.
7)  There is an error on the credits on King Crimson's "B'BOOM" album. This album was very quickly released to counter an inferior and very expensive bootleg put out by an Italian outfit that went to Argentina to bootleg live concerts by 3 bands – Crimson being one of them. Crimson transplanted the credits from "THRAK", including their layout directly onto those of "B'BOOM. As a result, Mellotron is credited on "B'BOOM" as being played by Fripp. Fripp only once used Mellotron after 1974, and that was on "THRAK". Therefore, there is NO Mellotron on "B'BOOM". There is a similar situation for the "Live at Summit Studios" album.
8)  On the original vinyl version of the "In the Wake of Poseidon" album, the track immediately preceding "Cat Food" is not acknowledged, let alone credited. It was "recognised" by Fripp when it received a full credit on "A Young Person's Guide to King Crimson" and given the title "Peace – a Theme". The CD version of "In the Wake…" also gives the piece the same title.
9)  At the 1969 Plumpton Festival, King Crimson committed a faux pas (that's Latin for 'fuck-up')! Shortly before the gig, they dispensed with their agent in favour of someone else. The original agent were also the organisers of the Plumpton Festival, and they retaliated by putting Crimson into a small marquee, thus depriving over a thousand fans who could hear the band, but not see them.
10)  The 'spiritual' home of King Crimson is acknowledged to be the basement of 193, Fulham Palace Road, London, which (from early 1969 to late 1971) was called the "Fulham Palace Café" and was run by a couple of Greek brothers. At the time of writing, it's now a Greek-Cypriot restaurant-cum-takeaway. It is on the corner with Averill Street.
11)  The photograph on the cover of "Live in Denver, CO" is the same as that for the download for "StanleyWarnerTheatre, Pittsburgh".
12)  David Enthoven (the E in EG Management) left EG in 1977 However, in the sleevenotes of the "Beat" CD, there is a reprint of a press release advertising the "Beat" album. This press release is dated 3rd June 1982. At the heading of this release is a list of the directors of EG, consisting of Messers Fenwick, Alder and Enthoven.
"Metal Storm"
King Crimson was conceived in November 1968 and born on January 13th 1969 in the Fulham Palace Cafe, London (Fripp/Ian McDonald/Greg Lake/Michael Giles/Pete Sinfield), coming to prominence after supporting The Rolling Stones at Hyde Park. Their ground-breaking debut In The Court Of The Crimson King (1969) described by Pete Townshend as "an uncanny masterpiece", began a career that has spanned four decades and influenced many bands and individuals including Yes, Genesis, Tool, and Porcupine Tree.
Despite the original line-up imploding after an American tour King Crimson continued to produce constantly challenging and intriguing music on albums such as In The Wake of Poseidon (1970), Lizard (1970), Islands (1971), Earthbound (1972), Larks' Tongues in Aspic (1973) and Red (1974). Following Red, an exhausted Fripp declared "King Crimson is completely over for ever and ever."
In 1981, Fripp reconvened King Crimson along with Adrian Belew (Zappa/Bowie/Talking Heads), Tony Levin (Paul Simon/John Lennon/Peter Gabriel) and his old sparring partner, Bill Bruford. "The bleak Crim view lightened" according to Fripp as their musical vocabulary widened and Crimson combined gamelan, funk and rock grooves that would threaten to "tear out and flatten ear hairs within a mile." Albums which followed include Discipline (1981), Beat (1982) and Three Of A Perfect Pair (1984) and a stunning live album from their last ever performance in 1984, Absent Lovers (finally released in 1998).
Following a lengthy period outside the music industry mainstream – during which Fripp not only established Guitar Craft, engaged in a protracted but ultimately successful legal battle with his former mangers, and collaborated with David Sylvian—King Crimson re-emerged in 1994 with Trey Gunn (touch guitar) and Pat Mastelotto (drums). Joining forces with Belew, Levin, Bruford and Fripp and dubbed the Double Trio, they recorded an ep VROOOM (1994) and THRAK (1995) and a suite of live improvs, THRaKaTTaK (1996).
In 1997, the group subdivided into research and development units collectively known as the ProjeKcts, producing an exciting and inventive blend that mixed hard-core improv and electronica (King Crimson The ProjeKcts box set 1999). With Tony Levin temporarily leaving to work with Seal and Peter Gabriel, and Bill Bruford returning full-time to his ongoing Earthworks jazz group, King Crimson entered the new millennium with The ConstruKction of Light (2000). In the same year the double duo of Belew, Fripp Gunn and Mastelotto produced a live set, Heavy ConstruKction, before returning to the studio to record the critically acclaimed, The Power To Believe (2003). After a tour playing 21 countries with over 70 dates, Trey Gunn departed to pursue his own career in 2003. The present and seventh line-up of King Crimson is Adrian Belew (guitar, lead vocals), Robert Fripp (guitar), Tony Levin (bass guitar & Chapman stick) and Pat Mastelotto (drums) and work has begun on new material.
Musical style and influences
The band's music was initially grounded in the rock of the 1960s, especially the acid rock and psychedelic rock movements. The band played Donovan's "Get Thy Bearings" in concert, and were known to play The Beatles' "Lucy in the Sky with Diamonds" in their rehearsals. However, for their own compositions, King Crimson (unlike the rock bands that had come before them) largely stripped away the blues-based foundations of rock music and replaced them with influences derived from classical composers. The first incarnation of King Crimson played the Mars section of Gustav Holst's suite The Planets as a regular part of their live set and Fripp has frequently cited the influence of Béla Bartók. As a result of this influence, In the Court of the Crimson King is frequently viewed as the nominal starting point of the symphonic rock or progressive rock movements. From its earliest years King Crimson also initially displayed strong jazz influences, most obviously on its signature track "21st Century Schizoid Man". The band also drew on English folk music for compositions such as "Moonchild" and "I Talk to the Wind".
Several King Crimson compositional approaches have remained constant from the earliest versions of the band to the present. These include:
the use of a gradually building rhythmic motif. These include "The Devil's Triangle" (an adaptation and variation on the Gustav Holst piece Mars played by the original King Crimson, based on a complex pulse in 5/4 time over which a skirling melody is played Mellotron), 1972's "The Talking Drum" (from Larks' Tongues in Aspic), 1984's "Industry" (from Three of a Perfect Pair) and 2003's "Dangerous Curves" (from The Power to Believe and the Level Five EP).
an instrumental piece (often embedded as a break in a song) in which the band plays an ensemble passage of considerable rhythmic and polyrhythmic complexity. An early example is the band's initial signature tune "21st Century Schizoid Man", but the Larks' Tongues in Aspic series of compositions (as well as pieces of similar intent such as "THRaK" and "Level Five") go deeper into polyrhythmic complexity, delving into rhythms that wander into and out of general synchronisation with each other, but that all 'finish' together through polyrhythmic synchronisation. These polyrhythms were particularly abundant in the band's 1980s work, which contained gamelan-like rhythmic layers and continual overlaid staccato patterns in counterpoint.
the composition of difficult solo passages for individual instruments, such as the guitar break on "Fracture" on Starless and Bible Black.
pieces with a loud, aggressive sound akin to heavy metal music.
the juxtaposition of ornate tunes and ballads with unusual, often dissonant noises (such as "Cirkus" on Lizard, "Ladies of the Road" from Islands and "Eyes Wide Open" from The Power to Believe).
the use of improvisation.
Ascending note structure (i.e. "Facts of Life", "Thrak")
The 1981 reunion of the band brought in even more elements, displaying the influence of gamelan music and of late 20th century classical composers such as Philip Glass, Steve Reich, and Terry Riley. For its 1994 reunion, King Crimson reassessed both the mid-1970s and 1980s approaches in the light of new technology, intervening music forms such as grunge, and further developments in industrial music, as well as expanding the band's ambient textural content via Fripp's Soundscapes looping approach.
King Crimson have been influential both on the early 1970s progressive rock movement and numerous contemporary artists.
First-wave progressive rock bands such as Genesis and Yes were directly influenced by the band's initial style of symphonic mellotron rock, and many King Crimson band members went on to other notable bands: Greg Lake to Emerson, Lake & Palmer; Ian Mcdonald to co-found Foreigner; Boz Burrell to Bad Company and John Wetton to the supergroups UK and Asia (the latter of which also drew members from Yes, ELP, and The Buggles). Some aspects of the work of Emerson, Lake & Palmer can be seen as Greg Lake's attempt to continue the early work of King Crimson. The veteran Canadian hard rock/progressive rock band Rush cites King Crimson as a strong early influence on their sound (drummer Neil Peart specifically credits the adventurous and innovative style of original King Crimson drummer Michael Giles as a very important influence on his own approach to percussion).
Latterday progressive rock bands also cite King Crimson as an influence. These include Porcupine Tree who, as with Tool, have invited King Crimson (this time, in the form of ProjeKct Six) to play as their support band. Progressive/heavy metal rock band Between the Buried and Me are heavily influenced by King Crimson, covering the song "Three of a Perfect Pair" on their 2006 album The Anatomy Of, as are Primus, whose Les Claypool routinely opened his 2002 tour concerts of Colonel Les Claypool's Fearless Flying Frog Brigade with a cover of the song Thela Hun Ginjeet. Progressive metal band Dream Theater included a cover of King Crimson's "Larks Tongues In Aspic, Pt. 2" on disk 2 of the special edition of their 2009 release, Black Clouds & Silver Linings.
King Crimson's influence extends to alternative rock bands of the 1990s and 2000s. Nirvana are known to have been influenced by King Crimson as a result of Kurt Cobain having mentioned the importance of the Red album to him. Tool are widely held to have been heavily influenced by King Crimson, with their vocalist Maynard James Keenan even joking on a tour with them that "Now you know who we ripped off. Just don't tell anyone, especially the members of King Crimson." Los Angeles punk band Bad Religion quotes the lyrics of "21st Century Schizoid Man" in their hit single 21st Century (Digital Boy). Steve Steele, mentioned in an interview[92] that King Crimson was a prime influence on his songwriting and arrangements, and in a biography, he cites that other than traditional literary sources, Richard Palmer-James (King Crimson's lyricist from 1972-1974), is one of the only lyricist he credits as having a personal impact.
King Crimson have frequently been cited as pioneers of progressive metal. Members of both Iron Maiden and Mudvayne[94] have cited King Crimson as an influence. The angular, dissonant guitar patterns associated with Fripp's distinctive approach are also evident in the music of Thrash-Metal pioneers Voivod, especially in the band's mid-period work. Voivod also did a cover of "21st Century Schizoid Man" on their 1997 recording Phobos.
King Crimson have also provided source material and inspiration for hip-hop and dance music acts. Rap star Kanye West sampled King Crimson's "21st Century Schizoid Man" on his 2010 single "Power" and British hip-hoppers The Brotherhood used a prominent sample from "Starless" to open their debut album. British techno/house music act Opus III covered "I Talk to the Wind" on their 1992 album Mind Fruit and released the track as a single.
King Crimson has also influenced the Japanese noise artist Merzbow who has stated his passion for the progressive genre and among those King Crimson and has influenced several tracks on both his solo career as well as his collaborations like taking samples from "The Great Deceiver" for a track on Spiral Honey while in collaboration with the Japanese band Boris released Walrus/Groon where they take the name from one of Crimson's improvisational pieces called "Groon".
Photos related to the album/track :
King Crimson – "In The Wake Of Poseidon" Album cover photo (front)
King Crimson – "In The Wake Of Poseidon" Album cover photo (back)
King Crimson – "In The Wake Of Poseidon" Album  photo (A' Side)
King Crimson – "In The Wake Of Poseidon" Album  photo (A'/B' Sides)
Photos related to the band :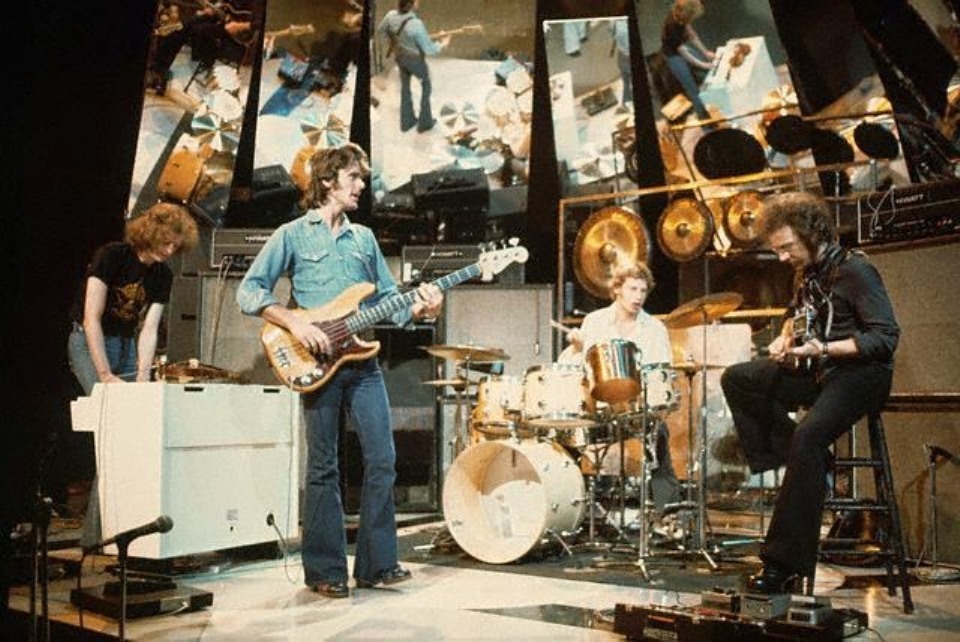 King Crimson, Top Of The Tops, May 1970
Links related to the album/track :
King Crimson – "In The Wake Of Poseidon (including Libra's Theme)" Video on YouTube
King Crimson -"In The Wake Of Poseidon" Full Album Video on Vimeo
King Crimson – "In The Wake Of Poseidon" Full Album Audio on Spotify
King Crimson – "In The Wake Of Poseidon" Full Album Audio on I Tunes
King Crimson – "In The Wake Of Poseidon" Full Album Download Link on Tocando Rock Blog
King Crimson – "In The Wake Of Poseidon" Full Album Download Link on 60-70 Rock Blog
Links related to the band :
King Crimson Band's Page on Twitter
King Crimson Band's YouTube Channel
King Crimson Band's Page on Discogs
King Crimson/Robert Fripp Elephant Talk Wiki Page
King Crimson Band's Page on Facebook
King Crimson Band's Page on Spotify
King Crimson's Page on Apple Music
King Crimson Band's Page on Setlist Fm
King Crimson Band's Page on Google Play
King Crimson Band's Page/s /Full Albums Download Links on Music Bazaar