Frumpy – "Take Care Of illusion" Video on YouTube
Frumpy – "Take Care Of illusion" Video on YouTube (Beat-Club 68 – 26.6.1971)
Category/Music Genres :
Krautrock/Progressive Rock Germany 1970s (Tracks)
Band :
"Frumpy" (Hamburg, Germany)
Frumpy Photo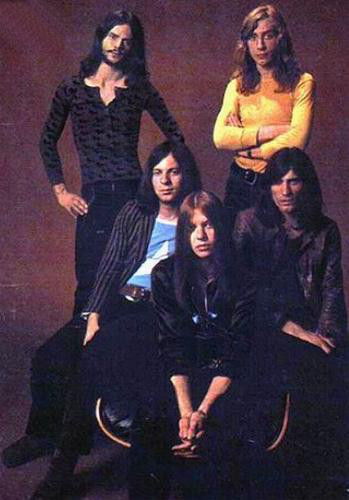 Members :
Inga Rumpf (lead vocals, percussion, guitar), Carsten Bohn (drums, percussion), Karl-Heinz Schott(bass, percussion, 1970-72, 1994-95), Kravetz (organ, piano, Mellotron, percussion, saxophone, spinet, 1970-71, 1972, 1990-95), Rainer Baumann (guitar, 1971-72), Erwin Kania (organ, piano, 1972), Thomas Kretschmer [Carola Kretschmer] (guitar, 1972)
Related Artists :
Atlantis, Rainer Baumann Band, Die City Preachers
Track :
"Take Care Of Illusion" (written by Inga Rumpf, Jean-Jacques Kravetz), B1 track included on the album "Frumpy 2" 
Album :
"Frumpy 2", released on Philips Records ( 6305 098) in August 1971
Frumpy 2 was the second album by the German progressive rock band Frumpy. It was released in 1971.
Frumpy – "Frumpy 2" Album cover photo (front)
Line-up/Credits :
Rainer Baumann – guitar
Carsten Bohn – drums
Karl-Heinz Schott – bass
Jean-Jacques Kravetz – keyboards
Inga Rumpf – vocals
Producer [Produced By] – Rainer Goltermann
Pressed By – Deutsche Grammophon Gesellschaft Pressing Plant
Lacquer Cut At – Deutsche Grammophon Gesellschaft Pressing Plant
Track-List :
1. Good Winds (10:02)
2. How The Gipsy Was Born (10:05)
3. Take Care Of Illusion (7:30)
4. Duty (12:09)
Total Time: 39:46
Lyrics :
I saw a light tonight
it shined mighty bright
dsw it through my open door
while i heard a thundring roar of something
that exploded down there. So I have been in confused fear.
Got Up and followed that blood – red shine
'cause I felt a warning sign.
Yeah – it seemed to be Yeah – big misery!
Oh, that house was burning down
couldn't see if there's somebody'round.
I got a dreadful feeling deep inside oh, i just tried …
I was running for my life
to save the sleeping children and wife.
But when i reached that burning house
I was standing in front of a crowd
of helpless people were staying around
they watched the flames and their crying was loud.
I asked a man, who was standing near by.
How could it happen, when and why?
He said, Yeah – it seems to be Yeah – big misery!
It's burning down it's burning down to the ground.
It's a lot of pain when you see it was all in vain.
They worked every day, every night, every hour in their life.
With a faith that we all have before it's getting late
but you see how it can be, when you're thinking
you are free, and you're proud
what you've down
that's a fraud – it could be gone
"Take care of illusion – it shares with confusion"
Look, you are young, and i think you are not the only one
who would help with that faith
that i meant before it's late.
So go, try you're best, save their life,
you can't save their happiness!
Yeah – It's up to you
Yeah – try to get through!
Oh, they have been still alive
and soon they opened up their eyes.
As they remembered, they began to moan,
No, that man was not wrong
Information about the album/band/track :
Frumpy was a German progressive rock/krautrock band based in Hamburg, which was active between 1970–1972 and 1990–1995. Formed after the break-up of folk rockers The City Preachers, Frumpy released four albums in 1970–1973 and achieved considerable commercial success. The German press hailed them as the best German rock band of their time and their vocalist Inga Rumpf  as the "greatest individual vocal talent" of the contemporary German rock scene. They disbanded in 1972 although the various members all worked together at various times over the following two decades and they reunited again in 1989, producing three more albums over five years after which they disbanded once more.
Formation :

All of the band members met as performers with Germany's first folk rock band The City Preachers, formed by Irishman John O'Brien-Docker in Hamburg in 1965. In 1968, the band had split, with O'Brien-Docker and several other members parting company. Singer Inga Rumpf, a distinctive "un-feminine" sounding vocalist often compared favourably with Janis Joplin, continued to use the band name with a line-up including drummer Udo Lindenberg, singer Dagmar Krause, French organist Jean Jacques Kravetz and bassist Karl Heinz Schott. In the spring of 1969, Lindenberg left to pursue a solo career and was replaced by Carsten Bohn, who by November that year had grown disappointed with Krause and called for the band to pursue a new creative direction, "a fusion of rock, blues, classical, folk and psychedelic."Reforming in March 1970 as Frumpy (a play on Rumpf's surname inspired by seeing the word "frumpy" in a CBS record catalogue) the new line-up of Rumpf, Bohn, Kravetz and Schott debuted at the Essen International Pop & Blues Festival in April 1970, where two of their songs "Duty" and "Floating" were recorded and released on the live compilation album Pop & Blues Festival '70. This was followed by more tour dates in France, Germany and the Netherlands, an appearance at the Kiel Progressive Pop Festival in July 1970, and at the Open Air Love & Peace Festival at Fehmarn, September 6, 1970.
Recordings :
They recorded their debut album All Will Be Changed in August 1970. To promote the album the band embarked on a fifty-night German tour with Spooky Tooth, as well as playing supporting slots with Yes, Humble Pieand Renaissance. The album received both critical acclaim and commercial success.Initially the band played without a guitarist, which was unusual in the rock genre, and the band instead made great use of Kravetz's "spacey [Hammond] organ excursions" and his powerful Leslie Rotating Speaker System, a sound modification and frequency modulation device. Rumpf said: "In the beginning we were happy enough as a quartet. I played and composed exclusively on an acoustic guitar. It was only later that we began to write songs that called for a guitar."In 1971, just before the band started recording their second album, called simply 
2
, they recruited former Sphinx Tush guitarist Rainer Baumann to the line-up. The album, "heavier and more mature progressive rock with classical overtones in Kravetz's organ ([and] occasionally mellotron) work," repeated the success of the first, and gave the band a hit single with "How the Gipsy Was Born", which would become their "signature tune."The German music magazine Musikexpress dubbed Frumpy as the best German rock act of the year, while Inga Rumpf, variously described as "smoky", "demonic" and "roaring," was declared by national newspaper Frankfurter Allgemeine Zeitung to be the "greatest individual vocal talent" of the German rock scene so far.Due to "musical differences" Kravetz left the band in early 1972 to work with Lindenberg and his Das Panik Orchester and also to record a solo album, Kravetz (1972) which featured both Rumpf and Lindenberg. He was replaced in Frumpy by Erwin Kama, who had previously played in Murphy Blend, and Kama appears on several of the tracks on Frumpy's third album By The Way, being ousted halfway through recording in March 1972 when Kravetz rejoined the band. Baumann expressed a desire to establish a solo career also, and the band played a "farewell concert" on 26 June 1972 with Thomas Kretschmer on guitar.Musikexpress published an obituary for the band in August 1972.The obituary closed with: "We request that you refrain from messages of condolence, since you will soon be hearing from Inga, Karl-Heinz and Jean-Jacques under another name."A double, live album, Live, was released posthumously in 1973.

Shortly after Frumpy disbanded, Rumpf, Kravetz and Schott recruited guitarist Frank Diez and drummer Curt Cress, both formerly with Munich-based jazz fusion combo Emergency, to form a "supergroup" called Atlantis. Atlantis, which has been described as "Frumpy repackaged with a more commercial hard-rock style," recorded their first album Atlantis in 1972, which was released early in 1973. Rumpf was voted 'Best Female Rock Singer of 1973' by Musikexpress readers. Diez and Cress were replaced by George Meier and Lindenberg for the subsequent tour, who were themselves replaced by Dieter Bornschlegel and Ringo Funk when the tour ended. They then released It's Getting Better (1973), which had a strong Afrobeat influence, and caused Die Zeit to hail Rumpf as a "superstar", after which in early 1974 Kravetz left the band to join Randy Pie.Schnelle was replaced again by Adrian Askew and Bornschlegel by Curly Curve's Alex Conti. The third album Ooh Baby (1974) was written mostly by Askew and Conti and veered towards the P-funksound, and the band toured the U.S. as a support act for Aerosmith and Lynyrd Skynyrd. Following more changes in line-up two further albums were released, Get On Board (1975) and Live (1975) but, despite achieving commercial success in Germany, the group disbanded in January 1976.On 23 February 1983 the founder members played a one-off reunion concert in Hamburg.
Reunion :

In 1989, Rumpf, Bohn and Kravetz reformed Frumpy and released two albums, Now! (1990) and News (1991) but by 1992 the members had moved in different directions and the group was once more disbanded in 1995.
Discography :

All Will Be Changed (1970)Frumpy 2 (1971)By the Way (1972)Live (1973)Now! (1990)News (1991)Live NinetyFive (1995)
Rising out of the ashes of Sixties folk band City Preachers, German-based band Frumpy formed in 1969 and over the course of their brief career released two albums of rock tinged with blues, jazz and psychedelic elements. They were for awhile Germany's most popular rock band, selling out concerts and winning numerous awards. They eventually disbanded in 1972.
While Frumpy's music is appealingly Uriah Heapish (yes I like Heep), it is their 22 year old lead singer, Inga Rumpf, that I find totally mesmerizing – a unique presence that evokes Nico, Janis Joplin and Robert Plant.
Frumpy was perhaps the first or best internationally known of the German progressive bands who had their heyday was from 1970 – 72.
Shortly after Frumpy disbanded, Inga Rumpf, Jean-Jacques Kravetz and Karl-Heinz Schott recruited guitarist Frank Diez (ex-Emergency) and drummer Curt Cress to form Atlantis.
Inga Rumpf, Carsten Bohn and Jean-Jacques Kravetz reformed a more soulfull/bluesier version of Frumpy in 1990 which released a couple of CDs. These later recordings are less progressive than earlier works.
Inga Rumpf was one of the best-known German R&B singers. Her voice often drew comparisons to Janis Joplin, but Rumpf was able to develop her own unique vocal style. Catapulted to stardom in the '70s with her band Frumpy, she released a number of highly acclaimed solo works in the '80s and '90s and came to be regarded as the grand old lady of German R&B. Whereas other German female vocalists such as Nina Hagen faded away over time, Rumpf consequently followed her path and never compromised herself artistically (unlike her ex-bandmate Udo Lindenberg, whose creativity died down by the end of the '80s when he started putting out lightweight pop).
Born on August 2, 1946 in Hamburg, Rumpf started performing as a teenager with different blues bands in the Hamburg entertainment district of St. Pauli. In 1965, she founded the folk band City Preachers and recorded three albums with them. After a creative crisis in 1969, the band changed styles from folk to a mix of beat and soul. A new lineup reflected this: Jean-Jacques Kravetz (keyboards), Karl-Heinz Schott (bass) and Udo Lindenberg (drums) formed the core of the new band, which one year later was to become Frumpy when Udo Lindenberg left to start a solo career and was replaced by Carsten Bohn. Frumpy recorded only two albums, All Will Be Changed (1970) and Frumpy 2 (1971) — the latter containing the hit single "How the Gipsy Was Born" — but these two LPs rewrote German rock history. The band was praised as the best German rock act, and Rumpf was declared the greatest individual vocal talent of the German rock scene to date.
After Frumpy disbanded, Rumpf founded Atlantis in 1972, with Kravetz and Schott, along with new additions Frank Diezon guitar and Curt Cress on drums. The same year, the German music magazine Musik Express selected Rumpf best German vocalist, and her band, Atlantis, "best live and studio band." Several U.K. tours, alone and with Lindenberg, made her well-known in the English-speaking hemisphere as well. Atlantis disbanded in 1975 after three excellent years, and Rumpf released her first solo effort, Second Hand Mädchen, which was heavily influenced by Lindenberg who, two years earlier, had established himself as one of the most promising German rock acts. Lindenberg had shown that German lyrics work in rock songs, and so Rumpfswitched to singing in German, too, although on her 1981 album, Reality, she sang in English again. She wrote all of the songs herself for this, and even produced it. Tina Turner did a cover of "I Wrote a Letter," which was released as the B-side of her 1984 comeback single "Let's Stay Together" (re-released as a bonus track on the centenary edition of her landmark album Private Dancer in 1998). Also in 1981, Rumpf widened her horizon by accepting a job as a lecturer at the Hamburg Musikhochschule (university of music). Her 1984 album, Liebe, Leiden, Leben, again containing German lyrics, earned critical acclaim and she proved not to have lost any of the power she'd radiated in the '70s with Frumpy and Atlantis.
After a short Frumpy reunion in 1991-1992, the '90s saw Rumpf experimenting with jazz (with the 1994 album Fifty-Fifty with pianist Joja Wendt) and gospel music. In accordance with the philosophy of gospel, a significant number of her performances took place in churches, her lyrics became more spiritual, and increasingly revealed a Christian context without being preachy, so even atheists should be comfortable with the music of her later career. Critics hailed her 1996 album In the 25th Hour as her best to that point. Among other covers, the album contained her version of Ray Charles' hit "Unchain My Heart," as her best so far. The same year, the compilation The Best of All My Years was released. Her 1999 album, Walking in the Light, contained text adaptations of the biblical Sermon on the Mount.
From 2001 onward, Rumpf started to perform rock, R&B, and soul on a weekly basis in her hometown of Hamburg. Three years later, she founded her own record label, 25th Hour Music with the release of the live album Live im Michel. Rumpf's work with Frumpy and Atlantis, as well as her solo output of later years, is essential listening for everybody who wants to get to know German rock music.
Photos about the album/band/track :
Frumpy – "Frumpy 2" Album cover photo (front)
Frumpy – "Frumpy 2" Album Artwork photos
Frumpy – "Frumpy 2" Album photo (A' Side)
Frumpy – "Frumpy 2" Album photo (B' Side)
Inga Rumpf of German prog rock band Frumpy poses for a pirtrait circa 1970 in Hamburg, Germany. (Photo by Gunter Zint/K & K Ulf Kruger OHG/Redferns)
Inga Rumpf from German Rock band Frumpy performs live on stage at Musikhalle in Hamburg, Germany in 1972 (Photo by Ellen Poppinga – K & K/Redferns)
Inga Rumpf Photo
Inga Rumpf Photo
Frumpy Photo
Frumpy Photo
Frumpy Photo
Frumpy Photo
Links about the album/band/track :
Frumpy – "Take Care Of Illusion"Video file link on YouTube
Frumpy – "Take Care Of Illusion" Video file link on YouTube
Frumpy – "Frumpy 2" Full Album Video file link on YouTube
Frumpy – "Frumpy 2" Full Album Video Playlist on YouTube
Frumpy – "Frumpy 2" Full Album Video file link on Vimeo
Frumpy Band's Page on Rate Your Music
Frumpy – "Frumpy 2" Full Album Download Link on Rockasteria Blog
Frumpy Band's Page/Full Albums Download Links on Muro Do Classic Rock Blog
Frumpy – "Frumpy 2" Full Album Download Link on Boyz Make Noize Blog
Frumpy Band's Page on Google Play
Frumpy Band's Page on Apple Music