Sweet Smoke – "Baby Night" Video on YouTube
Category/Music Genres :
Progressive, Psychedelic, Space Rock U.S.A. 1970s (Tracks)
Band :
Sweet Smoke (Brooklyn, New York, U.S.A.)
Sweet Smoke Band's Photo
Sweet Smoke were a psychedelic jazz-rock band formed in Brooklyn, New York in 1967. The group moved to Europe in 1969, living in Germany, and performing in Germany, Holland and France until 1974 when the band split up. Initially, some members stayed in Europe, some went to India, but most of the band returned to the United States. Although originating in the U.S., Sweet Smoke is often referred to as a Krautrock band. Noted for their buoyant rhythms, inventive improvisations and complex musical structures, in interviews, the group says their music was influenced by Eric Clapton, Jimi Hendrix, Frank Zappa, John Coltrane and The Beatles.
Track :
"Baby Night" (written by Sweet Smoke), (closing track) included on the album "Just A Poke"
Album :
"Just A Poke" released on Columbia Records (1 C 062-28 886) in 1970
Sweet Smoke – "Just A Poke" Album cover photo (front)
Sweet Smoke – "Just A Poke" Full Album Video on YouTube
Just a Poke is the first album by the band Sweet Smoke, released in 1970, engineered by Conny Plank. The song Baby Night displays the band's progressive jazz fusion style at the time. The song can be divided into three main sections, the highlights being the instrumental sections.
Line-up/Credits :
Marvin Kaminowitz / lead guitar, vocals
Steve Rosenstein / rhythm guitar, vocals
Michael Paris (Fontana) / tenor saxophone, alto recorder, vocals, percussion
Andrew Dershin / bass
Jay Dorfman / drums, percussion
Made By – Pathé Marconi
Printed By – I.D.N.
Record Company – Les Industries Musicales Et Electriques Pathé Marconi
Pressed By – Pathé Marconi, Chatou – 278923
Pressed By – Pathé Marconi, Chatou – 278924
Producer – Rosie Schmitz, Winfried Ebert
Recorded By – Conrad Plank, Klaus Löhmer
Painting [Cover] – Jan Fijnheer
Track-list :
1. Baby night (16:24)
2. Silly Sally (16:22)
Total Time: 32:46
Sweet Smoke – "Just A Poke" Album Artwork Photo/Track-list
Information related to the album/band/track :
"Wikipedia"
After their first performances in the U.S. and the Caribbean, the group moved to Germany and formed a commune in a farm house in the village of Hüthum, outside the city of Emmerich, about a kilometer (0.62 miles) from the border with Holland. The group became well known in the region on and off the stage for their mixture of spirited musical performances combined with their interests in Eastern and Psychedelic philosophies. The original members when they arrived in Germany were Andy Dershin (bass guitar), Michael Fontana (tenor saxophone, alto recorder, vocals, percussion), Jay Dorfman (drums, percussion), Marvin Kaminowitz (lead guitar, vocals) and Victor Sacco (guitar). Victor would soon be replaced by Steve Rosenstein (rhythm guitar, vocals). In 1970 the group was approached by EMI, and they recorded their first LP, Just a Poke with German record producer Konrad "Conny" Plank.
After recording Just a Poke, Sweet Smoke took a year off to travel. Most of the group drove the band's Ford Transit van overland to India for a spiritual journey in connection with the socio-spiritual group Ananda Marga. The group first learned of the success of Just a Poke, after meeting German tourists in Nepal. They returned to Europe, signed a new recording contract with EMI, and added Jeffrey Dershin (piano, percussion, vocals) as a full-time member. The group recorded their second LP Darkness to Light at EMI studios in Holland in 1973. Later in 1973, Jeffery Dershin returned home to assume his role as a father, Michael Fontana left the group to return to India, and Steve Rosenstein was replaced by Rick Greenberg, aka Rick Rasa (rhythm guitar, sitar, vocals).
Near the end of 1974, the group broke up for the final time. They played their last performance in the concert hall of the music conservatory Hochschule für Musik in Berlin. The concert was recorded by EMI and became the group's last LP, Sweet Smoke Live.
"Sweet Smoke" Band's Homepage
The Sweet Smoke Story
Beginnings
SWEET SMOKE WAS BORN IN BROOKLYN SOMETIME IN THE MID 60'S WHEN MUSICIANS from three different popular local groups got together. Jay and Marvin were playing with The Madabouts, Andy was playing with The Chasers, and later The Raves, and Mike was playing with The Sunday Funnies. The name, originally Sweet Smoke of the Happy Plant Pipeful, was coined by drummer Jay and was later shortened by general usage to Sweet Smoke – a name clearly emblematic of the times.
Greenwich Village
Sometime in 1968, shortly after the formation of Sweet Smoke, the band secured an audition at a popular Manhattan nightclub called Club 54. The audition, a complete disaster, turned out to be the most significant event in Sweet Smoke's early development. It was a Monday night. The band had its instruments and amplifiers loaded in their van with no place to go. Andy had an idea. In his previous groups, he had a regular Monday night gig at the
Cafe Wha in Greenwich Village
. It wasn't a gig in the real sense. It was something the management called "audition night", a way to get local bands to play for free in exchange for the prestige that came with playing in a club in New York's trendy Greenwich Village. So the band sent their equipment off to the club in the van while the group jumped on the subway downtown.
The Islands
At the time, the manager of the Cafe Wha? also owned, or managed – it's not clear which – two clubs in the Caribbean, one in old San Juan, Puerto Rico and the other in St. Thomas, U.S. Virgin Islands. The band recalls the manager offering them a gig in the islands if their set went well that evening at the Wha?. The band brought the house down and were indeed offered the gig of a lifetime. There was a small problem. It was March, 1968 and three of the members, Mike, Marvin and Jay, were in college. Taking the gig would mean quitting school. They quit school. What followed was three months of playing six hours a night, six nights a week. Somewhere in paradise, Sweet Smoke became a band.
Europe
Spending carefree days on some of the world's most beautiful beaches, the band pondered its future. After the whirlwind events of the past several months, going home to Brooklyn to live with their parents was not an option. Mike began talking about going to Europe. Mike was very persuasive. The warm Caribbean breezes and gentle waves were intoxicating. It was 1968 and anything seemed possible. By the end of that year, Mike, along with Andy and old dear friend Marty had purchased one way tickets to South Hampton, England and off they went. Jay and Marvin followed later and by late 1969 the entire band, their plan to settle in Amsterdam having failed, found themselves, with invaluable help from unforgettable people, firmly planted in Germany.
Jay, the band's drummer recalls:
"By the dawn of the 70's the band had acquired a sizable following and had moved to Europe where they spent the next years in a van driving though France, Holland, Germany delivering to audiences of quickly expanding sizes a typically 60's form of rave like musical be-in. The party was only beginning. They began to open for large European pop bands like Focus and Golden Earring. They were quickly signed to Electrola Records for a 3 Record deal in West Germany and recorded their first hallucinogenic stream of musical consciousness, the quintessential 60's jam fest Just A Poke.

The fans and the critics were all over it, , a mix of jazz, rock, improv, avant garde, inspired just as much by John Coltrane as it was by The Doors. The cover of the record was a brazen shout out to inner consciousness and a simple downright salute to the fact that the boys had gone cosmic, global and had tuned out, turned on and dropped whatever they could find. The band kept rolling for years, attracting new players, losing original members, recording with the highest rung of European free jazz musicians and generally having the time of their lives."
India – Chapter II and Beyond
In many ways Sweet Smoke's European story had two distinct chapters: pre and post India. Like the Beatles, The Beach Boys and many bands before them, the boys became spiritually restless. Their interest in yoga, meditation and self-realization grew stronger with time and at some point in 1972 the band took a break from their rock star lives to embark on a life altering journey traveling over land to India. In what seems an utterly reckless, if not altogether impossible undertaking, they motored from Europe to India, driving in the process through Iraq, Iran, Afghanistan and Pakistan before arriving in India. What followed was a year long stay in an Ashram where they practiced chanting and meditation and travelled extensively through one of the world's most enchanting countries. The experience had a dramatic and lasting impact. Mike, the band's saxophone player and front man ultimately married an Indian woman and today lives in India. The seductive sights and sounds he encountered there still inform much of Jay's current work. It should be noted that not all the band members were equally seduced by the lure of the East. While most of the members packed the truck and took off to India, Marvin, the band's lead guitarist and vocalist returned to the States, married his girlfriend and prepared for what would be the next chapter in Sweet Smoke's story. In 1973 the band reunited in Germany, this time in Bavaria, and resumed their touring and recording career.
Postscript
Bands break up. The one's that don't are the exceptions (think Beatles). By 1974 the band members had become disenchanted and began to think about life after Sweet Smoke. Mike had already left the band and was ably replaced by Rick Greenberg. Marvin, who was mostly self-taught was yearning to study music in a more formal setting. The luster had worn off and in 1974, after recording its final album, Sweet Smoke Live in Berlin, the band broke up for good.
The original members still remain friends and over the years have gotten together several times to play and reminisce but mostly to laugh.
"Moof Magazine"
Founded in Brooklyn in 1967, the U.S. based psychedelic jazz-rock band Sweet Smoke (originallySweet Smoke of the Happy Plant Pipeful) were creative from 1969-1974 in Germany; there they set up a commune with the support of sculptor Waldemar Kuhn, first in Emmerich am Rhein, then in Sulzfeld. They had planned to settle in the Netherlands, with Amsterdam being the 'place to be' at the time, and in 1972, they visited India for the obligatory stay in an Ashram. Mainly, Sweet Smoke toured across Europe (Germany, France and the Netherlands), playing at festivals or as opener for pop groups such as Focus and Golden Earring. Even before their time in Germany, Sweet Smoke had regularly played long-enduring gigs at a club in the Caribbean, where the guys had worked on their playing and improvising skills, a style similar to many late 1960's U.S. West Coast bands. In 1974, shortly after the release of their third album, Sweet Smoke Live (1974), they broke up and split into different directions, mostly back to the U.S. to study and find other work.
Their debut studio album, Just a Poke, was released on EMI Columbia, in Germany, in 1970. It was also released in Italy, the Netherlands and France, but not in the U.K. Taken together with their presence on stage, Sweet Smoke were popular in those parts of Europe, yet quite unknown in the U.K. For a long time, the band were a mystery. Thanks to the internet, media and other networks, you can find information on their website, and for sure, this album now has its deserving place in the international psychedelic scene. Sweet Smoke released three albums of which the last two have an extended or different line-up. Still, among Just a Poke (1970), Darkness to Light (1973) and the live album, Sweet Smoke Live (1974), Just a Poke ranks the highest.
The album features four founding members, Andy Dershin on bass, Jay Dorfman on percussion and drums, Marvin Kaminowitz on solo guitar and vocals, Michael Paris on alto recorder/tenor sax/vocals/percussion, along with Steve Rosenstein on rhythm guitar and vocals. Just a Poke was produced by Rosie Schmitz and Winfried Ebert, along with engineers, Conrad Plank and Klaus Löhmer. Applying innovative studio technologies, Plank could easily be called the German pioneer of the electronic sound. In the early and mid 1970's, he worked with progressive Krautrock and jazz-rock bands, Ash Ra Tempel, Kraan, and Guru Guru, but from 1978 onward he drifted into the new-wave and synth-pop dimension, getting involved with Brian Eno. Unfortunately, Jan Fijnheer, who designed the beautiful exotic album cover, is not mentioned. Credited is just the photographer, Joachim Hassenburs.
With a total running time of 32:46 minutes, the record carries a total of just two tracks. Although there isn't a long list of tracks, there is some confusion. The titles of the tracks got mixed up either on the sleeve or on the label of the record, so that even the experts slightly disagree. Lets take the best solution and rely on what the label tells. The tune on the A-side is called "Baby Night" and the other one on the B-side is "Silly Sally". Proof is given by some text passages of the B-side, where it goes "Well, now, Sally-Sally-Sally, hey be with me tonight", and the ones of the A-side with, "If you hear sounds of bitter weeping, to be sure the God of Night is sleeping, no time for mirth, much death and birth…"Anyway, in addition to a coherent session-like structure on a smooth jamming ground, the first tune features a delightful recorder melody, while the second one offers a stunning minute-long drum solo. Lyrics are not that important. The text passages rather provide a theme on which the band exuberantly jams and improvises.
"Baby Night" starts in a meditative folk manner, which is introduced by the lovely melody of Michael Paris' alto recorder and only supported by the guitars. The gentle innocent voice of Marvin Kaminowitz is supported by dreamy flute sounds. One could assume that the first section refers to "In the World of Glass Teardrops" by Jeremy & the Satyrs from 1968, although it is not mentioned in the liner notes. Then there comes a recorder solo upon a swinging part which turns into easy jamming. Paris' playing could be compared to the style of Jethro Tull's Ian Anderson, with 'airy attacks' and the additional use of his voice. Unfortunately, the flute sound overlaps with the surroundings and gets opaque at times. Those blurred sounds can either be strange or elevating, depending on your preference. Then, the guitar clings on for a solo without fuzz. More jamming with stronger repetitive riffs follows. After a while, the vocals eventually come, throwing you back in a meditative mood, framed by conga sounds. This section's theme is a text-reduced version of The Doors', "The Soft Parade." Another swinging interlude follows before going back to the theme at the beginning, now in a steady rhythm and more experimental way.
With "Silly Sally", the accent now is more on audio effects. Michael Paris enters with a groovy melody on tenor sax, sometimes with reverb. Then, the vocals take over with seductive lyrics. Marvin Kaminowitz does a great job in using his voice as an instrument and jams with the rhythmic pulse afterwards. This is followed by the guitars' wah-wah solo on the right and left channels, which releases into the bass solo. Now, turn your speakers louder, the album has reached it's phenomenal climax – the drum solo! Jay Dorfman starts with Afro tribal drumming, soon, the sounds begin rotating around your head and develop into a thunder-like rolling or a tube-like rattling within three minutes. Mind the gap! This is hardcore! Such a handling of stereo effects, the ping-pong effect and phasing, similar to the drum solo in "In-a-gadda-da-vida" by Iron Butterfly's Ron Bushy on their 1968 album from. After this awesome hallucinogenic trip, the track proceeds with a long Latin percussion interlude, and turns back to the groovy sax theme.
Integrative rhythmic and stylistic variations are in constant flow, with interchanging solo and single rhythm group parts. After the beautiful glass teardrops-intro, this record keeps you dancing the whole time. With its focus on studio effects and magical sounds, Just a Poke offers you a medium for the experience of extraterrestrial dimensions. For some people, several sections may simply take too long, and could run the risk of getting boring. Occasionally, you get the impression that the band simply didn't want to come to an end. Nevertheless, it is a psychedelic masterpiece which should be part of your collection.
Copies are available on Discogs and Amazon. Alternatively, you can listen to it on Youtube or on Sweet Smoke's MySpace website. As well as this, EMI Electrola released a remastered version on CD in 2000, which combines Just a Poke and Darkness to Light all in one.
Photos related to the album/track :
Sweet Smoke – "Just A Poke" Album cover photo (front)
Sweet Smoke – "Just A Poke" Album photo (A' Side)
Sweet Smoke – "Just A Poke" Album photo (B' Side)
Photos related to the band :
Sweet Smoke in Southern Germany, 1974.
Photo supplied by Rick Rasa, September 2000
Sweet Smoke in 1974 with their Ford Transit van (from left to right: John, Rick, Andy, Enid, Marvin, Marty, Howie, Diane)
Promotional Postcard of Jazz-Rock Band Sweet Smoke, 1970 top row: Jay, Jeffery, Mike, Andy, Rochus – bottom row: Steve, Marvin, Nico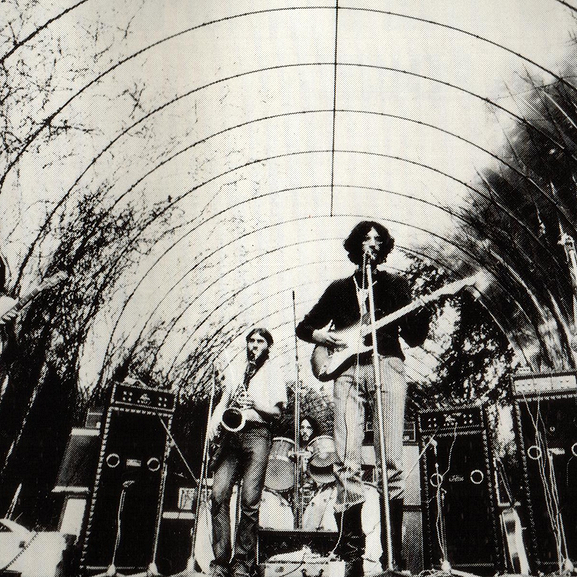 Links related to the album/track :
Sweet Smoke – "Baby Night" Video on YouTube
Sweet Smoke – "Just A Poke" Full Album Video on YouTube
Sweet Smoke – "Just A Poke" Album's Review on Rock Times
Sweet Smoke – "Just A Poke" Full Album Download Link on Culture For All Blog
Sweet Smoke – "Just A Poke" Full Album Download Link on Urban Aspirines Blog
Sweet Smoke – "Just A Poke" Full Album Download Link on Plain and Fancy Blog
Sweet Smoke – "Just A Poke" Full Album Download Link on Willie Said
Sweet Smoke – "Just A Poke" Full Album Download Link on Music Bazaar
Links related to the band :
Sweet Smoke Band's Page on Spotify
Sweet Smoke Band's Page on Mixcloud
Sweet Smoke Band's Page on ProgArchives
Sweet Smoke Band's Page on Facebook
Sweet Smoke Band's Interview on It's A Psychedelic Baby Magazine
Sweet Smoke Interview with Michael Paris Fontana on Ritvik
Sweet Smoke Band's Page on Google Play
Sweet Smoke Band's Page on Apple Music
Sweet Smoke Band's Page on Tidal