Wipers – "When It's Over" Video on YouTube
Wipers – "Youth Of America" Full Album Playlist on Spotify
Category/Music Genres :
Alternative/Experimental/Indie/Post Punk/Punk Rock U.S.A. 1980s (Tracks)
Band :
Wipers (Portland, Oregon, U.S.A.)
Members :
Greg Sage (guitar, vocals, bass), Sam Henry (drums, 1977-81), Dave Koupal (bass, 1977-81), Brad Davidson (bass, 1981-87), Brad Naish (drums, 1981-85), Steve Plouf (drums, 1985-99)
Related Artists :
Nervous Christians (Steve Plouf)
Track :
"When It's Over" (written by Greg Sage) A4 track included on the album "Youth Of America"
Album :
"Youth Of America" released on Park Avenue Records (PA 82802) in 1981
Wipers – "Youth Of America" Album cover photo (front)
Track-List :
01 Taking Too Long
02 Can This Be
03 Pushing The Extreme
04 When It's Over
05 No Fair
06 Youth Of America
Line-up/Credits :
Bass – Brad Davidson, Dave Koupal
Drums – Brad Naish
Vocals, Guitar, Piano, Written-By – Greg Sage
Producer, Recorded By – Greg Sage
Technician [Tape Operator Assistance] – Brad Davidson
Cover – Curtis Knapp (2)
Phonographic Copyright (p) – Greg Sage
Copyright (c) – Park Avenue Records
Published By – Part Music
Pressed By – Rainbo Records – S-8776
Pressed By – Rainbo Records – S-8777
Recorded At – Wave Sound Studios (2)
Lyrics :
t's 4 A.M., and I'm a hundred miles from breakfast in Wyomin'
I'm not complainin'
I got the radio on, playin' on a station from New Orleans
An' now it's rainin'
I'm makin' time, tryin' ta keep it rollin'
And I'm all alone
Windshield wipers in the rain
I hear that country-western music comin' at me, through the thunder
A flash of lightnin'
I hear the D.J., sayin' "Here's a little tune for all you truckers.
"I hope you like it."
I'm gettin' tired; my eyes are feelin' sandy
When I'm alone
Windshield wipers in the rain
I hear a freight train comin' down
I see the headlights flashin' 'round
I feel an earthquake in the ground
An' then he's gone
All alone
Windshield wipers in the rain
I feel a cold Wyomin' chill comin' on me in the mornin'
I need some welcome
I see a sign, says it's only fifty miles to where I'm going
And I hope it's open
I look around, wishin' you was with me
But I'm alone
Windshield wipers in the rain
I see a distant neon sign
I turn the music way up high
I wipe the lonesome from my eyes
But I'm alone
Windshield wipers in the rain
Songwriters: SAGE GREG K D
Information about the album/band/track :
"Sub Pop Records"
The Wipers are a punk rock group formed in Portland, Oregon in 1977 by guitarist Greg Sage, drummer Sam Henry and bassist Dave Koupal.
Is This Real?, The Wipers' first album, was first released in 1980 and quietly gained a cult following. The Wipers became better known after the wildly popular grunge band Nirvana covered two songs from Is This Real?. Nirvana's frontman, Kurt Cobain, spoke of being heavily influenced by the band. The Wipers were a major influence on the grunge music scene in general, and The Wipers albums like Is This Real? alienboyep and Over the Edge are now widely considered to be among the greatest and most influential punk albums of all time.
While The Wipers began by pioneering the tight, catchy punk rock that Nirvana and others would later bring to the mainstream, the band quickly evolved into producing guitar-solo soaked, labyrinthine punk rock epics. Sage became known for not only his do-it-yourself ethic and guitar solos, but also for his domineering approach to the band's creative process.
In 1998, then 18 year old drummer Travis McNabb joined the band for the tour for the album The Circle. He went on to join Better Than Ezra and work with Shawn Mullins, Howie Day and Beggars members of which later formed Black Rebel Motorcycle Club.
In 1992, the tribute album Eight Songs for Greg Sage and the Wipers_ (Tim Kerr Records) was released on 4 colored 7-inch records, and included The Wipers songs performed by Nirvana, Hole, Napalm Beach, M99, The Dharma Bums, Crackerbash, Poison Idea, and The Whirlees. The CD release of the tribute album was called Fourteen Songs for Greg Sage and the Wipers, and expanded to include covers by Hazel%28band%29, Calamity Jane, Saliva Tree, Honey, Nation of Ulysses, and Thurston MooreMoore-Keith Nealy.
In 2001, Greg Sage's Zeno Records 1 released a Wipers Box Set of the Wipers' first 3 albums, which by that time had been long out-of-print.
Sam Henry is still an active musician in Portland, Oregon, and continues to play with popular Northwest songwriters like Pete Krebs and Morgan Grace.
The most current The Wipers updates can be found @ Wikipedia. This article is licensed under the GNU Free Documentation License. It uses material from the Wikipedia article 'The Wipers'.
"All Music"
Misunderstood, mistreated, underrated, and/or just plain unknown, Greg Sage should be mentioned in the first breaths about trailblazing guitarists and U.S. independent music of the '80s and '90s. Since forming his band, Wipers, in Portland, OR, in the late '70s, Sage has been put through the ringer more than enough to justify his hermetic operating methods and attitude. While most of his devout fans consider it a travesty that his name isn't as known as a contemporary like Bob Mould or even an unabashed fan-boy turned legend like Kurt Cobain, Sage would likely retort that it's not for the notoriety that he began making music. Unlike most other musicians who gain inspiration and motivation from watching their favorite stars revel in popularity and idol worship, Sage's inspiration stemmed more from the joy he got from cutting records on his own lathe. He has been more than content to remain in the underground, retaining optimum control over his own career while lending production help and support to younger bands that look to him for his guidance. Throughout his lengthy and prolific career, he has downplayed or shunned any attention or recognition given to him, preferring to let the music speak for itself.
Initialized with the intent of being a recording project and not a band in the truest sense, Sage formed Wipers in 1977 with drummer Sam Henry and bassist Doug Koupal. Sage's original goal was to release 15 records in ten years, free of traditional band aspects like touring and photo shoots. However, he found out early on that being involved with independent labels involved plenty of compromise — and that independent labels took a great deal of independence away from him, rather than empowering him.
After a debut 7″ on Sage's Trap label (an outlet that Sage also used to release a pair of Portland scene compilations), Wipers recorded Is This Real? on a four-track recorder (free of overdubs) in their rehearsal space. Park Avenue Records was willing to release it, but they insisted that Sage and company re-record everything in a professional studio. Despite the relatively polished outcome, Is This Real? remained the group's rawest and most direct outing. It was full of Sage's raging but agile guitars and what would become his trademark songwriting style, dealing with extreme isolation, confusion, and frustration with an agitated sense of melody. 14 years after its release, Sub Pop picked up the record and reissued it without any involvement from Sage.
Prior to the recording of the group's finest moment, 1981's Youth of America, Henry left to join Napalm Beach. Koupal stayed on long enough to play on a couple of the album's songs but left the band to move to Ohio; Brad Davidson moved in to play bass and Brad Naish took over on drums. Having been unimpressed by the professional studio experience, Sage took it upon himself to record and engineer everything by himself. The move paid off, resulting in a furiously spirited but brief LP full of extended passages that allowed Sage to flex his astounding skills on guitar without sounding like a showoff.
For 1982's excellent Over the Edge, the structures of the songs tightened, the pop sensibility hit full stride. As a result, "Romeo" and "Over the Edge" each sustained a fair amount of radio play in the U.S., thanks to a few stations that were developing play lists that would later be identified as alternative or modern rock. Another factor in Wipers' somewhat increased exposure had to do with the better distribution of their new label, Restless. Before Over the Edge's release, Sage fell out with Park Avenue on a number of unresolved issues.
The next studio record, Land of the Lost, didn't appear until 1986. During the lull between studio time, the band toured, Sage released his first solo album (1985's hushed Straight Ahead), and the band released a self-titled live album. Naish left the group in 1985 and was replaced by Steve Plouf. Follow Blind came out in 1987 and The Circle followed in 1988. Aside from some slight production nuances and the occasional dabbling with stylistic curveballs, the three studio albums between 1986 and 1988 more or less swam in the wake of the first three but are far from embarrassments.
A 1989 tour was accompanied with an announcement from Sage that Wipers would be ending. The end result of mounting frustrations with the independent music business and the fact that the band had lost the lease on a studio space they had devoted three years to developing, Sage packed up and headed for Phoenix to remain close to his mother. He left a town that he couldn't get arrested in, let alone reviewed. Plouf came along to Arizona (Davidson married, moved to London, and sporadically played with the Jesus & Mary Chain), and Sage built a fully operational studio in his new hideout. He recorded a second solo record, Sacrifice (For Love), and released it in 1991.
Meanwhile, several alternative rockers became vocal about their admiration for Sage. The most notable was Kurt Cobain, whose band Nirvana covered Wipers songs and asked Sage to open for them on tours. Never wanting to be opportunistic and never wanting to draw attention to himself, Sage politely turned down the offers. Sage would also reason that the timing was never right, as he and Plouf had trouble securing a bassist who would be willing to learn over 100 songs and tour unglamorously to little fanfare. Sage himself was never a fan of touring; trudging through the States to promote records had been nothing but one nightmare after another, he never got a thrill from the attention that comes with being a frontman, and only a couple towns — specifically Boston and Chicago — were regularly supportive. Wipers enjoyed most of their touring success in Europe, where they were treated with much more respect and filled theaters holding a couple thousand fans.
With a 1993 tribute record called Fourteen Songs for Greg Sage & the Wipers floating around, the Sup Pop reissue of the first record, and the attendant exposure gained from them, Sage effectively squashed any steam his "career" was gaining by releasing Silver Sail in 1995, a Wipers record that hardly resembled the storming fury that made his back catalog suddenly revered. And then, once the attention waned, Sage and Plouf returned to their '80s aggression with 1996's The Herd. Three years later, the duo unleashed Power in One on Sage's new Zeno label. In 2001, Sage used his own label to release a three-for-one package of Wipers' first three albums. Remastered with plenty of bonus tracks, it's probably one of the most unselfish moves committed by a musician. Electric Medicine, Sage's third solo record, came in 2002.
Photos about the album/band/track :
Wipers – "Youth Of America" Album cover photo (front)
Wipers – "Youth Of America" Album Sticker Photo
Wipers Band's Photos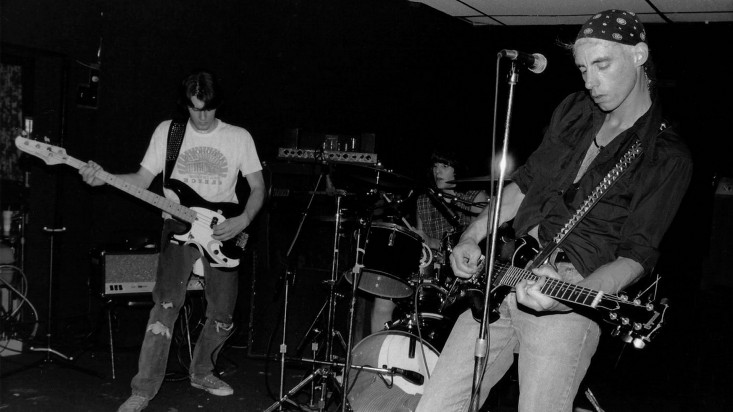 Links about the album/band/track :
Wipers – "When It's Over" Video file link on YouTube
Wipers – "Youth Of America" Full Album Video Playlist on YouTube
Wipers – "Youth Of America" Full Album Playlist on Spotify
Wipers Band's Page on Rate Your Music
Wipers Band's Page on Apple Music
Wipers Band's Page on Google Play
Wipers – "Youth Of America" Full Album Download Link on Vision On Never Blog
Wipers Band's Page on Zeno Records
Wipers – "Youth Of America" Album's Review on Julian Cope Presents Head Heritage Website
Wipers Article about the band "An overview of the influential Portland punk band's first three albums" on Pitchfork Website
Wipers Band's Page on Facebook
Greg Sage and The Wipers Band's Page on Facebook
Wipers Article about the band "AN INTRODUCTION TO GREG SAGE & THE WIPERS by Brian Walsby" on The Void Report
Wipers Band's Page on Mark Prindle Website
Wipers – "Youth Of America" ("The Wipers' Youth of America is 30 years old. John Calvert explains why it means so much to him") on The Quietus Website
Wipers – "Youth Of America" ("Dusting 'Em Off: Wipers – Youth of America") Article about the album on Consequence Of Sound
Wipers Article about the band on Phoenix New Times